---
In this Digitizing Finance blog series, we will be looking at different aspects that touch on digitizing the finance function, including the role of analytics in making better decisions and the adoption of emerging technologies such as cloud and blockchain. This first blog will focus on how to enhance the implementation of intelligent automation.
The role of intelligent automation is important to Chief Financial Officers (CFOs) across the globe. CFOs seek to drive efficiencies, create team capacity, meet new regulatory requirements, accelerate the month end close and reduce their finance footprint while still delivering a service focused on operational excellence.
While many CFOs are turning to intelligent automation to help them meet these goals, we find that they are at different points on the automation journey. CFOs may have started the processes of identifying and implementing automation opportunities, but only a few are tackling larger programs.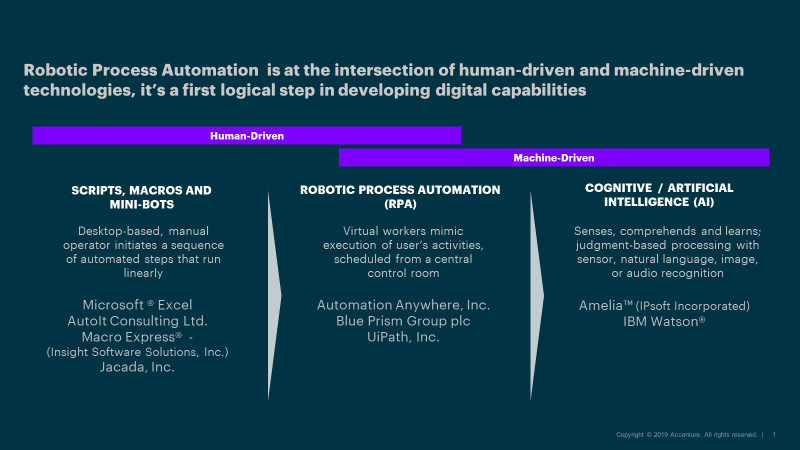 While firms face many challenges in ramping up and realizing the full benefits of intelligent automation, we have found that effective adoption often centers on three main factors:
Create and Communicate Vision. Implementing an effective intelligent automation program requires sustained commitment from the business and IT throughout the development and deployment lifecycle. C-suite sponsors should enthusiastically and clearly communicate their vision for a virtual workforce to all levels of the organization. Realizing such a vision requires buy-in from key stakeholders across the business.
Seek the Full Spectrum of Benefits. For greater impact, firms should not only identify processes suitable for automation but should also map current resource use and forecast future resource requirements. Intelligent automation can help to meet not only current process demand but also future demand (in relation, for example, to upcoming regulatory requirements). Only when considering current and future demand can a firm be confident that any planned process automation can generate the most benefits. Firms should seek – on an ongoing basis – to apply intelligent automation to existing processes.  Accenture has developed a prioritization tool that assesses both the viability of process automation and the potential benefits associated with it.
Assemble both Business and Technology Experience and Knowledge. Commitment and input from team members who are currently performing processes under review are critical for effective automation. The time required for a robotics implementation can be significant, especially for complex processes. Clear expectations should be set regarding the time required from subject matter experts (SMEs) at the outset of an automation project.
In addition to these factors, the organization's technical architecture and set-up can help identify the automation tool chosen. This helps CFOs understand the potential benefits that can be realized. For example, data restrictions can be an issue for enterprise-wide tools, while divisional and/or business-specific applications can reduce the ability to re-use seemingly similar, global processes.
Implementing intelligent automation can be a challenging task. It may require changes to company policy that would be subject to management and board approval and formally communicated to stakeholders.
Automated solutions raise questions calling for clear answers. Over time, however, incremental gains from process automation can lead to insights into possible redesign of major activities.  Automation of key finance processes can open the door to a fully reimagined operating model for the entire finance organization.
In the next blog in this series, we will discuss how CFOs and their teams can use analytics to gain insights and make better business decisions.  In the meantime, read our CFO Reimagined report in banking and insurance.