Regulatory Context
The Additional Monitoring Tools (AMTs) were introduced by the Basel Committee on Banking Supervision with the first version of the revised Liquidity Framework in December 2010 (bcbs188).
The guidelines set by the Basel Committee have mostly remained unchanged in the latest version of the January 2013 text (bcbs238).
The European Banking Authority (EBA), in turn, addressed the topic and published in May 2013, a consultation paper entitled "Additional Liquidity Monitoring Metrics" and submitted the final version of the AMT framework in December 2013: "EBA final draft Implementing technical standards." The entry into force of AMTs in the European Union is planned for July 1, 2015 with a 30 days remittance frequency until the end of 2015. AMTs will have to be delivered at a monthly frequency. The implementation of AMTs in other jurisdictions will depend on the interpretation by local regulators of the guidelines from the Basel Committee. For instance, in the US, the Federal Reserve Board issued in October 2013 a consultative document about Liquidity Coverage Ratio (LCR), but has not yet addressed the topic of monitoring tools.
Purposes of AMTs

AMTs promote recommended internal best practices into mandatory disclosure requirements.
Most of the topics covered by AMTs had already been described by the Basel Committee in "Principles for Sound Liquidity Risk Management and Supervision." AMTs are part of the set of good practices that had to be followed by banks in order to manage liquidity risk. The metrics highlighted in Basel III documents were supposedly already captured in some form by banks for their risk management purposes; however, they were not reported to supervisory bodies. Moving forward, banks will be required to provide such information.
From an operational point of view, the AMTs appear to have been designed to monitor the areas of liquidity risk that fall outside the scope of LCR and Net Stable Funding Ratio (NSFR). In a way, AMTs could be seen as the "side wheels" of the liquidity framework: they are not binding metrics but they will ensure that all potentially useful liquidity data will be collected and immediately available to supervisors.
Scope of AMTs
The definition and the scope of AMTs differ between the Basel and the EBA texts:
In the Basel texts, "Monitoring tools" is a generic term encompassing all additional dashboards (including the maturity ladder and the asset encumbrance), which complement the liquidity ratios.
For EBA, "Monitoring Metrics" include the market driven indicators (so-called "Monitoring tools") and the maturity ladder.
This article focuses on "Monitoring metrics" as defined by EBA.
Overview of AMTs
The Additional Monitoring Tools (AMTs) fall into two main categories. 
The first part of the framework relies on maturity ladders, based on contractual data.
The second set of monitoring metrics focus on identifying risks such as:

concentration of funding by counterparty
concentration of funding by product type
concentration of counterbalancing capacity by issuer/counterparty
prices for various lengths of funding
rollover of funding
Maturity Ladder
The first part of the framework could be described as an "extension" of LCR and NSFR.
Banks will be required to communicate to supervisors a detailed dashboard presenting their contractual outflows / inflows arising from their current liabilities / assets over a 10-year maturity ladder (that is to say, markedly beyond 1-month or 1-year time horizon of the two liquidity ratios). The global mechanism is the same as for LCR, as any mismatches between outflows and inflows is expected to be compensated by a counterbalancing capacity.
The contractual maturity ladders will highlight any maturity mismatch and provide detailed insights into the extent to which a bank relies on maturity transformation.
The maturity ladder compared to LCR and NSFR – a long-term perspective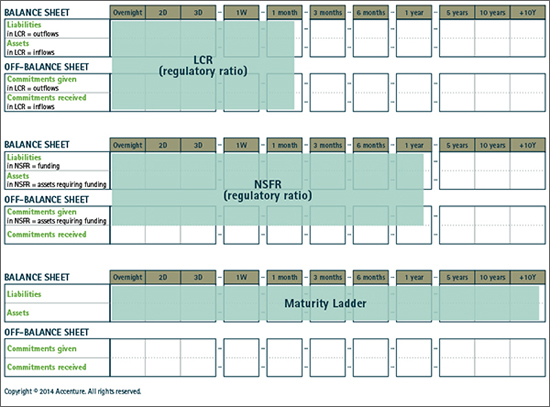 The need for regulatory long-term liquidity projections may lead banks to adapt their funding strategy, increase their focus on the long term and possibly review their internal liquidity pricing grids – which are commonly flat beyond a 6 or 7 year-horizon.
For example, the requirement to produce the same dashboard for each significant area of the organization may compel banks to strengthen their funding plans in foreign currencies. European banks which have implemented alternative strategies to keep access to the USD market during the liquidity turmoil will probably have to define new long-term approaches to secure their funding in the key currencies (e.g. long term cross currency interest rate swaps).
According to the May 2013 Consultation Paper, the contractual maturity ladder was supposed to be complemented by a forecast of inflows and outflows over the same horizon. The behavioral maturity ladder was removed in the final version of the text. Supervisory expectations around behavioral assumptions and their applications, as described in May 2013, were uncertain. The reliability of such long-term projections is uncertain. And it was unclear how the regulatory bodies plan would have handled situation(s) where a forecast from a given bank deviates markedly from the general consensus.
Complementary Metrics
The second part of the framework embodies a significant shift in the focus of supervisors.
Some of this data (such as the distribution and the cost of funding) can be considered highly confidential and do not resemble the kind of data usually required by supervisors.
Four new dashboards have been defined and address the following key questions: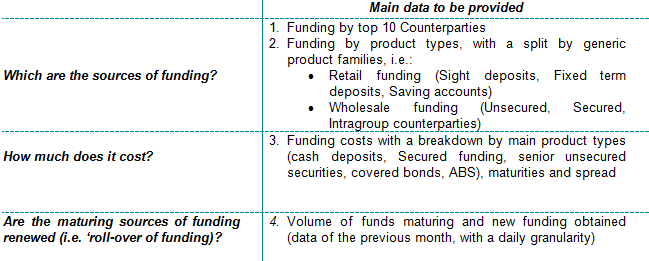 A considerable data collection effort
Globally, the AMTs leverage standard internal tools, but they would require a strong enhancement in respect to:
Maturity: For example, liquidity gaps on contractual and dynamic maturities are typically based on a series of maturity bands, ranging from a 1 month to 5-year maturity horizon.
Frequency: The frequency of the production of these indicators is not necessarily monthly and may be produced at a slower frequency – typically half-yearly, for long-term indicators.
The volume of data to be collected and aggregated and the number of expected reports are significant. Banks can leverage on the existing data feeds (built for liquidity ratios), but they will also have to:
Use additional data sources (front-office systems, Asset Liability Management (ALM) dashboards, accounting….)
Perform complementary quality checks (to meet the quality standards of supervisory reporting)
Still several Pending Points
The way that data will be used by supervisors is not yet clearly defined.
AMT data will enable supervisors to build a comprehensive view of liquidity risks in the banking landscape, and easily spot banks with "abnormal" profiles.
But at this early stage, one can reasonably anticipate amendments to the AMT framework: Some of the AMTs are possibly temporary tools that will need to be reviewed by supervisors in the medium term, that is to say once liquidity ratios are stabilized.
Broadly speaking, it appears that AMT implementation is still a "work in progress".
Early feedback received from European banks is mostly negative. They markedly point out the major burden caused by a monthly remittance and the high number of dashboards.
As EBA pointed out, new additional requirements could be introduced in the coming years – such as intraday liquidity management, especially for large direct participants in the payment system.
What Banks Should Do?
Firstly, banks need to assess their organizational and operational readiness to deliver the additional monitoring tools. This assessment could readily be conducted by Risk and Finance Departments by answering the following questions:
Governance: Which bank department / committee will be responsible for producing and monitoring the AMTs? How can a bank's organization effectively integrate liquidity reporting and monitoring for internal and regulatory purposes?
Operational process: What could be the production process? Would the operational process be mutualized with the LCR and Stable Funding reporting streams?
Methodology: Which methodology options need to be adopted to produce the AMTs? How does the bank address the issues around behavioral forecasting, the monthly reporting of a 10 year maturity ladder?
Data: Does the bank already have access to the required data and level of granularity, and where? Is data easily available, and at the target level of quality and accountability?
Systems: How does the bank produce LCR and stable funding? Could this system be upgraded to also deliver AMTs? If not, does the bank want to use an external provider or simply develop AMTs  internally? Does the bank have time to acquire and integrate an external provider or to develop an internal solution?
Secondly, banks should define a roadmap to facilitate integration into their Basel III programs and deliver the additional monitoring tools. Given the large remaining uncertainties around the AMT framework, banks must adopt a flexible approach to help manage future regulatory amendments.
In terms of scope, banks may define roll-out plans, with the prior approval of banking supervisors (starting with the most significant entities and sub-consolidation levels, roll-out plans could progressively be extended to all individual eligible entities).
Based on their own assessment of their operational readiness, banks must also define a flexible implementation approach, and keep the right balance between flexibility and industrialization to address:

In the short term, which tactical production processes could enable the bank to meet the regulatory quality standards?
When will it be possible to evolve from a series of independent dashboards to a more robust and integrated framework?
Finally, the target that banks should try to reach is a comprehensive liquidity reporting framework capable of delivering internal as well as regulatory requirements across the whole spectrum, from liquidity ratios to AMTs and asset encumbrance reports.
Of course, banks should expect to face significant operating cost pressures in the short term, but in the medium term, banks could significantly capitalize on a single reporting framework encompassing all the required capabilities. An integrated framework could help:
Meet regulatory reporting requirements across the whole balance sheet (Basel III imposes supervision on capital, liquidity and leverage).
Offer an enterprise solution, with adjustable analytics and reporting capabilities (e.g. stress and scenario tests, new reporting requirements, modeling of cash flows…).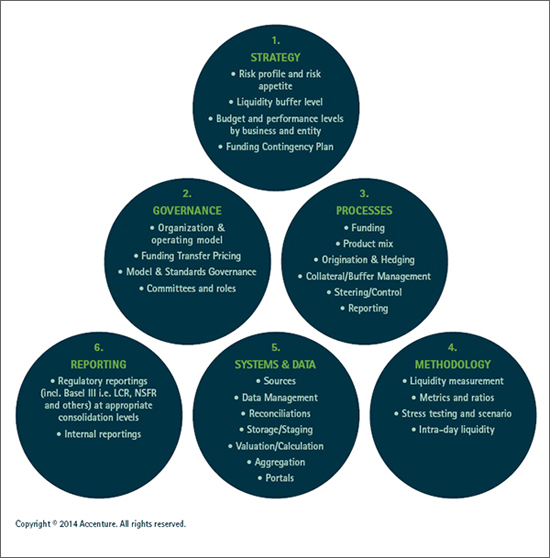 How Accenture can help?
Accenture has experience in risk and regulatory projects in the banking sector. As outlined in our thought leadership point of view "Liquidity Risk Management and the Regulatory Environment," Accenture can help achieve successful liquidity programs by:
Defining scalable liquidity programs, enabling the alignment of the bank's organization and processes to its new business models.
Providing the key capabilities required for the pillars of a robust liquidity framework (Strategy, Governance, Processes, Methodology, System and Data, Reporting).
Newsletter Authors:
Copyright © 2014 Accenture. All rights reserved.
Accenture, its logo, and High Performance Delivered are trademarks of Accenture.
This document is produced by Accenture as general information on the subject. It is not intended to provide advice on your specific circumstances.
If you require advice or further details on any matters referred to, please contact your Accenture representative.