As market dynamics continue to shift and the sell side firms and issuers are advancing their transition programs and new rate products, buy side firms need to pivot to execution delivery emphasizing operational readiness to support the transition to a post-LIBOR world.
Asset Management Priorities for 2021
Accenture's 2020 LIBOR survey of Asset Management firms globally indicated key focus areas for 2021 within the areas of Operational Readiness, Portfolio Transition, and Balancing Risk. Asset Managers should facilitate planning and execution work are being properly conducted within these areas to drive the LIBOR transition during the coming year.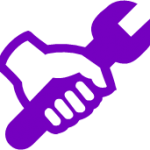 Operational Readiness
Only 9% of firms have deployed their transition plan to updated infrastructure, the majority are still in pre-build phase focused on plan, analyze and design. It could be critical to complete the update of IT systems in front, middle, and back office to process and support new rates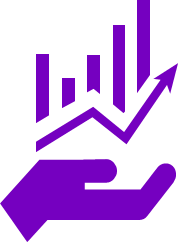 Portfolio Transition
20% of firms are executing on their LIBOR transition plan. Firms need to focus on managing impacted investments across portfolios to avoid unintended value transfers and to support constructive client communication, and to facilitate SEC exam readiness
Balancing Risk
Risk management was listed as the #1 priority for asset management firms for 2021. Firms need to balance the scaling of risks between strategic and tactical solutions in order to verify business continuity and operational readiness and mitigate financial, operational, and reputational risks
Opportunity for Legacy System Upgrades
The LIBOR transition could impact the entire investment management lifecycle for some Asset Managers, stressing technology and transaction processing capabilities, increasing data requirements, and increasing operational risk throughout the organization. 65%+ of asset managers surveyed view the LIBOR transition as an opportunity to upgrade legacy systems to modernize operations, in particular, Data Warehouse/Lakes was seen as prime for upgrade, followed by Risk Systems and Market Data Provider Systems.
Figure: Accenture LIBOR Survey 2020

Work Asset Managers Should Be Doing Now
Investment Managers should work with sell-side, issuers, and service providers to mitigate significant risks to their organizations and clients. The LIBOR transition for Asset Managers would impact across six dimensions where firms may need to take action.
Accounting – Ensure new functionality such as backward compounding is ready and tested on internal and external/third-party service provider systems. Prepare new financial statement disclosures.
Financial Evaluation – Defined new calculation methodologies aligned with features of new alternative RFR. Evaluate the impact of the different options of alternative rates on the valuation of financial instruments.
Operations and Technology Readiness / System Adjustments – Complete remediation of all systems impacted including those performing interest calculation and valuation (discounting). Adjust data management to retrieve the reference alternative RFR on time from the correct source. Execute testing plans.
Program Structure / Transition PMO – Verify program structure is in place inclusive of all stakeholders to support governance and drive internal external communications.
Contracts / Investments – Verify documentation for portfolio investments are understood. Leverage rate calculators and dashboards until system upgrades are complete and impacted portfolios are transitioned. Execute on remediation plan to facilitate transition to new alternative RFR.
Controls and Processes / Risk Management – Continue to assess the liquidity of the different alternative RFRs. Finalize documentation of process and controls to support the migration, mitigate the operational risk of dealing with LIBOR and RFR at the same time, and the new BAU. Complete update of risk models.
Figure: Accenture LIBOR Transition Framework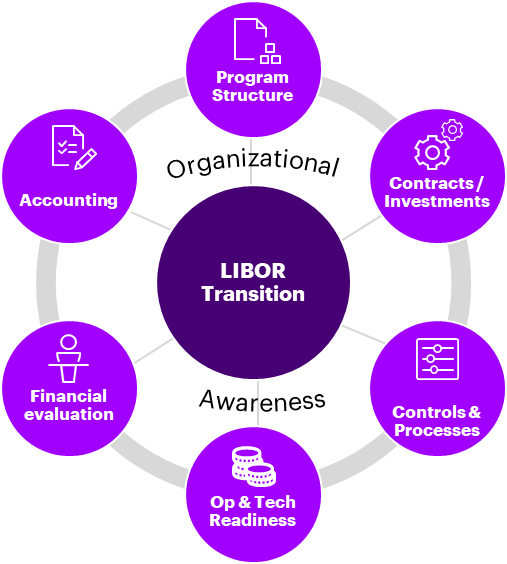 Asset Management Firms Time to Execute
Leading firms have pivoted to execution while others are still in pre-execution. The recent extension for certain legacy US LIBOR tenors to June 30th, 2023 does not diminish the fact that full transition on all other positions and full readiness should be complete by December 31st, 2021. In addition, firms need to be ready for ongoing SEC exams of investment manager readiness for the transition (Accenture Blog: SEC Issues Risk Alert on LIBOR Preparedness).
Figure: Accenture LIBOR Transition timeline
How Accenture Can Help
Accenture can assist clients with leading capabilities in the following areas:
Transition SEC Exam Preparedness and Planning
Transition Analytics and Reporting
Data Management – Platforms / Infrastructure, Remediation, Data Analysis, Migration and Integration
Operational Readiness
Contract Remediation
Platform Upgrades
Technical Assurance
Peak Period Transition Resourcing
Conduct Risk
Testing
Rate and Value Calculators
Disclaimer
This blog is intended for general informational purposes only, does not take into account the reader's specific circumstances, may not reflect the most current developments, and is not intended to provide advice on specific circumstances. Accenture disclaims, to the fullest extent permitted by applicable law, all liability for the accuracy and completeness of the information in this blog and for any acts or omissions made based on such information. Accenture does not provide legal, regulatory, audit or tax advice. Readers are responsible for obtaining such advice from their own legal counsel or other licensed professional.
About Accenture
Accenture is a leading global professional services company, providing a broad range of services in strategy and consulting, interactive, technology and operations, with digital capabilities across all of these services. We combine unmatched experience and specialized capabilities across more than 40 industries – powered by the world's largest network of Advanced Technology and Intelligent Operations centers. With 505,000 people serving clients in more than 120 countries, Accenture brings continuous innovation to help clients improve their performance and create lasting value across their enterprises. Visit us at: https://www.accenture.com/us-en