Other parts of this series:
---
It was all too easy to imagine these trends forming into headwinds that would undermine our ability to compete. In response, we sat down to design and build a learning tool that would prepare our workforce for the 4th Industrial Revolution. We called the result the Future Talent Platform.
In the years since its launch, the platform has helped Accenture to train almost 300,000 people in new-age technologies, including automation, agile development, and intelligent platforms. It has also helped us redistribute our workforce to take advantage of intelligent tech. For instance, in  2017, we automated over 17,000 back-office jobs through robotic process automation and redeployed those displaced by the changes, freeing them from repetitive, mundane work and training them for new roles.
Here's how we did it.
Key characteristics of a modern learning platform
We began rebuilding our internal learning function by defining our key success factors for the platform. From the start, we knew we wanted our new learning platform to be:
Business-value lead. Learning for its own sake is a wonderful thing, but as a publicly-traded company, Accenture needed to make sure that its learning investments were generating returns.
Fast, efficient, and easy to change. We wanted a platform that could keep up with the pace of the modern world—and be adapted on the-fly.
Tailored, targeted, and time-efficient. We knew that a 'one size fits all' system would not work with our diverse workforce. We needed a platform that could reach each learner on their channel of choice, in a way that drove engagement and made good use of their time.
Adaptive and continuous. We needed our platform to improve itself over time, and to help a worker to learn constantly over their whole career, not as a one-off event.
These four characteristics point towards a learning system that was radically different from Accenture's legacy learning infrastructure. Yet for all our new requirements and new tools, we knew that certain characteristics of learning were static. We did not need to reinvent the wheel.
In fact, the Future Talent Platform can be thought of as an adaptation of the '70:20:10' learning strategy for the digital age—that's an old rule of thumb that people learn 70 percent of what they know from day-to-day experience, 20 percent from others, and 10 percent from formal training.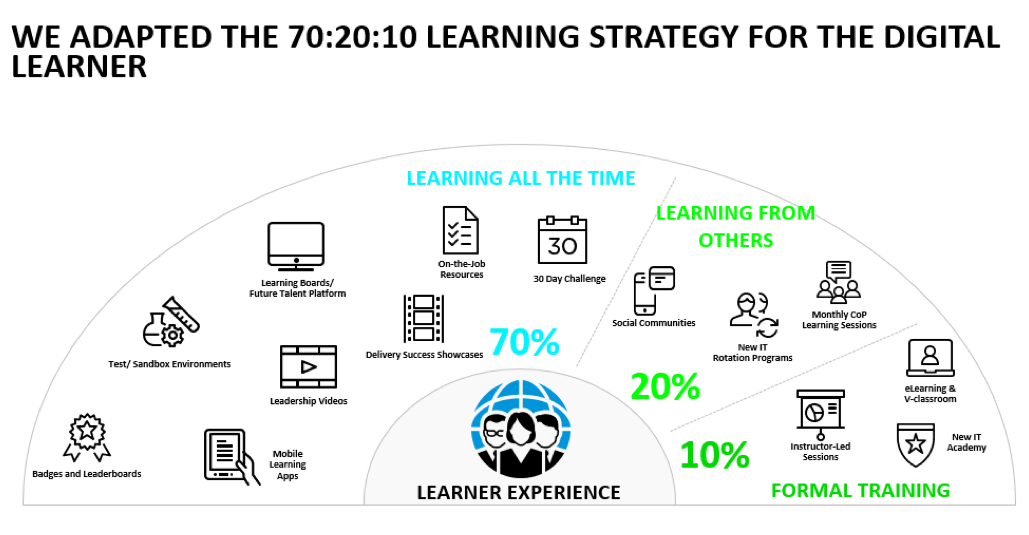 The platform reflects this principle in number of ways.
The content provided is engaging and curated by leading subject-matter experts.
The platform creates a social learning environment, where workers are encouraged to learn from and connect with each other.
The platform is driven by Learning Boards, which anchor the digital learning experience and connect with learners wherever they are. Learning is personalized and available on-demand. The goal is for the learning to spill over from the 10 percent 'formal training' area and into the 'learning all the time'
The platform was launched with a wide-ranging and abiding marketing campaign to raise internal awareness.
It includes a mobile tracking app for learners and leaders alike to monitor their progress.
The platform also recognizes that it's important to use different learning approaches for different audiences. That's why it offers a comprehensive range of ways to learn.
New platform, new results
Since its launch, the Future Talent Platform has become the most popular way to learn at Accenture. More than 50 million learning activities have been completed and its learning boards have been visited over 12 million times. Its continuous learning keeps Accenture employees evergreen and turns our talent development teams into business accelerators.
The platform has also paid strategic dividends. Accenture invests over $900 million each year in learning and professional development, and the powerful analytics included in the platform gives us very useful insights for monitoring the returns of those investments.
The platform is a game-changing and expansive talent tool. The rapid and wide-ranging reskilling it enabled played an important role in Accenture's agile pivot and strategic shift to high growth, high margin lines of business. It also reinforced Accenture's culture of lifelong learning, where each member of the workforce "owns" their own learning and passionately pursues it.
In fact, a full listing of its features and benefits is beyond the scope of this post. If you're curious about the Future Talent Platform, more information can be found in this short video.
Or, of course, if you'd like to continue the conversation, I'd love to hear from you. Adult learning is a real passion of mine (in fact, I'm in the process of finishing my doctoral dissertation on the subject), and I'm always delighted to hear what financial services leaders have to say on the subject. I can be reached here.
In my final post in this series, we're going to take a closer look at Learning Boards, which are the real heart of the Future Talent Platform.