Regulatory Context
Recent unauthorized trading events across the capital markets industry have resulted in massive trading losses, unprecedented fines, heightened regulatory scrutiny and investor skepticism. In order to avoid future losses we believe banks will need to implement control programs that monitor and help prevent the execution of unauthorized transactions.
What this can mean for Capital Markets Companies
Increased spending on unexpected regulatory initiatives
Strategic spending de-prioritized in favor of required regulatory programs
Banks forced to evaluate product exit strategies as expense ratios climb
Growing numbers of risk / compliance staff requirements
Banks who haven't yet experienced unauthorized trading incidents are now under similar scrutiny as those who have
Industry competition for skilled resources to do analysis and implementation work
Increased spending on services from auditors, consulting firms and technology vendors
Key Challenges from Accenture's Point of View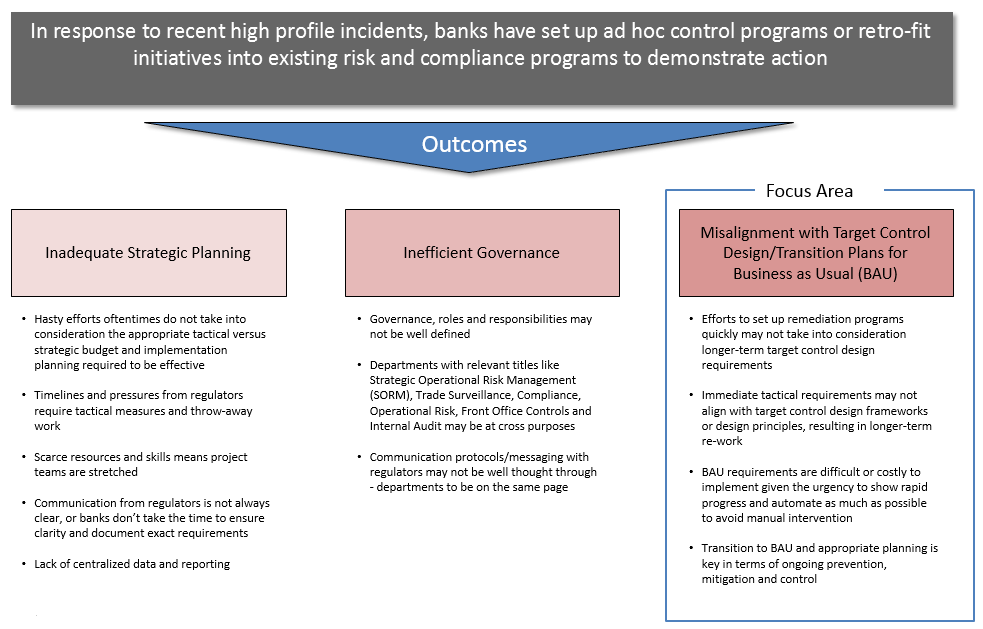 Source: Accenture, February 2015
Where Accenture can help – Our View of Strategic Planning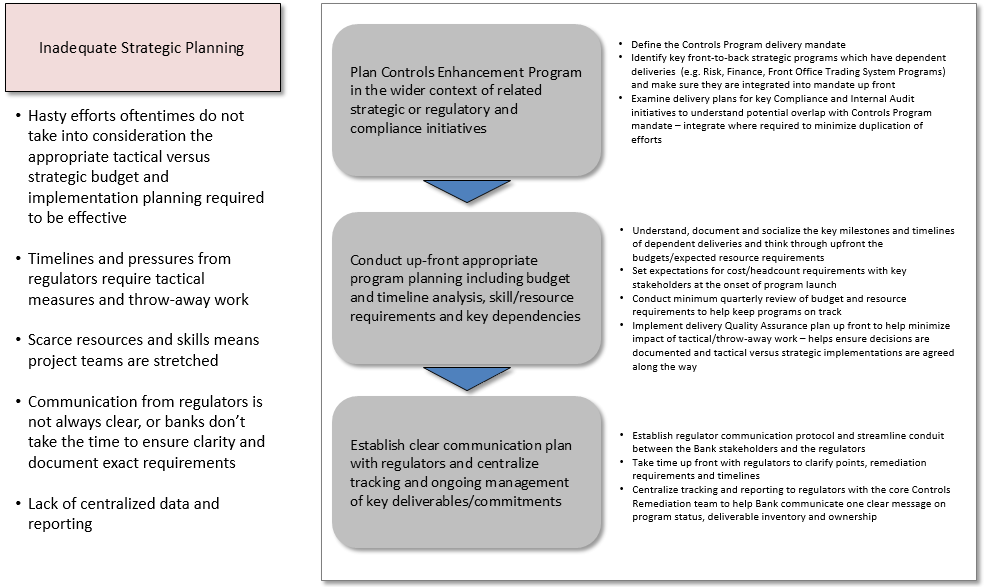 Source: Accenture, February 2015
Where Accenture can help – Our View of Governance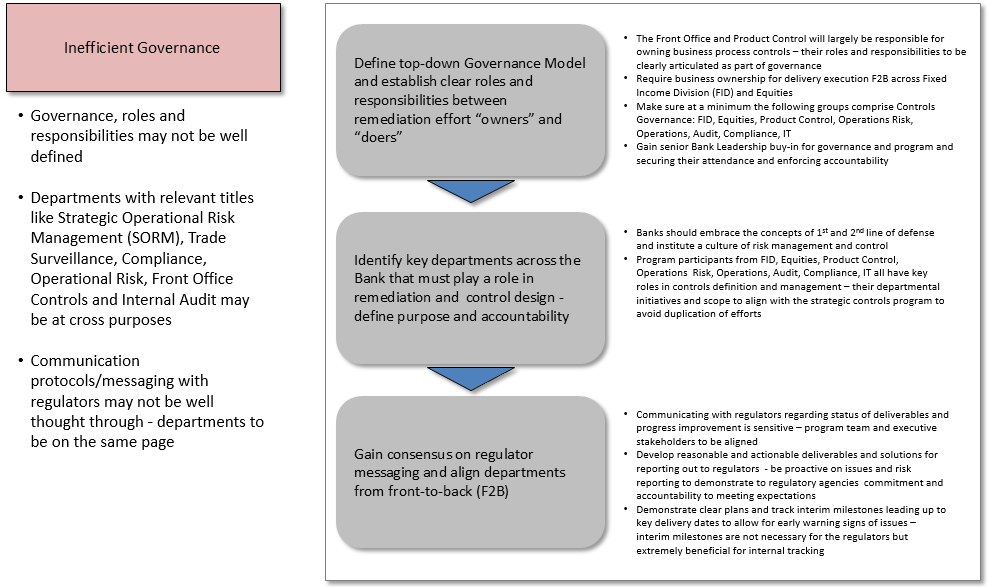 Source: Accenture, February 2015
Where Accenture can help – Our View of Target Control Design and BAU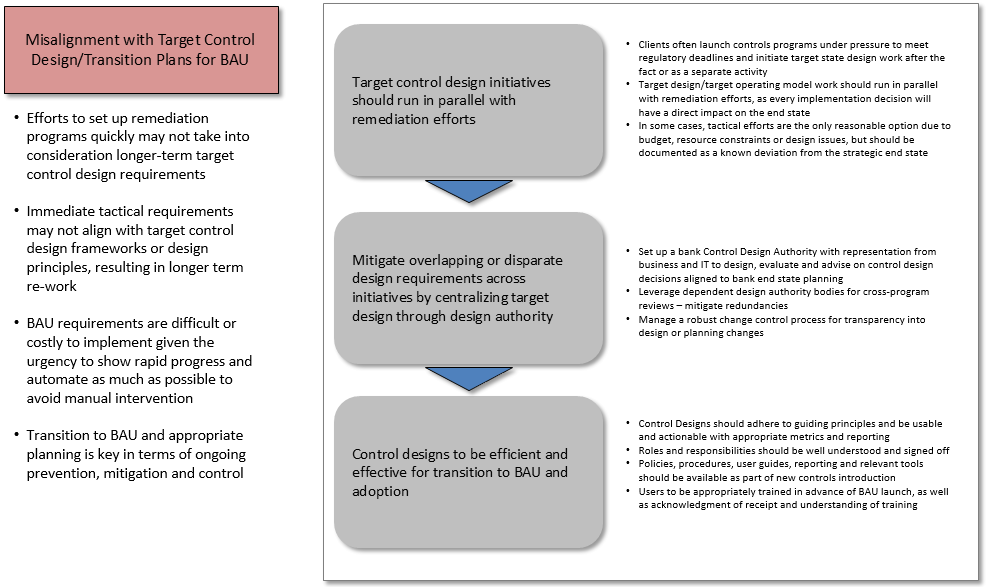 Source: Accenture, February 2015
Accenture's Target Control Design Considerations Control Framework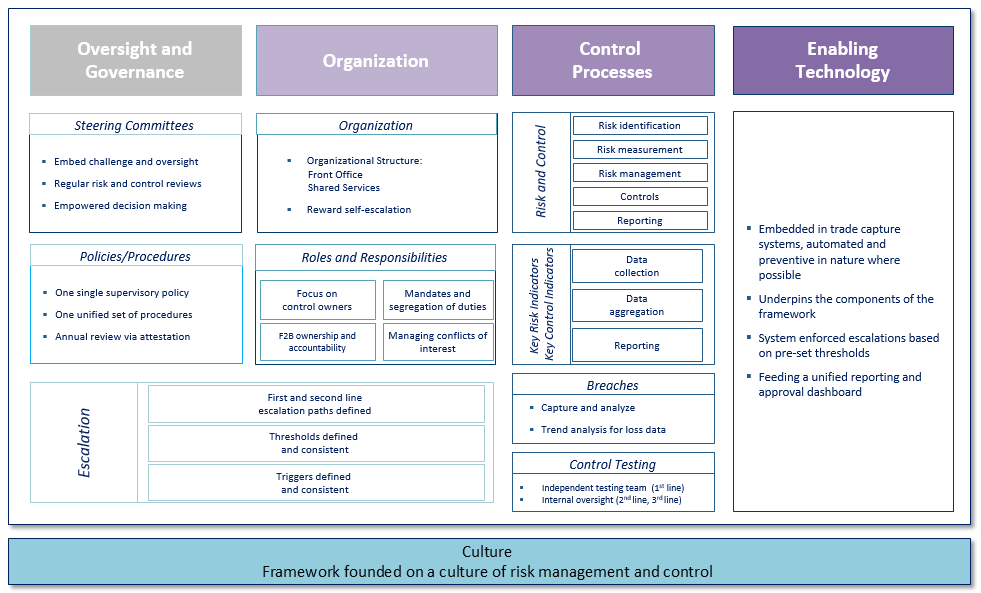 Source: Accenture, February 2015
Newsletter Contacts:
Newsletter Authors:
DISCLAIMER: This blog is intended for general informational purposes only, does not take into account the reader's specific circumstances, may not reflect the most current developments, and is not intended to provide advice on specific circumstances. Accenture disclaims, to the fullest extent permitted by applicable law, all liability for the accuracy and completeness of the information in this blog and for any acts or omissions made based on such information. Accenture does not provide legal, regulatory, audit or tax advice. Readers are responsible for obtaining such advice from their own legal counsel or other licensed professional.
About Accenture
Accenture is a global management consulting, technology services and outsourcing company, with approximately 319,000 people serving clients in more than 120 countries. Combining unparalleled experience, comprehensive capabilities across all industries and business functions, and extensive research on the world's most successful companies, Accenture collaborates with clients to help them become high-performance businesses and governments. The company generated net revenues of US$30 billion for the fiscal year ended Aug. 31, 2014. Its home page is www.accenture.com.
Copyright © 2015 Accenture. All rights reserved.
Accenture, its logo, and High Performance Delivered are trademarks of Accenture.
If you require advice or further details on any matters referred to, please contact your Accenture representative.