While external fraudsters who absconded with billions of dollars in pandemic relief have dominated headlines, less attention has been paid to employees scamming those very same programs. In the two years since the advent of the COVID-19 pandemic, news headlines have been awash with sensational stories about international crime gangs and con artists who stole billions of dollars in government relief money. But while these stories captured the public's attention, another type of fraudster was plying their trade in state benefit agencies across the U.S. — the internal fraudster.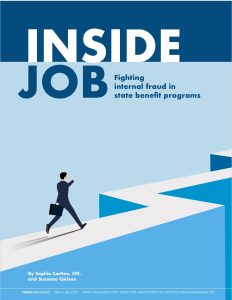 Organizations often focus on the threat of external actors. It's easier to make sense of a bad actor from outside the organization than it is to understand trusted employees or colleagues as bad actors. Organization leaders often wear rose-colored glasses, preferring an optimistic view of the people they entrust to carry out the day-to-day tasks of essential state business. While it's understandable to think the best of employees, this view hinders meaningful actions to prevent, detect and mitigate internal threats. 
State benefit programs are just as vulnerable to internal threats as any other organization. No matter how strong the controls and processes or how "good" the people are, there's no such thing as zero internal fraud risk. The pandemic and the influx of government aid disbursed to state benefit programs intensified the risk factors that can lead to internal fraud.  
In this article, we spotlight internal fraud at state agencies and what organizations can do to fight this pernicious type of fraud.
Reprinted from the May/June 2022 issue of Fraud Magazine, © 2022 Association of Certified Fraud Examiners, Inc. "ACFE," "CFE," "Certified Fraud Examiner," "Fraud Magazine," "Association of Certified Fraud Examiners" and related trademarks, names and logos are the property of the Association of Certified Fraud Examiners, Inc., and are registered and/or used in the U.S. and countries around the world.