---
Changing societal values. Concerns about our climate emergency and finite natural resources. Economic and political instability. All are prompting investors, customers and employees to question long-held beliefs—notably, the assumption that growth at any cost is acceptable. For financial services (FS) firms, it's an important attitudinal shift to note and act on.
As new metrics of success begin to emerge, the impact on talent and the organization (T&O) will be significant. If there are goals other than the financial ones that a company needs to achieve, these need to be cascaded down to individuals and teams' goals. How does HR do this?
How serious is this shift?
The Business Roundtable, an association of CEOs from North America's most prominent companies, has recently redefined its mission. It has moved to prioritize activities such as "value for customers," "investing in employees" and fostering "diversity and inclusion" over its former mission: delivering shareholder value.
In September 2019, The Financial Times introduced its The New Agenda, stating: "The long-term health of free enterprise capitalism will depend on delivering profit with purpose." The following month, BlackRock, the world's largest asset management firm, confirmed a global partnership with the Ellen MacArthur Foundation to launch its first circular economy fund—a further powerful signal.
FS firms need to start now by defining the types of value they can deliver while making the profit required to thrive.
Pointing out that $120 trillion of assets globally are managed by financial firms signed up to the Task Force on Climate-related Financial Disclosures (TCFD), Bank of England Governor Mark Carney noted the following: "Companies that don't adapt—including companies in the financial system—will go bankrupt without question. There will be great fortunes made along this path aligned with what society wants."
Where to start?
FS organizations need to start by defining the types of value they can deliver while making the profit required to thrive. Embedding these new metrics alongside financial growth will help drive desired behaviors across the organization's workforce and leadership.
In this new setting where it's not just about financial growth, HR practitioners will need to acquire a different mindset. Incentives, measures of performance and consequence management will, for example, all need to be reconsidered. HR will need to find ways to reward new kinds of value; and motivate staff to achieve it.
The behaviour and priorities of FS leaders will also need to shift, and culture transformation and leadership development will be impacted.
My advice: what you measure will count; it will help drive change and industrialize it.
For leadership, it's time to act.
CEOs speak
A 2019 study by Accenture and the UN Global Compact, the world's largest CEO study on sustainability to date, notes that too few leaders are acting on their convictions. While 90 percent of CEOs surveyed in 2016 said they were personally committed to ensuring their companies drive sustainable development, only 48 percent are doing so in 2019.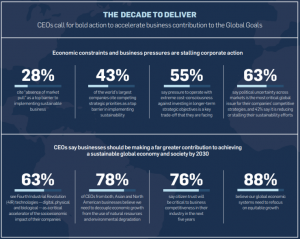 In the study, CEOs point to nine emerging qualities of responsible leadership that will enable businesses to be leading actors in driving global goals—goals which I believe will help define new metrics of value. These are my top picks:
• Build cultures of responsibility and sustainability within your ecosystems;
• Know the issues and engage in science-based leadership;
• Extend responsibility to ecosystems and lift up industries;
• Engage in non-competitive collaboration;
• As individuals, take sustainability personally;
• Hold people to account and meaningfully engage investors; and
• Lead change with authenticity.
Join me next week as I explore two other Fjord 2020 trends that will impact FS organizations: Money Changers and Walking Barcodes.
Meantime, click here for more on Fjord's 2020 Trends.