Other parts of this series:
---
AI is going to revolutionise FS and—from a workforce perspective—it's a much more optimistic story than the headlines would have us believe. New Accenture research indicates that FS firms that commit to AI and invest in human-machine collaboration can increase revenues and jobs.
We are on the brink of a 4th Industrial Revolution in which AI will fundamentally change the way we work and live for the better. Even as AI begins to eliminate some of the more tedious jobs done by humans, demand for human skills is growing. That's because it's becoming increasingly clear that the key to unlocking the future value of AI lies at the intersection of humans and intelligent machines.
The FS workforce of the future won't just work alongside AI, it will actively collaborate with AI to deliver growth and opportunity that dwarfs the efficiency benefits AI has thus far managed to deliver on its own.
Why now? What's changed?
Until now, robots, video analytics and other intelligent technologies have worked in parallel with people, mostly in automated isolation. Their role has been to improve process efficiencies and lower costs. Now, as companies invest in AI systems that can sense, communicate, interpret and learn, all that changes. AI can be applied in more nuanced ways within a broad enterprise structure to help companies move beyond automation and elevate human capabilities to unlock new value.
What does that look like? While AI can deliver well on transactive, iterative and predictive tasks, humans are better at leading, creating, improvising and empathising. Together, however, humans and machines can achieve much more.
This is applied intelligence—humans helping AI help humans. Human-machine collaboration that amplifies the skills of each to deliver something exponentially more.
As it is embedded at scale across the enterprise, applied intelligence will enable organisations to solve complex challenges, develop new products and services and break into or even create new markets.
It's a very attainable reality.
Accenture research on the effect of AI within 16 industries shows that AI has the potential to boost revenue by an average 38 percent. The survey reached across 11 countries, 1,200 CEOs and top executives working with AI, and 14,000 workers spanning four generations and all levels. The FS specific research was as positive. It identified:
A 32 percent lift in FS revenue by 2022 based on how firms commit to AI and redeploy talent with human-machine collaboration capabilities within their organisations.
A 9 percent growth in FS jobs.
In addition, almost two-thirds of FS executives indicated that they expect AI to result in a net gain in jobs in their organisations in the next three years.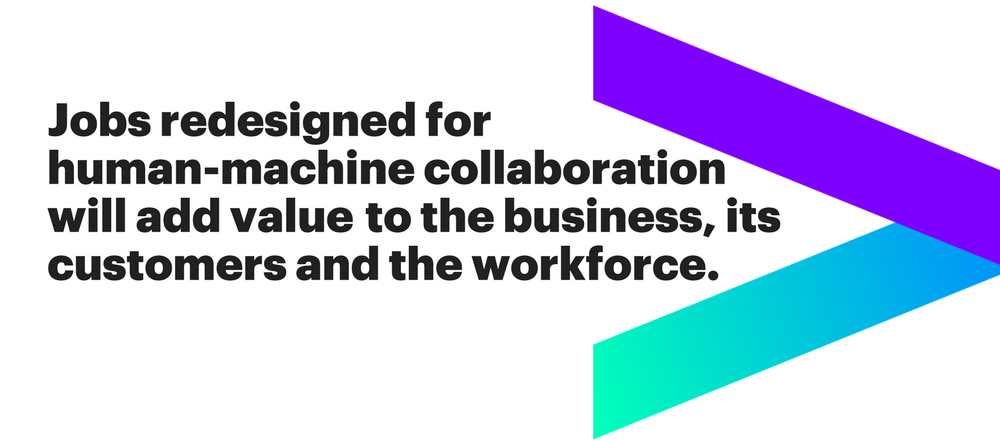 We are already seeing the effect of AI and machine learning across sectors. Now AI is finding its place in FS. For example:
JPMorgan Chase has introduced a Contract Intelligence (COiN) platform to extract important data and clauses from legal documents. COiN achieves in seconds what it takes humans doing manual reviews hundreds of thousands of hours to achieve.
Wealth manager UBS is building "virtual agents" that can perform investment research to near-human levels.
Genworth has developed a highly automated enterprise underwriting platform for mortgage insurance designed to streamline its operations and enhance underwriter productivity. It eliminated the need for underwriters to interface with multiple systems.
AI offers insights that allow humans to make better informed judgments. It removes the burden of repetitive, mundane tasks to allow humans to perform higher value functions. And it adds unexpected value for businesses, employees and customers.
Reconfigured jobs will be more strategic and the work employees will do will be more satisfying, higher-value work. In addition to opening up new career opportunities and employment, AI will play an important role in addressing some of our biggest workforce challenges. These new jobs will help improve work/life balance, a critical factor in dealing with the growing mental health issues faced by an always-on digital workforce.
But FS is far from ready for AI
To achieve these benefits, FS needs to ready its workforce for human-machine collaboration… and the banking and insurance versions of our 2018 Accenture Future Workforce Survey: Realizing the full value of AI research shows that FS executives clearly are not thinking ahead.
Even though most banking and insurance executives in our survey believe their industry will be completely transformed by AI and identify skills shortages as a key challenge, less than 5 percent said their organisation plans to significantly increase investment in training programmes in the next three years.
Enabling human-machine collaboration at this level and scale will require a very different workforce.
Next week we will look at how jobs in FS are changing, what FS firms need to do and the new skills needed.