Other parts of this series:
---
The IT workforce has always been on the forefront of change, but AI brings a new level of change to the organization. Accenture looked across industries to understand, and provide insight into how CIOs and other executives, including those in FS, are preparing their workforces for AI.
What's becoming clear is that as AI advances it will touch every part of the business, profoundly affecting how work is structured, and who—or what—performs it. The IT workforce will play a key part in introducing and managing the rollout of AI but, to do this successfully, they will require new and different skills. Will FS IT organizations be able to meet the new demands AI will place on them?
As more companies across sectors compete for top AI skills, FS firms need to expect the unexpected. Indeed, our research shows that almost half (48 percent) are already applying non-traditional skills acquisition strategies.
The IT workforce is strategic
Of the executives surveyed in the Accenture study "Making IT Work", 78 percent believe that AI will disrupt their industry over the next three years and transform the nature of competition. However, they may not fully appreciate how this will impact that workforce and the ferocity of the battle for skills that lies ahead.

While executives predict massive changes ahead—80 percent expect the IT workforce to change dramatically over the next three years and 82 percent believe that the skills required and how they source talent will evolve too—four out of five think their current IT workforce skills are sufficient to meet their company's needs in the coming years. With major tech players scrambling now to land top AI talent and a large number of organizations (88 percent) already finding it difficult to source new IT talent, this may be wishful thinking.
The challenge for technology leaders is to recognize and fill skills gaps quickly and effectively to keep pace with the scale, speed and scope of change. They need to get used to full-bore, ceaseless change, anticipating and acting on it relentlessly.
IT leaders drive change
Eighty-five percent of IT executives—and 83 percent of business executives—say that their company's IT workforce is a competitive advantage. This C-suite consensus presents IT leaders with an opportunity to act. They are not sitting still.

Operating models are being redesigned for greater relevance. For example, as the lines between IT and the business continue to blur, the IT workforce structure is changing: 83 percent say their technology workforce is now distributed across the business as well as within the IT department. This has catalyzed a shift from core IT skills to blended business and IT skills. Other operating model changes include the introduction of multi-speed technology delivery, the creation of self-contained fit-for-purpose IT teams, and IT becoming an orchestrator of ecosystems as countless connections are forged.
While traditional tactics such as recruiting, training and using contractors are being employed to boost technology capabilities, FS organizations are also looking to less conventional means: like acquiring companies for their specialized skills.
This 'acqui-hire' trend is taking hold across industries. A hefty 48 percent of banking executives and 45 percent of insurance executives say their firms are using it to fill skills gaps. Will it be enough?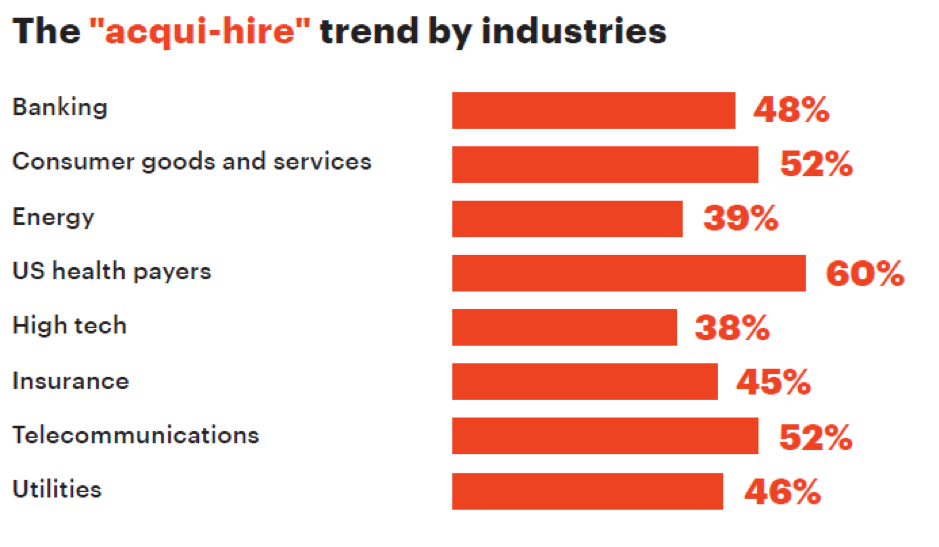 AI skills are scarce
AI skills are scarce, even in Silicon Valley. And there's another dimension to the skills challenge that needs to be recognized: when it comes to AI, technology alone will not provide advantage. True value and growth will be unlocked through human-machine collaboration. This demands a new set of human-centered skills—for all workers but, critically, for the IT workforce.
Join me over the next few weeks as I unpack the AI skills paradox which FS organizations face, and look at how they can move beyond traditional workforce models.
Meanwhile, for more insight into the human-machine collaboration skills needed for AI, read Reworking the Revolution. And for more on the role of IT in an AI future, read Accenture's study, Making IT Work.