Other parts of this series:
---
Investing in workforce analytics will give financial services (FS) organizations an edge as they compete for the best talent, seek to build a future-fit workforce and sharpen workforce performance, and build organizational agility and competitiveness. Ready to get started?
Imagine if all the questions you've ever had about your workforce were answered. Which people are needed for specific projects? Do you have the resources you need to successfully grow your organization? How are individuals performing against KPIs?
HR analytics reveals the answers, equipping organizations with integrated, strategic insights to speed up planning and decisions, reduce risk, empower leadership, and drive business growth.
The potential benefits to HR of using data are enormous. With advanced HR analytics, organizations are able to combine new data to provide new insights and intelligence. For example, one global asset management firm—an Accenture client—boosted the productivity of its operational workforce by 25 percent by benchmarking internal and external productivity, analyzing service maturity and cost to serve, modelling an improved distribution of workload, and identifying productivity-boosting factors.
With HR analytics, FS companies can also:
Deliver a workplace experience that meets the liquid expectations of their top performers.
Tailor HR management and the workforce experience across an organization that spans multiple borders, cultures and regulatory jurisdictions.
Manage an adaptive workforce of the future where employees shift between project teams and job roles, and where workforces comprise a dynamic blend of employees, contractors, suppliers, and robots and AI.
Gain visibility into the workforce to drive an agile, high performance culture while ensuring alignment with regulation and corporate policies.
HR analytics – from vision to reality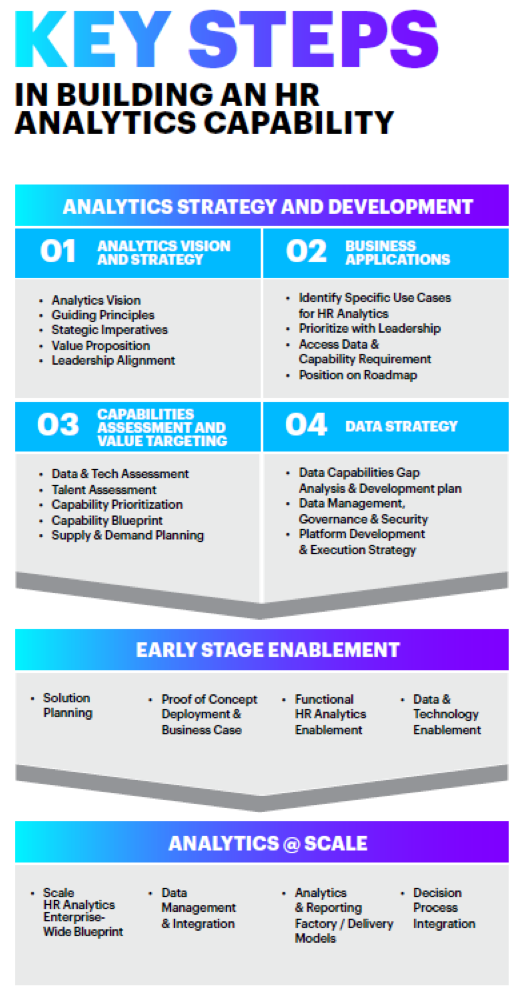 Accenture has identified five key factors for creating a successful HR analytics capability once the vision and strategy have been established.
Develop a journey for workforce analytics. Be ready to adapt it continually to a changing workforce and business environment.
Prioritize investments in 'the new'. Identify workforce priorities that are central to the business strategy—for example, workforce performance, employee engagement and productivity—and consider how HR analytics, AI and other digital tools can enable the organization to address these priorities.
Innovate and scale for value. Experiment with workforce analytics initiatives within a specific segment, geography or business unit, then scale for business value and improved employee experiences across the organization.
Develop a culture that embraces data-driven insights by demonstrating the value of HR analytics to the business and to employees. Use data to improve the human touch at the moments that matter—for example, onboarding or performance reviews —as well as the day-to-day workplace experience.
Be open to engaging with new analytics partners.

Recognize your role in the analytics ecosystems and consider leveraging analytics-as-a-service from a third-party provider as well as providing insights on tap to people in the business who can put them to work.
I hope this series on the power of workforce data has been useful as you consider how to help your organization beat disruption and build a future-fit workforce useful. I am keen to hear your thoughts. If you would like to learn more, do get in touch with me here.
You can read more on the topic by clicking through to the following Accenture resources: Cracking the workforce genome, Decoding organizational DNA, Becoming a data-driven enterprise.