---
You want your business to compete in the digital revolution. You've invested in all the right intelligent technologies to make it happen. Yet, something's missing.
To make a real impact, you first need to invest in your people. They're the ones that drive change, not your technology alone. To become a top contender in a digital world, you first need a complete overhaul in culture and behavior. And then find new ways to use digital and talent to speed up transformation.
Leading financial services (FS) firms know that to remain competitive, you need to:
Attract the best talent by building a strong employer brand, and
Become a change leader in FS.
How to attract the best people for your business
How do you attract the top talent in your industry? How do you build a strong employer brand with a personality that demonstrates the organization's human values?
You achieve this by creating rich human and digital experiences through the combined forces of human-centric thinking and digital innovation. We now have more sophisticated and comprehensive talent acquisition platforms, which help HR professionals to monitor the entire process, from online application to employee onboarding.
Take a look at the following table, which maps out the key considerations in the talent acquisition cycle:
FS firms are in a fight for the top talent and must innovate to attract the best people, who will enable growth in a changing world. Banks and insurers must create employer brands that draw the right skills to turn their organizations into the digital financial services firms of the future.
How financial services firms can become change leaders
Our Financial Services Change Survey 2017 identified three key factors in the success of what we call "change leaders"—FS firms that manage change better, achieve better results through their change programs, and see greater returns on their investments in change.
These factors are:
Stronger vision and leadership with a clear digital strategy
Focus on the human factor
More effective change execution capability
The second key point—to focus on the human factor—is critical: Accenture's change tracking research shows that five of the top seven barriers to transformation are people-related. Change leaders know that people are the key to unlocking the full potential of change. To get the most out of your people, you need to create a flexible, responsive culture that can adopt and sustain transformation.
Our report further shows that change leaders' employees have more positive attitudes towards change. We asked FS firms: what is the predominant feeling among people in your organization towards change? And does your organization thrive on fast-paced change? The graph below shows the responses of change leaders compared with other organizations: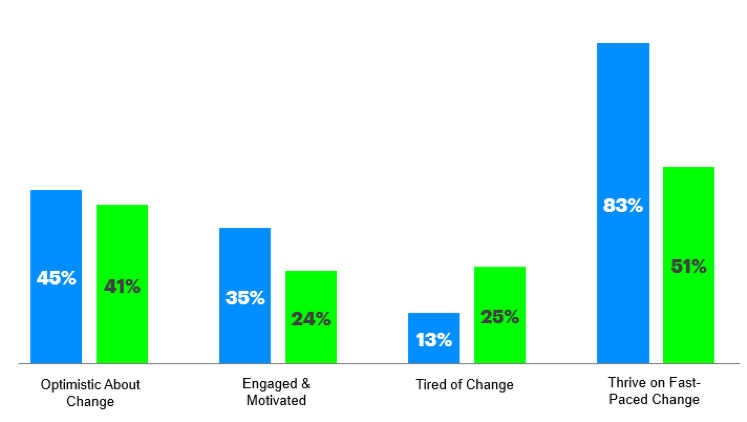 Change won't happen overnight and not without the support and input of all functions within the organization—from the C-suite to HR, IT and marketing.
3 key steps help drive change
To support your organization's transformation agenda, you need to adopt an organized, comprehensive approach to technology, following three key steps:
Design a digital transformation roadmap.
Push for HR to take an active leadership role in shaping the future of the organization.
Examine current staffing to develop more capable and digital-savvy HR professionals.
In my next post, I'll explore what a bank of the future might look like. Until then, read our report on Reimagining HR in Financial Services. To reimagine the future of work together, get in touch with me here.