Other parts of this series:
---
Assessing and amending financial contracts is the third installment in our series outlining the contract remediation journey (see illustration below outlining the phases). One key challenge financial firms face is how to remediate hundreds if not thousands of enterprise contracts at scale. Many financial firms are building a so-called factory for contract digitization, assessment and remediation to manage large-scale regulatory change events. Financial firms should have greater visibility into the provisions and obligations of their agreements so as to better manage regulatory, business and market change events such as the London Interbank Offered Rate (LIBOR) reform; Qualified Financial Contracts and Privacy regulations (such as CCPA). Firms should identify and digitize relevant financial contracts, then assess pertinent provisions so that a contract remediation roadmap can be developed to plan remediation efforts. Technologies such as contract lifecycle management and other workflow tools, analytics, dashboards, when coupled with a robust contract lifecycle management operating model can accelerate an enterprise's contract remediation process, thereby reducing cost, resources and time.
Now that I have extracted key terms from financial contracts, what's next? 
Client/Portfolio Assessment
Financial firms are now leveraging Artificial Intelligence (AI) contract search and extraction solutions to gain better transparency into the provisions of their contracts but are often faced with the challenge of what to do with all the data that has been extracted from pertinent contracts needing remediation. The first principle is that the proper term extraction framework should be developed and applied in order to build a comprehensive term ontology. By applying the proper term extraction framework, contracts can be easily classified and grouped into like buckets (e.g. by financial product such as derivative, term loan or by client or counterparty, fallback and other contract provisions).
Once firms have grouped their contracts, they should conduct assessments of these groupings both at the client and the portfolio level to identify those that have to be amended in order to plan for client communications and outreach efforts including actual contract negotiation. This can be facilitated by intelligent routing/workflow tools and robotic process automation that routes the portfolio of contracts to the appropriate specialized triage teams (including product subject matter experts (SMEs), legal and risk staffers who support the relevant business). Routing would be based on a business rules engine (logic) and depends on the complexity or attributes of the contract. Contracts with greater complexity could be directly routed to legal counsel while lesser complex contracts could be handled by contract specialists or operations personnel for further analysis or remediation.
For example, by using a standard contract management tool with a customized rules engine, a portfolio of 1,500 loans linked to LIBOR could be automatically routed via email to the appropriate relationship manager in the front office and the internal legal counsel supporting that business for review and disposition. However, some contracts may be so bespoke they cannot be grouped, requiring an exception process and independent manual review.
Finance and Risk Review
After an assessment has been done at the client and portfolio level yielding those contracts that have to be amended, these should be reviewed by finance and risk staffers to evaluate the impact that the new, substitute reference rate is expected to have on the contract's economics (profit) and credit/market/liquidity risk. A centralized working group of finance and risk staffers dedicated to LIBOR transition could vet these contracts at the portfolio level by evaluating summary key financial and risk performance data (KPIs/KRIs), easily extracted via custom dashboard visualizations from a contract management or business intelligence tool that houses the contract meta-data. By evaluating at the portfolio level, risk can be measured more holistically, and decisions can be made at scale, without having to review each contract.
After weighing these considerations at the portfolio or individual contract level, a decision is made to either keep a contract without any amendment or to amend/re-negotiate a contract or portfolio of contracts. The working group can help identify the terms of a contract that require remediation from both the risk and finance perspective.
Contract Amendment or Replacement
Internal counsel, working with external counsel, will likely be tasked with creating standard contract amendment or replacement provisions (e.g. updating fallback and trigger provisions to accommodate an Alternative Reference Rate) that can be automatically replaced in existing contract provisions using a Contract Management tool programmed with basic machine learning scripts. Think of the find and replace feature in Microsoft Word on steroids. Individual contract amendments would also need to be drafted for highly customized/bespoke contracts such as various types of derivatives, swaps, etc. This revised language can either supplant, amend or replace existing contract provisions. After drafting and reviewing internally, the process to reach out to clients for negotiation on amendments commences. This will be covered in our next installment.
Figure: Accenture Contract Remediation Lifecycle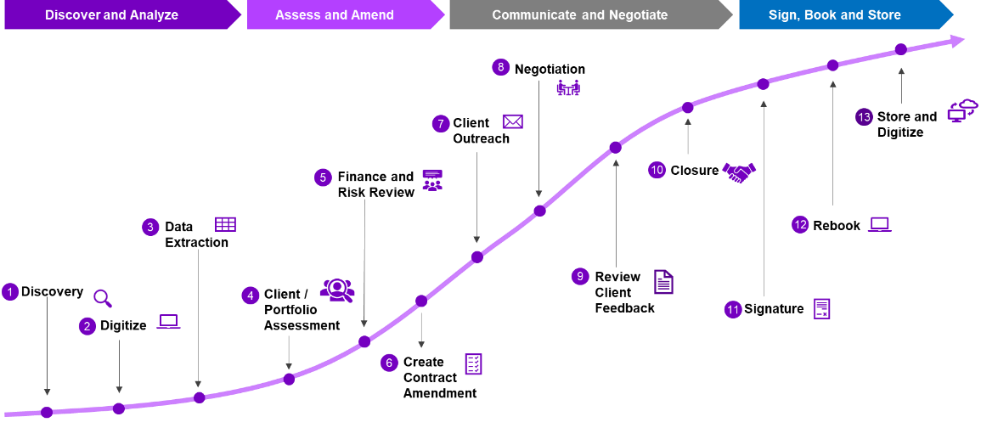 Next up in the Series: Client Communications and Negotiating Contracts (Phase 3)
In this next installment we will explore methods for how to effectively and efficiently manage client outreach/communications for those with contracts seeking amendments and we will outline the process for contract re-negotiation. Stay Tuned!
How we can help
Accenture can assist clients in building out a Contract Lifecyle Management (CLM) program, offering support and leading capabilities in the following areas:
• Conducting current state assessments;
• Defining a target operating model for CLM process;
• Defining tools, business and technical requirements;
• CLM/doc management vendor selection;
• System integration; and
• Change management/training.
Contact us to get started on your contract remediation journey.
Visit our LIBOR offering page to learn how our solutions can help you transition from LIBOR with confidence. 
Learn more about LIBOR and Contract Remediation:
The transition from LIBOR will have an impact on financial firms' contracts. Can a factory approach to contract remediation offer a solution?
Newsletter Author: Lisa Bloomberg, Garrett Swanberg
Newsletter Contact Person: Lisa Bloomberg
Disclaimer
This blog is intended for general informational purposes only, does not take into account the reader's specific circumstances, may not reflect the most current developments, and is not intended to provide advice on specific circumstances. Accenture disclaims, to the fullest extent permitted by applicable law, all liability for the accuracy and completeness of the information in this blog and for any acts or omissions made based on such information. Accenture does not provide legal, regulatory, audit or tax advice. Readers are responsible for obtaining such advice from their own legal counsel or other licensed professional.
About Accenture
Accenture is a leading global professional services company, providing a broad range of services and solutions in strategy, consulting, digital, technology and operations. Combining unmatched experience and specialized skills across more than 40 industries and all business functions—underpinned by the world's largest delivery network—Accenture works at the intersection of business and technology to help clients improve their performance and create sustainable value for their stakeholders. With more than 505,000 people serving clients in more than 120 countries, Accenture drives innovation to improve the way the world works and lives. Its home page is www.accenture.com
Copyright © 2020 Accenture. All rights reserved.
Accenture, its logo, and New Applied Now are trademarks of Accenture. This document is produced by Accenture as general information on the subject. It is not intended to provide advice on your specific circumstances.
If you require advice or further details on any matters referred to, please contact your Accenture representative.