Other parts of this series:
---
Used in the market since 1986, LIBOR currently underpins around $400 trillion in financial contracts for derivatives, bonds, mortgages, commercial and retail loans. 
The Financial Conduct Authority (FCA), the U.K. regulator that oversees LIBOR, has announced its intention to stop compelling banks to provide their estimates for the rate at the end of 2021. 
To assess the financial services industry's readiness to transition away from LIBOR, Accenture conducted its 2019 LIBOR Survey, interviewing 177 firms including investment banks, commercial and retail banks, corporates, asset managers and insurance companies. 
The emerging narrative from the survey was a mixed picture of preparedness for the upcoming LIBOR transition. With the 2021 deadline fast approaching, survey respondents seem under prepared with less than 20% describing their transition program as mature. 
Though 84% of surveyed firms have a formal LIBOR transition plan, the level of preparedness is low with only 18% of respondents describing their plans as 'mature.' In addition, many firms are undertaking multiple activities, leading to less clarity on the overall impact of the transition across business lines. Many surveyed respondents feel that LIBOR reporting and availability will not completely cease in 2021. Many people in the financial services industry believe that the path to transition could be longer and more complicated than anticipated, with some respondents hoping regulators show flexibility as the 2021 deadline approaches.  
Financial services firms are largely aware of what they should do, but they seem to underestimate the complexity of the task at hand. The approaches taken by our survey respondents to date appear siloed and not integrated across business lines and with technology functions. We also see respondents addressing transition needs in disparate ways and with varying levels of maturity 
The 2019 LIBOR Survey highlights conflicting viewpoints regarding readiness and priorities. This indicates that respondents may lack a clear understanding of the level of granularity and focus required to address the true impact of the transition, which may lead to higher transition costs, less certainty in achieving transition goals and even adverse client and reputational impact. While over eight in ten LIBOR Survey respondents have a formal transition plan, far less (59%) have a unified and consistent transition and remediation approach.  
While a quarter of respondents plan to allocate funds to product design over the next three years, only one in seven plans to invest in technology and one in ten in legal remediation, raising the issue that there is a dichotomy within firms as to where to allocate resources and attention, and pointing to a lack of clarity and understanding of where priorities lie. Despite firms conducting impact assessments, in many cases there does not seem to be sufficient depth to those assessments to determine where to focus, and exactly what is required to move things forward. Of equal concern, half the respondents agree that the transition provides an opportunity to be more client driven, yet less than a tenth expect to fund client outreach activities. 
LIBOR survey responses also show a certain overconfidence in the transition of hundreds of trillions of contracts by the end of 2021. And while our client discussions show broad understanding of the key elements needed for the transition, there is a lack of appreciation for the practical challenges, with a large number of financial services firms having no strategy in place to move assets, contracts and clients to the new rate structure. 
In this series, we will look further at the specific elements of the LIBOR transition and at what our survey respondents saw as the most urgent priorities, together with effective solutions to help firms adapt quickly and move with the market to reduce operational, financial and reputational risk as market dynamics evolve.  
For further reading, download the full survey report.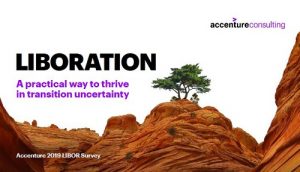 Visit our LIBOR offering page to learn how our

solutions can help you transition from LIBOR with confidence.