Other parts of this series:
---
Too often, financial services executives have gone along with the incorrect assumption that technology itself drives change, when in fact it is simply an enabler. The central issue is not so much the technology, but how it is applied. The reality is that people are the key to successful change efforts.
As t
he department that deals with human capital, HR is positioned to help set the course for digital transformation. Implementation of technology is never a guarantee of improvement, and for transformation to be effective, companies need employees who are engaged and enthusiastic about it. It requires buy-in from the executive level all the way down through the workforce.
The Accenture 2017 Financial Services Change Survey found that the biggest barrier to change was the complex structure of entrenched legacy environments, followed closely by a shortage of appropriate skill sets. In fact, a Harvard Business Review study found that 70 percent of transformations fail because the organization lacks buy-in from employees.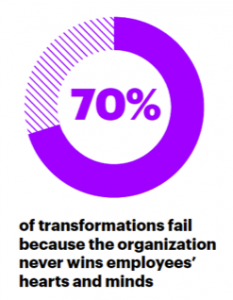 This suggests that for transformation to succeed, there are two main factors at play:
Commitment within the organization, and;
Acquisition of the appropriate skills.
To help increase buy-in and drive digital transformation, HR should use its position at the table to serve as a voice for both the executive teams and the workforce. This will allow for a more cohesive understanding, throughout the enterprise, of organization goals and the pathways to change. However, this only works if HR professionals have insight into workplace trends and opportunities, and an understanding of how key technologies can help them attract the top talent.
By gaining a clear understanding of digital transformation, and building support for it throughout the organization, HR will be in a better position to attract and retain the talent that is needed. To an increasing degree, workers expect to interact with and use new technology. Meeting this expectation will nurture their support for transformation.
All of this positions HR in a critical role in the new workplace. As the voice for human capital and an evolving workforce, HR is being repositioned as a key agent of organizational evolution.
In my next post I will discuss how HR can use data and analytics to help attract––and retain––the talent required to enable financial services organizations to navigate digital transformation.
If you'd like to read the full report on Reimagining HR in Financial Services, you can find it here. To read more on the topic, please visit Accenture's blog, where you can find several articles and posts my colleagues and I have created to help navigate the ever-changing workplace.