Other parts of this series:
---
In an ideal world, banks and insurance companies would move from traditional to digital in a single action. There would be adequate time and resources to assess reskill and acquire the appropriate IT talent throughout the organization. Then, on a particular day, the business would smooth-shift into a digital enterprise.
For companies not born digital, there's the real world.
Since change never happens this way, organizations today find themselves executing ever more complicated global business strategies than in the past, while working with both internal and external talent. To evolve successfully, organizations are adopting multi-speed operating models, and they are looking to HR and IT for help.
This is not an isolated situation. Accenture's research found that 81 percent of executives from traditional companies believe that in the future, their firms will need to manage multiple operating models in parallel. Doing so will require a multi-speed talent strategy. That in turn will demand new kinds of HR thinking and action, based on an in-depth understanding of the different business objectives within the organization and their implications for the future IT workforce.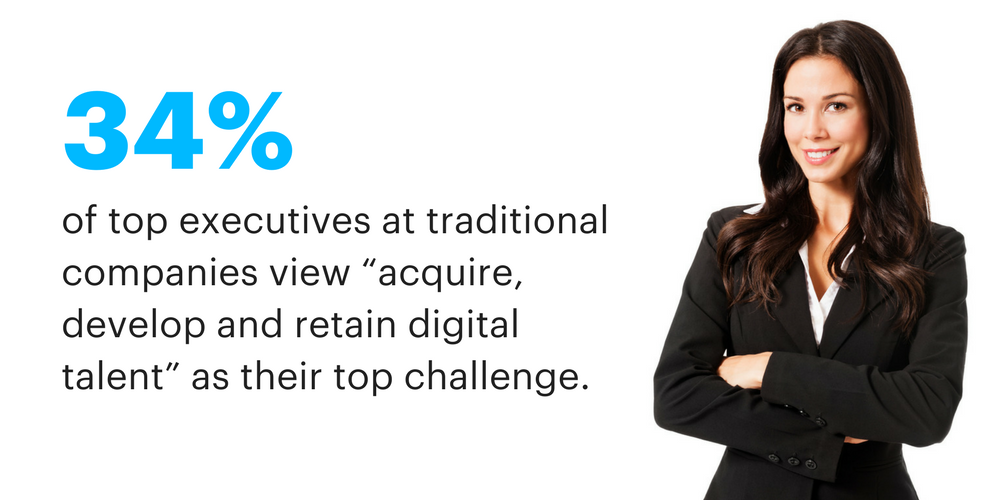 The IT Workforce of the Future will require a culture based primarily on continuous learning. Whether this involves learning applications on mobile devices, leadership videos, sandbox testing environments or competitive challenges, the New IT workforce will be learning all the time. To a certain degree, IT staff will also be learning from others through social community collaboration, rotation programs and regular sharing of best practices. In this culture, formal training – whether in classrooms or e-learning situations – will remain an important, but a smaller part of the mix.
Multi-speed transformation also relies heavily on reskilling existing IT employees. This could involve the following steps:
Define New IT roles
Analyze current-state rules against future responsibilities
Identify New IT skills and competencies
Map New IT skills and levels of competency by role
Assess the current workforce against New IT skills and competencies
Define sourcing models and talent mix
Deploy New IT roles
Identify New IT skills and competency curricula by role
Launch roadmaps for each role to upskill critical New IT competencies and new learning experiences.
There are three requirements for a successful multi-speed IT talent pool:
Differentiating the IT talent strategy
Though continuous learning will be a common thread for New IT, changing organizational needs will necessitate a differentiated and customized talent strategy. A workforce with such sophisticated capabilities as automation, analytics and artificial intelligence will include different types of employees with different skills and outlooks. Adopting a multi-speed approach allows the organization to tailor and customize requirements and rewards to effectively engage, develop and retain.
Building a liquid workforce
The transient IT workforce is becoming increasingly globalized, and in the process more diverse in skills, capabilities and cultures. This introduces a new set of challenges – and advantages. The organization can move beyond full-time employees to incorporate a contingent workforce of freelancers and contractors to augment its existing IT capabilities.
Business leaders are realizing that a more liquid workforce can be a competitive advantage, enabling a highly adaptable and change-ready enterprise environment that is ready to meet today's dynamic digital demands. HR, of course, must play a key role in sourcing and managing this new group of IT talents.
Driving HR Upskill
As we've discussed, HR's role in digital transformation is to enable the multi-speed talent strategy and build the organization's future IT workforce. Doing that takes knowledge and skill, so HR must re-invent and upskill its own workforce to understand evolving IT concepts, roles and skills.
HR needs to develop and maintain a comprehensive and sustainable IT talent strategy in which various aspects of the employee lifecycle are considered. And like IT, the HR workforce must stay abreast of change and refresh its knowledge to attract, manage and engage the New IT workforce.
When Accenture asked executives at traditional companies to name their top challenges, one in three said "acquire, develop and retain digital talent". Ultimately, HR plays a critical role by navigating the dynamic market conditions to provide a talent strategy for the IT Workforce of the Future.
For more information on multi-speed HR strategy, read the Multi-Speed Talent report.