Other parts of this series:
---
As the digital age upends the norms of nearly every industry, banks are facing a multitude of adversities. If banks are to develop the necessary efficiency and agility and provide the customer-facing applications that drive growth, they would be well advised to accelerate cloud adoption.
But are banks ready for such a massive transformation? And what should banks do to build their future on cloud platforms?
To answer these questions, Accenture recently conducted a Cloud Readiness survey of banks across the globe. A total of 35 retail banking executives took part in the survey.
In this two-part series, I will share some key results from the survey. I will also highlight essential action steps derived from the survey that banks can take today for a smooth and successful transition to cloud.
Many banks still need a comprehensive cloud strategy
Like many other industries, the banking sector is struggling to respond to the disruption caused by digitization, and to build the systems needed to compete in the digital age because of the limitations of legacy IT systems.
Some offerings available today, such as mobile banking, or data-intensive applications, such as artificial intelligence (AI) and complex data analytics, would be impossible without the cloud altogether.
While banks recognize the necessity to build future IT systems on cloud platforms—and there are pockets of cloud deployment across most banks—many still lack a comprehensive cloud strategy and coherent, comprehensive plans for adding cloud applications and infrastructure.
And even some of those banks that have a cloud strategy may not yet have defined an operating model for transferring existing applications to cloud platforms and systematically adding cloud-based applications and capacity.
Notably, cloud capabilities have become so fundamental that not having a cloud strategy and a comprehensive plan means not having a complete business strategy.
However, according to our Cloud Readiness survey:
43% of banking respondents said they do not have a cloud strategy or have only started to implement basic cloud practices.1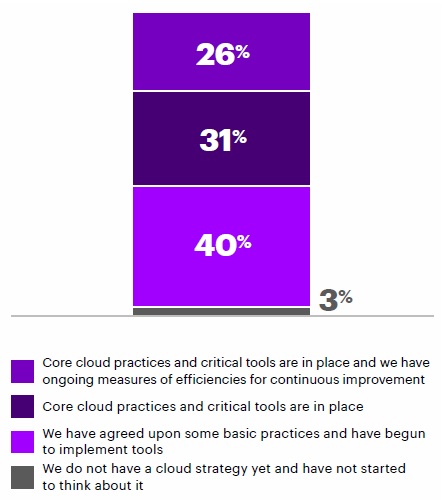 This lack of a cloud strategy has resulted in limited cloud deployment. Based on our survey:
Two-thirds of respondents said that fewer than half of their lines of business are currently using cloud.2
This means that most of these banks are only at the "experimental" stage of developing cloud infrastructure, modernizing applications, and building cloud-management tools.
Wanted: A new operating model
For banks who want to move beyond the experimental phase, a strategy and a coherent, comprehensive plan are indispensable. Such a strategy and plan can inform both the future IT operating model and the roadmap for transitioning to the cloud and implementing new applications such as AI on the cloud.
Defining the underlying operating model is a critical step because it helps determine how the organization can implement cloud infrastructure and applications. The operating model also specifies the talent and capabilities, processes, and technology by which to execute on that strategy and plan.
Not only should banks have a strategy and plan for scaling cloud usage throughout the enterprise; they should also have clear ways of measuring "return on cloud." These metrics should capture value in multiple ways—how the cloud deployment enabled a new business process or customer offering, shortened development time, increased efficiency, among others.
Our survey has also shown that there are some banks that have already made significant progress in trying to reap the benefits of the cloud. A quarter of the banks surveyed (26%) are well ahead of their peers in their journey to cloud. Based on a "cloud readiness score" which we calculated from the survey data, these "leaders" show a total score of 84% compared to 59% for the remaining banks. We expect to see those leaders even accelerate their efforts in the future.
In my next post, I will discuss key actions to help banks accelerate their journey to cloud.
In the meantime, I invite you to access our Cloud Readiness Report. You may also be interested in our Banking Technology Vision 2018 report.
Reference:
"Cloud and Clear—Accenture Cloud Readiness Report – Banking," Accenture, 2018. Access at https://www.accenture.com/us-en/insights/financial-services/tech-advisory-cloud-readiness-banking
Ibid