---
In my last post, I looked at the current state of cloud adoption among financial institutions in Europe. While most firms are using cloud-based services, that use is often limited and not strategically placed.1
In this post, I will describe some of the internal and external threats the European finance industry faces, and how cloud can be the catalyst for overcoming these challenges.
The competitive environment in financial services
As I said in my last post, banking firms are facing a multitude of challenges, both internal and external.
Let's take a closer look at these challenges.
As shown in the Figure below, start-ups and competitors from inside and outside the industry are using digital technologies to offer customers personalized products at lower cost. Burdened by legacy systems and outmoded operating models, traditional financial services firms also run the risk of being bypassed by faster, more agile competitors.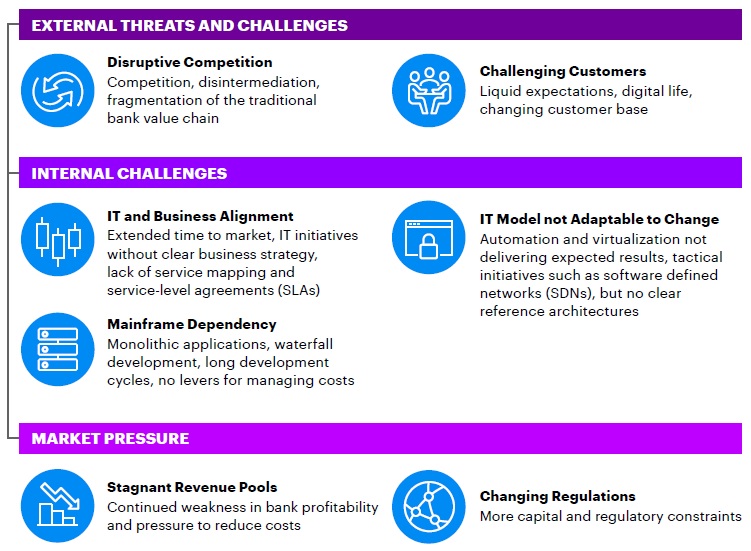 Despite these external and internal challenges and increased market pressure, many financial services institutions are not yet taking full advantage of cloud's ability to support them in an evolving, volatile marketplace. Instead, these firms engage in piecemeal cloud projects, with the following results:
While on-off projects are executed, company culture remains stagnant, without an overall commitment to innovation.
Cloud is used to attain specific objectives, such as bypassing legacy systems or developing new products, but the desired business outcomes are not realized.
Cloud can do more
Cloud offers unprecedented opportunities to meet these challenges by providing the foundational element for digital change. Used as a business asset rather than just a technology to accomplish isolated tasks, financial institutions have the opportunity to:
Transform their business.
Reshape their operating models.
Develop new product and service offerings.
Elevate the customer experience.
Adapt quickly and scale rapidly to meet changing business needs.
In my next post, I will discuss some of the perceived barriers to cloud adoption. I will also outline how financial institutions may want to think about the cloud instead.
Until then, take a look at the full Moving to the Cloud—A Cloud-based Strategy for Banking Firms in Europe report.
Reference:
"Secure Use of Cloud Computing in the Finance Sector." The European Agency for Network and Information Security (ENISA), December 2015. Access at: https://www.enisa.europa.eu/publications/cloud-in-finance.