As investors in Asia become increasingly comfortable with managing their assets digitally, wealth managers must reassess how they deliver their services.
The industry has invested heavily in digital solutions, but few wealth managers can harvest data flows to understand their clients better.
Doing so would help them to target and engage clients better by offering advice that is relevant, affordable and accessible.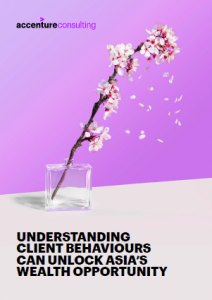 Combining improved use of internal and external data with advances in technology will help the industry to understand clients better in terms of their engagement preferences, their life stage, their values and goals, and their investment attitudes.
The most successful wealth managers will use this to ensure they grasp what their clients want; deliver advice in the way those clients want it; and assist those clients to invest in the ways unique to each.
Knowing clients' investment preferences and their motivations for investing will help to provide a better service and to drive new business.
To help wealth managers, we've divided our report into 3 key areas:
1. A wealth of solutions for the digital age
In recent years, investors have become more sophisticated and more welcoming of digitally enabled advice and self-service wealth solutions.
2. Know your customer even better
In the past, wealth managers started with (and often stopped at) segmenting clients by AuM.
3. Deploying open data to succeed
Most investment managers are closer than they think to gaining this deep customer knowledge, and that is because they already segment clients by at least one of the parameters outlined earlier.
Future success in the wealth management industry requires firms to find a balance in harnessing innovative technologies for delivering the personalised and secure services their customers want. As such, established wealth players are seeking to rapidly build differentiating digital capabilities that enable their advisors to provide customised and tailored client advice journeys.
Download our report today and reach out to us on LinkedIn at any time.