Making corporate actions faster, simpler and safer with Blockchain
These are interesting times for the capital markets. The winds of digital disruption have triggered a significant transformation in the trading process. And, why not? Critical but complex and time-consuming processes are under tremendous pressure to transform and become more efficient. But the winds of change don't seem to calm down soon. In fact, corporate actions might be the next big transformation story.
Corporate actions are any initiatives undertaken by a public company that brings a change to the securities (equity or debt) of an organization, impacting its stakeholders. However, the time-consuming, repetitive, labor-intensive and complex processes are becoming more prone to errors and anomalies, causing severe losses for investors. But here's some good news. With the help of blockchain technology, these inefficiencies can be addressed effectively, resulting in cost reductions, time and effort savings, risk mitigation and, more importantly, transparency.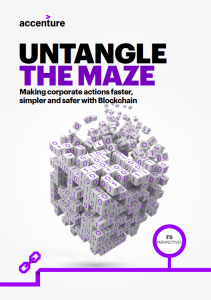 THE INTRICATE MAZE OF CORPORATE ACTIONS
Corporate actions are inherently complex and intricate. They are of three types—mandatory, mandatory with choice and voluntary.
Mandatory corporate actions affect all shareholders of an organization and their participation is compulsory. Some examples are cash dividends, stock splits, mergers and spin-offs.
Mandatory corporate actions with option allow shareholders to choose from a set of options. Examples include a cash or stock dividend option.
Voluntary corporate actions are events where shareholders have the option to participate or abstain. Some examples are tender offers, optional dividends and rights issues.
Corporate actions also lead to the creation of additional transactions initiated by the central securities depositories for the participants. Such scenarios occur when there are unsettled transactions, making the process even more costly and time-consuming.
SAVING THE DAY WITH BLOCKCHAIN
With such complexities and challenges, it's high time corporate actions underwent a complete overhauling, powered by blockchain. Here are some of the key areas that this technology can bring a revolution:
Issuance of securities
Securities settlement
Collateral management
Asset servicing
Cyber resilience
Data protection and professional secrecy
THE GAINS AND PAINS OF ADOPTING BLOCKCHAIN
As it is with every technology implementation, blockchain too has its share of benefits and risks. The benefits range from ranging from reductions in time and costs to traceability, transparency, real-time regulatory monitoring, enhanced security and resilience. On the other hand, the risks include confidentiality, identity management, scalability and interoperability, and more.
A GIANT LEAP OR MEASURED STEPS?
Accenture recommends organizations' adoption of blockchain is a well-thought-out decision, considering all possible pros and cons of the technology, capability limitations, costs and the impact it would have on the business operations. The journey toward blockchain implementation must be a step-by-step reorganization rather than a big bang adoption. The arrangement is simply too complex, significant and relevant to adopt a big bang approach. Hence, organizations must identify individual use cases and develop solutions accordingly in a phased manner.
To know more about how corporate actions can benefit from blockchain implementation and how Accenture can help you in that transformation journey, please download our full report, Untangle the Maze – Making corporate actions faster, simpler and safer with Blockchain.