Other parts of this series:
---
As I discussed in my previous posts, machines using artificial intelligence (AI) could contribute to productivity not only because of their speed, accuracy and ability to self-learn, but also because they could allow people to make more efficient use of their time.
This productivity increase, utilizing a hybrid workforce, dramatically reduces the number of years it could take for economies to double, according to Accenture research. Our study and analysis shows that the United States could significantly boost its labor productivity by 35 percent by 2035 because of AI.1
Looking ahead, in 2035, the Gross Value Added (a close approximation of GDP) to the economy because of AI could be:2
$8.3 trillion for the US.

$2.1 trillion for Japan.

$1.1 trillion for Germany.

$814 billion for the UK.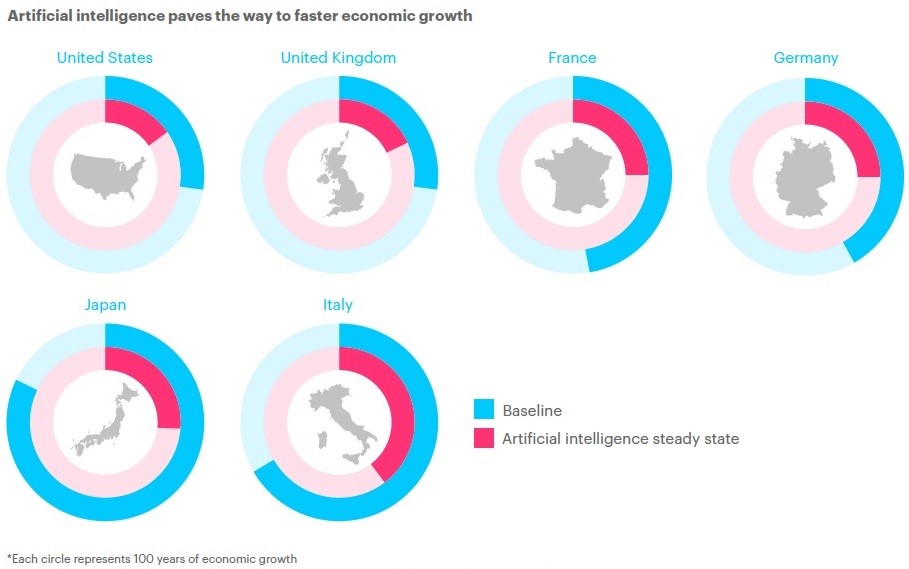 Financial services institutions aiming to win need to go beyond business process automation to add true intelligence to their systems.
Consider these steps:
Embrace intelligent machines as increasingly valuable members of the workforce, as operations assistants, client liaisons and advisors.

Automate back-office and commodity functions, such as reconciliation, and further lower costs by using robotics to complement or even displace already low-cost utility labor arbitrage models.

Apply AI to many front-office client interactions, such as client onboarding, risk appetite assessments, portfolio allocation and rebalancing, sales and trading—freeing people to perform higher value tasks. Digital assistants could complement and support complex, sensitive functions that still require heavy human involvement—relieving repetitive tasks, boosting process speed and increasing scale significantly.
Companies that adjust their organization and culture to incorporate intelligent automation as co-workers, rather than people replacements, could reap important rewards, including:
More reliable performance and insight.
Extension of services to previously unprofitable markets, such as lower-end retail markets and smaller institutions.
Continued cost reductions.
Automated intelligence tools are expected to be part of the hybrid workforce of the future.
Intelligent automation and virtual workforces could drive a new, more productive relationship between people and machines through deeper analytics and recommendation engines, strengthening client services and product needs.
In conclusion, gray matter still matters. But now it goes beyond a human casing. It is the competitive advantage upon which most companies will stake their shareholder earnings.
Do not be left behind.
To learn more, take a look at the Turning Automation into Intelligence and Artificial Intelligence is the Future of Growth reports.
Reference:
"Why Artificial Intelligence is the Future of Growth," Accenture, 2016. Access at: https://www.accenture.com/ca-en/insight-artificial-intelligence-future-growth
Ibid