---
Gaining trust is critical to unlocking the value of workplace data, but people are now more conscious than ever of how their personal information is collected––and used. If leaders want to access that valuable data, they need to be clear about their intentions and adopt a "give to get" approach with employees.
Forging a "give to get" relationship requires leaders to take the initial steps in building trust by giving employees more control over their own data. In fact, the majority of employees expect it.  Seventy percent of employees surveyed in our recent report, "Decoding Organizational DNA: Trust, Data and Unlocking Value in the Digital Workplace," said that in return for their permission to collect their data, they would require the ability to control how it is used.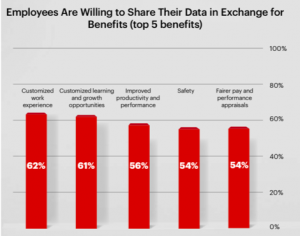 The next important step is creating a value proposition. Ninety-two percent of employees reported being willing to share their data if they received something in return. One such example is the digital-operations company, BMC Software. BMC has an opt-in data collection approach that mines employees' computer applications—including email and calendar data—to track productivity. In return, employees get personalized feedback on how to improve their time management, alleviating some of the stress of daily operations and making them more effective at their jobs. The company benefits by receiving anonymous and aggregated data on the time spent for each project and task, providing insight into workflow bottlenecks as well as the ability to identify early signs of overwork and burnout.
But all this needs to happen in full daylight. Seventy-one percent of employees say they would only be willing to share their data if their employer transparently communicated how the information would be used––and for what purpose. This means that when securing consent, leaders must provide, in plain language, what the collection processes are, how the data is protected, and what it will be used for.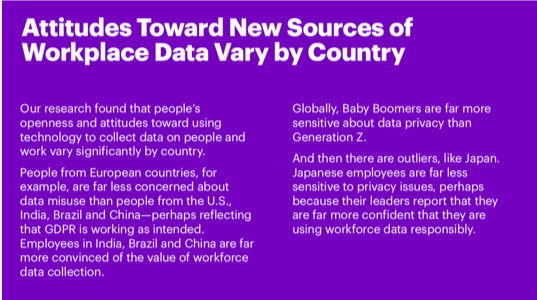 An important thing to consider when securing consent is to make the agreement understandable from the employee perspective. The permission forms or contracts can't just be "uniform consent"—a blanket document filled with legal jargon buried in the employee's contract and likely long-forgotten. It should be direct, to the point, and relevant to each employee.
Finally, once consent has been given, companies should also create a single place for employees to see, manage and even delete the data their employer has collected about them.
All of the above requires leadership to take the initial steps––but once established, work still remains. In my next post, I'll explore how to further strengthen the data-sharing relationship between companies and their employees by creating a shared environment.
If you'd like to read the full report on Unlocking Value in the Digital Workplace, you can find it here.