Other parts of this series:
---
In my last post, I looked at how companies, both large and small, have been building their AIQ in recent years. I also discussed some of the findings of Accenture's Technology Vision 2017 research on AI investments.
In this post, I will continue with a look at a study we conducted to determine a company's AIQ.
Our AIQ research
To derive the greatest benefits from AI solutions, companies need in-house, proprietary capabilities for AI, as they need to own some of the talent, some of the technology, and some of the data. In addition, they also need to be deeply involved in a broader ecosystem.
So, where do companies stand today?
To answer that question, we undertook a research and analysis program on behalf of the G20 Young Entrepreneurs' Alliance. The research consisted of the following two components:
In-depth interviews with more than 45 leading AI experts, corporate executives, entrepreneurs, research institutions, academics and policy representatives from 10 G20 countries
Analysis of AIQ and enterprise value
We studied both the Fortune Global 100 and what we call the Intelligent Global 100—pioneers in the development of AI technologies and applications—for the period from 2010 to 2016. For those 200 companies, we created two equally important indexes:
AIQ for invention—the companies' in-house investments
AIQ for collaboration—the companies' external initiatives
Based on these two indexes, we classified the companies as Observer, Inventor, Collaborator, or Collaborative Inventor, as shown in the figure below: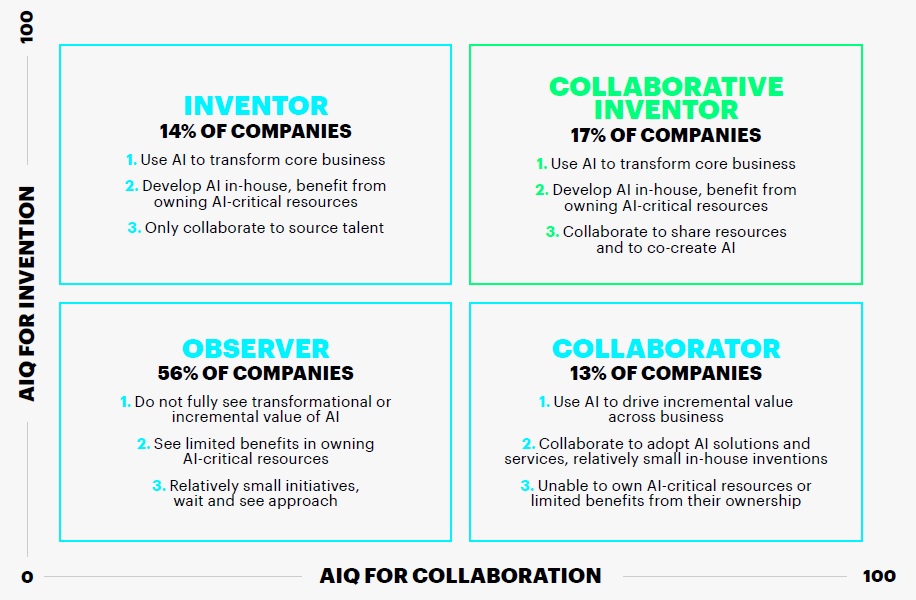 Our AIQ results
Our research revealed that only 17 percent of companies score well on both the AIQ for invention index and the AIQ for collaboration index—companies we call Collaborative Inventors. By contrast, 56 percent of companies were weak on both indexes.
When we mapped the AIQ of Collaborative Inventors in our research against other companies on the metric of enterprise value—a measure of a company's total value1—we found that the former were the clear leaders.
As shown in the figure below, Collaborative Inventors increased their enterprise value by 4.2 percent on average since 2013—almost twice the growth rate of 2.3 percent at remaining companies.
Our analysis also showed that Observer companies that become Collaborative Inventor companies could see their value increase by 90 percent on average.
Our research indicates that AI is already an attractive value differentiator between firms.
I should note that, while our analysis of AIQ and enterprise value focuses on large companies, we believe that the principle applies to start-ups and small businesses as well.
And more than ever before, collaboration between large enterprises and start-ups is vital to achieve results.
In my next post, I will continue with a closer look at the companies already leading on AI—the Collaborative Inventors.
Until then, you may want to have a look at the full Boost Your AIQ—Transforming into an AI Business report.
Reference:
Investopedia website. Access at: http://www.investopedia.com/terms/e/enterprisevalue.asp.