---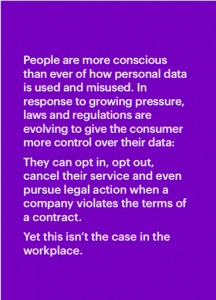 In my previous post, I wrote about the value of data sourced from employees through various technologies—and how that data can help companies with decision making and other actions. I also touched on ethical approaches to unlocking employee data. In this post, I'll explore in more detail the trust issue, and some of the steps companies can take to build it in order to unlock potential or workplace data.
How does trust impact a company's performance?
For one thing, it's highly related to remaining attractive to top talent. In the Accenture report "Decoding Organizational DNA: Trust, Data, and Unlocking Value in the Digital Workplace," 51 percent of employees said they would consider leaving a company if leaders did not use workplace data responsibly. Additionally, 55 percent of potential employees would refuse to apply for a job at such an organization for the same reason. Knowing this, companies are taking trust seriously.
One firm that has done a good job building trust is Hitachi, which was able to get consent from its employees to use wearable technology. Faced with inflexible business systems operating on a single set of pre-programmed instructions, Hitachi turned to new sources of data to elevate both agility and productivity.
By mining the digital trail of employees' routines and actions as they work, Hitachi was able to capture the results of human ingenuity. Artificial intelligence automatically captured the details and outcomes to create self-adapting, flexible work orders. As a result, the company achieved an 8 percent boost in productivity.
Key to Hitachi's success was a willingness on the part of the company to proactively protect the information it gathered and use it in responsible, ethical ways that benefited both the company and the employees. Employees were given suggestions, based on the data, that helped improve their experience at their jobs. This in turn resulted in an increase in happiness levels. And happy employees produce better results.
The move by Hitachi to equip workers with wearable tech to gather important data is not uncommon—and is increasingly being seen as a valuable approach to reducing workplace injuries. As one of Accenture's Senior Managing Directors for Insurance, John Cusano, wrote in his 2018 blog series titled Are Wearables A Potential Solution to the $250 Billion Challenge of Workplace Injuries?, "There is an opportunity…for workplaces such as warehouses, factories and construction sites to use technology to optimize worker productivity and safety in much the same way as they are using it to better manage and maintain productive assets. Such technology will find favor among workers, who today live in a world of mobile apps, personal wearables and smart-home sensors."
Throughout his series, John explores in detail the opportunities wearables present for insurers—I highly recommend reading it for more insights into the issue of workplace safety. And if wearables are part of the solution, as he suggests, getting employees to willingly put them on is another challenge—and requires an environment of trust.
The trust issue
Trust is the currency of the digital age—and transparency builds trust. Our research suggests there are three key actions a company can take to develop trust:
Give control: Ceding more control to employees will gain the trust companies need to access workplace data ethically.
Share responsibility: Business leaders should create a coalition in which they share responsibility and accountability for new workplace data and technologies, while seeking input from their people.
Elevate people: Organizations should use technology in responsible new ways to elevate people and fix its own unintended consequences.
As it stands, protection of employees' work-related data is far behind that of consumer-related data. Currently, governance of workforce data skews toward the corporation, with only 32 percent of employees surveyed reporting that they were aware of how their employers were extracting and using their workplace data—or if they had actually consented to it. In fact, 55 percent of business leaders said their companies don't ask for consent.
A lot of this confusion can be avoided if business leaders adopt a "give to get" relationship with employees, and share more control with them over their own data. Seventy percent of employees say that in return for their permission to collect data, they expect employers to give them more control over it.
A great example of an organization using the "give to get" approach is BMC Software, which mines employees' work applications—including email and calendar data—to track productivity. But it does so only on an opt-in basis.
In return for sharing their data, employees get personalized feedback on how to improve their time management. The company benefits by receiving anonymous and aggregated data on the time spent for each project and task, exposing workflow bottlenecks and signs of overwork, which can be addressed before they become a problem. It's a win-win.
Like with BMC Software, properly securing consent whenever possible is the best way to engender employees' trust—and the first step in the "give-to-get" process. Using the technology, organizations could also let people specify who can (or cannot) have access to their data, helping create even more transparency and trust.
In my next post, I will take a closer look at some of the steps companies can take to further engender an environment of trust and consent when it comes to employee data. If you'd like to read the full survey report, you can download it here.