Other parts of this series:
---
The impact of artificial intelligence on the future workforce, and the importance of diversity and education, continued to be key discussion topics on the second day of Davos. The theme of the World Economic Forum (WEF) Annual Meeting is "Creating a Shared Future in a Fractured World".
"AI is probably the most important thing humanity has ever worked on. I think of it as something more profound than electricity or fire," said Sundar Pichai, Google's CEO, during his address.
During the "AI: Leadership Imperative" panel, Paul Daugherty, Accenture's Chief Technology and Innovation Officer, shared his formula for the future workforce: "Human + Machine = Superpowers."
"We refer to it as applied intelligence, rather than artificial intelligence, because it's really about how you apply the technologies of AI to transform the way you work," he said.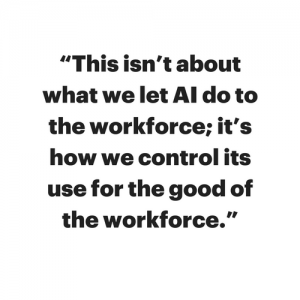 Daugherty's fellow panelist, Cathy Bessant, COO of Bank of America, said AI is helping her company make the lives of customers better, but that the leadership challenge was to continue to do so responsibly.
"I think the effect of AI on jobs is totally, absolutely in our control," she said. "This isn't about what we let AI do to the workforce; it's how we control its use for the good of the workforce."
The panelists agreed that continued education and reskilling would be crucial to the future workforce, a theme that was repeated in other panels and keynote speeches.
Accenture's North America CEO Julie Sweet, on an Accenture-hosted panel entitled "CEO Outlook 2018: Innovation, Talent, Trust" spoke on the possibility of digital reskilling at scale.
"It's not just about spending more on technology, it's about having a talent strategy that is reskilling, connecting with academic institutions, not-for-profits and communities to reskill and have the right input," she said.
During her keynote address at Davos, German Chancellor Angela Merkel pointed out that education would be just as important for the aging generations.
"Disruptive technologies also mean a disruption of our society," she said. "We need life-long learning. In an aging society like ours, the willingness to embrace this change is rather limited."
Jack Ma, Alibaba's executive chairman, focused on the future generations in his Davos interview. "We cannot teach our kids to compete with the machines who are smarter – we have to teach our kids something unique. In this way, 30 years later, kids will have a chance."
Ma also touched on gender equality in the workforce. "If you want your company to be successful; if you want your company to operate with wisdom, with care, then women are the best," he said. "Thirty-seven percent of senior management in Alibaba are women. Part of the 'secret sauce' of our success is because we have so many women colleagues."
Workforce diversity discussions expanded beyond just gender equality at the "Getting to Equal: The Power of LGBT Inclusive Cities" panel.
Jon Miller, founder of Open for Business, a coalition of 25 companies—including Accenture—that advocates for LGBT inclusion globally, presented the findings of the group's latest study.
"Our first report in 2015 found that LGBT-inclusive companies showed better employee performance across the workforce," he said. "Now our second report on the LGBT inclusion of cities shows that there is a correlation between inclusion and GDP."
Zeid Raad al-Hussein, UN High Commissioner for the UN Human Rights Council, said it's important for businesses to advocate diversity. "Ultimately it's about principles and standing up for something," he said. "I think it's wonderful that we are having these conversations at the World Economic Forum."
Kim Hammond, Deutsche Bank's Group COO, said joining the coalition was an easy choice for her company. "Diversity and inclusion make a company better and help us serve customers better," she said. "Taking a stand for making your business better in diversity ultimately will make the world better."
To learn more about Accenture's future workforce research, register to download the report: Reworking the Revolution.
Follow more live updates from the Accenture community at WEF 2018.
Be sure to check back tomorrow for our summary of Day Three.