Other parts of this series:
---
What do Theresa May and will.i.am have in common? They both believe that artificial intelligence will shape the future of the global workforce, education and the world.
On the third day of the World Economic Forum (WEF) Annual Meeting in Davos, Switzerland, the conversation about AI may have reached its apex.
"AI was on the lips of seemingly every corporate chief and policy maker attending this year's conference. On Wednesday, the term 'artificial intelligence' appeared in more than 20 headlines and stories Bloomberg ran about the gathering," wrote Jeremy Kahn for Bloomberg Quint.
In her her address today, the British Prime Minister said the impact of technology is growing in ways that could not have been imagined even a few years ago.
"Harnessing the power of technology is not just in all our interests – but fundamental to the advance of humanity," she said, adding that the progress also comes with new and profound challenges for global leaders.
"Time and again, initially disquieting innovations have delivered previously unthinkable advances and we have found the way to make those changes work for all our people. Now we must find the way to do so again," May said.
She suggested the key to embracing the new technology is "channeling the power of government and business in partnership to seize the opportunities of technology and create high-quality, well-paid jobs right across the world.
"And the answer isn't to pretend we can sit back and leave it to the labor market alone to resolve. We need to act decisively to help people benefit from global growth now."
During Accenture's "New Applied Now," panel, will.i.am delivered a similar message.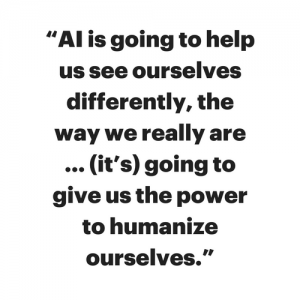 "AI to me is a great way for creative people to build and imagine tomorrow," he said. "It's an amazing tool to bring about a better world."
Besides being the front man of the popular American hip hop group the Black Eyed Peas, will.i.am is the founder and CEO of I.AM+, a technology company that develops AI voice operating systems.
"I'm optimistic because it's an amazing time for people left behind," will.i.am said. "If you teach nine-year-olds computer science today, they will solve problems that their parents are living through because we haven't yet solved them."
His fellow panelist, Paul Daugherty, Accenture's Chief Technology and Innovation Officer, concurred. "It's not about machines taking control. It's about using technology for human empowerment," he said.
Daugherty also talked about his upcoming book, "Human + Machine: Reimagining Work in the Age of AI."
"We believe there are new sets of skills and new ways to organize work," he said. "This will be a guide for leaders to understand how to do it."
For will.i.am, the new technologies will impact even more than the workforce and education.
"AI is going to help us see ourselves differently, the way we really are," he said. "We still don't appreciate people's differences… how we treat women and people of color… AI is going to give us the power to humanize ourselves."
At the Accenture-hosted, "How to Win in an Era of Disruption" panel, Qualcomm CEO Paul Jacobs said AI has the potential to raise the standard of living across the globe.
Jacobs, along with Accenture's Chief Strategy Officer Omar Abbosh and Stewart Butterfield, CEO of Slack, discussed ways to motivate the workforce in a time of disruption.
"Encourage your people to learn something new," Butterfield suggested.
Abbosh pointed out that creating excitement for the new is key to motivating an organization's workforce.
"Our people are excited to learn new things. Instead of fearing disruption and change, they seek new, modern ways of doing things," he said.
For Jacobs, vision is crucial to surviving and thriving in an era of disruption.
"Articulate your vision as a leader," he said. "Then your people can self-align to it. People get motivated to create a societal benefit to the world."
That's it from us at Davos this week. Thanks for joining us for our daily updates.
To learn more about Accenture's future workforce research, register to download the report: Reworking the Revolution.
Follow more live updates from the Accenture community at WEF 2018.