Other parts of this series:
---
The World Economic Forum (WEF) Annual Meeting, which brings together global leaders from government, business, academia and non-governmental organizations, takes place this week in Davos, Switzerland.
Accenture has long partnered with the WEF on research programs and this year, we are proud to be a founding partner in the WEF IT Skills Initiative, a new tech-reskilling drive targeting one million workers over the next three years.
The theme for this year's gathering is "Creating a Shared Future in a Fractured World", and it quickly became obvious on the first day that gender equality and artificial intelligence in the global workforce will play big roles in that future.
This year's forum features an all-female panel of co-chairs, which IMF's Christine Lagarde, in her opening remarks, referred to as "finally a real panel, not a manel".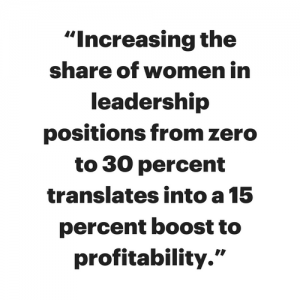 Canadian Prime Minister Justin Trudeau spoke at length about the importance of closing the gender gap in the global workforce. "I'm talking about hiring, promoting, and retaining more women. And not just because it's the right thing to do, or the nice thing to do, but because it's the smart thing to do," he said.
Trudeau quoted estimates from the Peterson Institute for International Economics, which found that increasing the share of women in leadership positions from zero to 30 percent translates into a 15 percent boost to profitability. He also noted that economic gender parity could add $1.75 trillion to the United States' GDP and as much as $2.5 trillion to China's.
"As corporate leaders, consider a gender-balanced board, or gender-balanced project teams," he said. "Anytime we're looking for a new hire, we should be identifying women candidates at a rate equal to men."
Pope Francis was the first to bring up the subject of artificial intelligence. In his prepared speech read at Davos by Cardinal Peter Kodwo Appiah Turkson, he said, "Artificial intelligence, robotics and other technological innovations must be so employed that they contribute to the service of humanity."
Accenture's Ellyn Shook, Chief Leadership and Human Resources Officer, relayed a similar message at a panel titled, "Future Workforce: Reworking the Revolution."
"The future workforce requires business leaders to rethink people's relationships with technology," Shook said. "With applied intelligence, which is when human ingenuity meets intelligent technology, you can truly unlock new sources of growth. While companies in 2017 invested 60 percent more in artificial intelligence technologies, only three percent of CEOs are investing in reskilling or new-skilling their people. That's a big disconnect and has to be closed."
In another panel hosted by the Massachusetts Institute of Technology, Fei-Fei Li, chief scientist of artificial intelligence and machine learning at Google Cloud and an associate professor of computer science at Stanford AI Lab, spoke about the importance of diversity in AI and warned of replicating human biases in AI design.
"AI will change the world, but who will change AI?" Li asked. "There's a deep crisis of diversity in this industry. Now that we're building machines that more closely resemble humanity, it's even more important to think about what kind of humanity, exactly, they resemble."
The first day of WEF 2018 also saw the release of Accenture's "Reworking the Revolution" report, which found that businesses investing in AI now could boost employment by 10 percent and revenues by 38 percent over the next five years.
To learn more about Accenture's future workforce research, register to download the report: Reworking the Revolution.
Follow more live updates from the Accenture community at WEF 2018.
Be sure to check back tomorrow for our summary of Day Two!