General Counsels and legal leaders recently surveyed by Accenture confirm that Legal functions are on a journey to Future Law and the digital transformation of their function. 1 Our latest Compliance Risk Study results show that two-thirds of legal executives surveyed report that their functions have/plan to implement transformational legal change initiatives and programs in the next 12 months to automate legal advice or work product. The "new normal" is driving a faster pace of change for businesses coming out of the pandemic and operating in the current business environment.  The future of law needs to stay abreast of this change. Legal functions need to "optimize" how they operate and interact with internal and external enterprise partners by leveraging the right technology tools and mix of external providers (including law firms, alternative legal service providers and/or consultants).   
Enterprises continue to be challenged to reduce costs while also mitigating legal, regulatory and compliance risks, pressuring corporate legal functions to do more with less. Reducing "friction" and barriers and promoting ease of business are other key drivers of transformational change that apply to legal functions across industries. Lastly, Chief Financial Officers are looking for ways to manage enterprise costs and promote faster capture of revenues. It then makes sense that among those surveyed by Accenture, the key driving force for implementing transformational legal changes is the need to automate legal advice and work product. Future Law, balancing more with less   
Data is a critical

part of

Future Law

Many Legal functions have been on a transformational journey for over a decade acquiring single point technology solutions with the expectation that the tool itself would bring the improvements sought to address many of the challenges Legal functions face. In fact, our Compliance Risk Study results show that Legal functions have recently invested in technology solutions across document management, contract analytics, Contract Lifecycle Management (CLM), enterprise legal management and knowledge management. The expectations for these tools have, in many cases, not been met because these single point solutions did not easily integrate with each other, requiring Legal to do either manual workarounds or re-enter data from one system to another. Legal is both a consumer of data and a provider of data.  Whether lawyers realize it or not, when they provide legal advice, it becomes enterprise data.   
Given the pace of business change due to digitization, and the needs of customers for products and services on demand real time, enterprises are focused on the end-to-end information lifecycle as data is shared across functions rapidly. To do so requires enterprises to be able to gain greater insights from cross-functional data by interpreting it more easily and quickly. They also need to make more frequent data-driven decisions to run their business more effectively. However, for most enterprises, their current state is starkly different. They often struggle with manual data capture processes, lacking the support of workflow tools to move the data along and share easily. They are also confronted by concomitant upstream issues such as irreconcilable data and data quality challenges plaguing reporting to management and regulators and official documents. Further complicating matters, much of their data is contained within documents and contracts in flat files and is not contained in a structured data platform for easy retrieval and analysis. This has manifested itself in rule and record violations resulting in large fines for some large financial institutions recently. Such situations could have been avoided or resolved much more quickly and less expensively with access to digitized contracts/legal data in a structured system of record.     
Beneficially, current document management and contract lifecycle systems have easy out of the box functionality with built in workflow automation, contract and data search and analytics and centralized storage. This allows enterprises to readily and easily, access data on demand and unlock the embedded but often hidden value in contractual data.   
Three in five legal executives surveyed invested in document management tools 2
Per our recent survey of legal executives, nearly five in ten stated they had recently invested in CLM solutions, a notable increase from our previous study.3 Similarly, almost half of legal respondents said their enterprise has considered transformational end-to-end enterprise CLM initiatives. They further noted that the reason for such was to streamline process and tools across Legal, Procurement, Finance, and the business to capture the embedded value in contracts.  For example, CLM platforms can unlock hidden value in contracts by revealing lost revenue/leakage from incentive payment clauses buried in the middle of a lengthy contract. Further, if the CLM tool is integrated with a downstream invoicing/revenue recognition tool this would then generate incremental sales invoices systematically to capture this additional revenue.  This can /facilitate/assist enterprise end-to-end CLM and allow Chief Financial Officers to better manage their enterprise's costs and revenue capture.     
Document management continues to be a major focus as nearly six in ten legal executive respondents say their organization has invested in technology to support this capability. Although Legal functions may be at different stages of their transformation journey to Future Law, our surveyed legal executives clearly confirm that technology plays a critical role in addressing the disruptive forces shaping the digitization and future practice of law. We believe that the pandemic and shift to remote work, fuelled a concerted interest in moving to digital platforms to manage contracts and documents, resulting in the notable increase in investment in CLM and document management tools. 
As discussed earlier, many enterprise Legal functions find that their technology solutions are not integrated with other critical upstream or downstream systems, requiring manual work arounds and duplicative processes. Legal functions have come to realize that a failure to enhance the overall operations and processes used by lawyers to provide advice and effectively manage enterprise data (which includes legal advice) are critical to driving the outcomes sought. Additionally, poor user adoption and/or lack of understanding of technology solutions, stemming from inadequate change management processes and training, can detract from the benefits that these systems were designed to achieve.     
Path to

Future Law
Corporate Legal functions need to operate like other business units and that means being tech-enabled, data-backed, scalable and resource savvy to effectively provide the enterprise with cost effective and value add legal services. A Future Law journey to digitization for the General Counsel entails four key thematic steps:   
Digitize the Enterprise 

 

Accelerate Responsiveness with Data and Technology 

 

Digitize Legal Services

 

Collaborate and Connect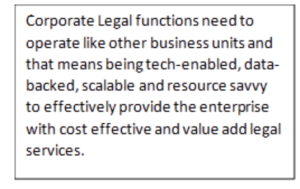 Digitize the Enterprise: Digitize the enterprise using common platforms and tools to drive more timely and better decisions, actions, and outcomes. We are seeing more Legal functions build work and collaboration portals with the business and integrating critical enterprise activities such as contracting, client on-boarding or regulatory change management. This is key to seamlessly integrating Legal with internal and external enterprise business activities that require its advice and counsel.   
Accelerate Responsiveness with Data and Automation: Accelerate the pace at which Legal operates and supports the business by having greater access to data and using automation to improve the quality and industrialization of information, processes, and controls. Artificial intelligence (AI), natural language processing (NLP) and natural language generation (NLG) technologies can help Legal functions capture and manage their data more effectively and support contract term extraction and regulatory obligation management.   
Many legal functions are also beginning to leverage robotic process automation (RPA) as well as multidirectional data exchange between enterprise legal management (ELM) systems, such as: matter management, spend management, outside counsel management and platforms such as e-discovery and legal hold platforms. This is critical to reducing the manual re-keying of data into multiple systems and spreadsheets and improving the reporting of important information to Legal operations managers.  
We also see Legal functions leveraging automated platforms and workflows like contract lifecycle management. Workflow automation allows Legal functions to improve the way they provide advice and work product as well as track and monitor activity throughout the process.  It also helps identify bottlenecks and provide key metrics for strengthening the process and how Legal functions service their business partners and the enterprise's suppliers and customers. This coupled with the use of visualization dashboards can help Legal functions work with data with greater ease to uncover deeper insights and support all stakeholders.   
Digitize Legal Services: Use innovative technologies to digitize legal services and improve internal and external user experience. For example, to reduce the burden on legal resources, more mature organizations are building platforms that allow for self-service by the business such as requests for confidentiality agreements.   
Collaborate and Connect: Use digital channels to enhance the way Legal functions collaborate and interact with internal business partners and external parties. Knowledge sharing has been a key priority for many Legal functions. Collaboration portals are used to exchange documents securely and conveniently between in-house attorneys, internal business owners and external counsel.     
As Accenture's survey confirms, the journey to Future Law is well on its way. Much work remains in transforming the Corporate Legal function so it can play a dynamic and responsive role advising CFOs in their role as architects of business value.    
To find out more on the Future Law topic and how Accenture can support your legal transformation needs please contact the authors.      
See more finance insights here and more risk-focused content here.   
To find out more on how compliance functions are addressing the "riskiest risks" please consult Accenture's new Compliance Risk Study report.
Read report
References: 
Accenture Compliance Risk Study – 2022 Edition,

legal executive responses.

 

Ibid.

 

Ibid.

 
About the Authors 
Samantha Regan 
Samantha is a Managing Director and North America lead of the Accenture Digital Risk & Compliance practice and is based in New York. She has 20 years of global experience working with C-suite executives and their businesses to strengthen their compliance and regulatory capabilities and functions. Samantha can be reached at: samantha.regan@accenture.com.  
Lisa Bloomberg 
Lisa is a Director – Accenture Digital Risk & Compliance practice and is based in Philadelphia. She is a trained lawyer, who over the course of her two-decade career, has provided legal, regulatory and compliance advice to asset managers, wealth managers and investment banks involving registered U.S. and non-U.S. advisory products, including mutual funds, closed-end funds, alternative funds and offshore funds. Lisa can be reached at: lisa.bloomberg@accenture.com.  
Garrett Swanberg 
Garrett is a Senior Manager – Accenture Digital Risk & Compliance practice and is based in New York. A trained lawyer and Project Management Professional (PMP), he's spent 15 years in financial services control advisory and project-based functions with a focus on strategic change, regulatory compliance, and systems implementations project execution. Garrett can be reached at: garrett.swanberg@accenture.com.  
About Accenture 
Accenture is a leading global professional services company, providing a broad range of services in strategy and consulting, interactive, technology and operations, with digital capabilities across all of these services. We combine unmatched experience and specialized capabilities across more than 40 industries – powered by the world's largest network of Advanced Technology and Intelligent Operations centers. With 699,000 people serving clients in more than 120 countries, Accenture brings continuous innovation to help clients improve their performance and create lasting value across their enterprises. Visit us at: https://www.accenture.com/us-en
Disclaimer: This blog is intended for general informational purposes only, does not take into account the reader's specific circumstances, may not reflect the most current developments, and is not intended to provide advice on specific circumstances. Accenture disclaims, to the fullest extent permitted by applicable law, all liability for the accuracy and completeness of the information in this blog and for any acts or omissions made based on such information. Accenture does not provide legal, regulatory, audit or tax advice. Readers are responsible for obtaining such advice from their own legal counsel or other licensed professional.