---
As we have discussed in previous blogs, market data requirements are the foundation for compliance to the Fundamental Review of Trading Book (FRTB) rules. Market data affects all areas of regulation and is essential to any bank's compliance program.
Banks should have observable real prices for risk factors if they are to be included in the internal model. If real prices are not obtained, supervisors will reject the risk factor and add a Non-Modelable Risk Factor charge to the capital calculation.
Market data is also needed for computation of risk sensitivities for a standardized approach (SA)-based capital calculation, meaning that the data used for computation of sensitivities is consistent with front office use of pricing information, as required by the regulations. Costs for a market data utility can run to $15 million for initial setup, with additional costs for routine maintenance and global sourcing of data.1
We see implementation challenges for banks in three main areas:
Risk Factor Pricing. Banks should look at issues such as risk factor analysis, which entails obtaining risk factors for inclusion in the internal models to determine if each risk factor is modelable or non-modelable. Banks should also manage the liquidity horizon, which is differentiated by which risk factor is necessary for the computation of the expected shortfall. Other areas of concern in risk factor pricing include the new level of segmentation of the different instruments and the assignment of different weights (for example, for creditworthiness of the issuer, or for currency) as prescribed in the rules.
Profit & Loss (P&L) Attribution. Issues in P&L attribution include integration of data and time series to secure the adequacy of the input data for the computation of the measures of risk and P&L, and changes in the workflow and the definitions of new processes of analysis for each trading desk.
Market Data Quality Issues. A key concern here is the non-availability of market data for risk factors. Grouping these within the non-modelable risk factor category may increase the capital requirements due for these risk factors in case of error.
Banks are considering a number of solutions to deal with these challenges, including the pooling of data to overcome the lack of market data. This approach, however, presents risks of its own, such as the potential for abuse of the framework if uncommitted quotes are provided; this could lead to regulatory sanctions on the entire initiative. There are also concerns about collusion between financial institutions, which could lead to manipulation of market data. Strong governance and controls will be needed to prevent any misuse or manipulation of the market data utility.
In the next blog in this series, we will look at a third data challenge, the data gaps affecting risk calculators across risk factors and asset classes.
For more information see SlideShare deck: "Fundamental Review of the Trading Book (FRTB) – Data Challenges"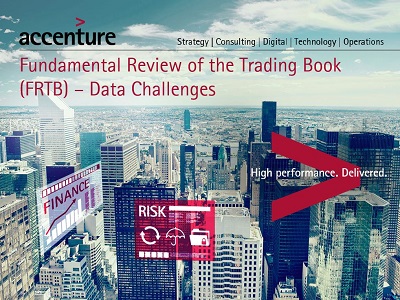 References
"Manipulation threat to FRTB data pooling," Risk.net, May 24, 2016. Access at: http://www.risk.net/risk-magazine/feature/2458359/manipulation-threat-to-frtb-data-pooling
Visit www.accenture.com/RegulatoryCompliance for latest insights on regulatory remediation and compliance transformation.
Disclaimer
This blog is intended for general informational purposes only, does not take into account the reader's specific circumstances, may not reflect the most current developments, and is not intended to provide advice on specific circumstances. Accenture disclaims, to the fullest extent permitted by applicable law, all liability for the accuracy and completeness of the information in this blog and for any acts or omissions made based on such information. Accenture does not provide legal, regulatory, audit or tax advice. Readers are responsible for obtaining such advice from their own legal counsel or other licensed professional.
About Accenture:
Accenture is a leading global professional services company, providing a broad range of services and solutions in strategy, consulting, digital, technology and operations. Combining unmatched experience and specialized skills across more than 40 industries and all business functions—underpinned by the world's largest delivery network—Accenture works at the intersection of business and technology to help clients improve their performance and create sustainable value for their stakeholders. With more than 373,000 people serving clients in more than 120 countries, Accenture drives innovation to improve the way the world works and lives. Its home page is www.accenture.com.
Copyright © 2016 Accenture. All rights reserved.
Accenture, its logo, and High Performance Delivered are trademarks of Accenture. This document is produced by Accenture as general information on the subject. It is not intended to provide advice on your specific circumstances.
If you require advice or further details on any matters referred to, please contact your Accenture representative.