Other parts of this series:
---
FS firms are finding true enterprise agility elusive. There's a strong case for pursuing it as a priority: Accenture's research shows that organizations that are "Truly Agile" are twice as likely as the average company to have top-quartile performance (55 percent versus 25 percent). "At Risk" organizations (4 percent) stand little chance. But FS organizations have a long way to go to become truly agile.
Accenture's 2017 Financial Services Change Survey of more than 800 industry executives, and large-scale research (involving more than 3,500 FS employees) using our Transformation GPS and FS Agility Index analytical tools, provide deep insight into the state of change and agility within the industry.
The Transformation GPS study tracks change within organizations across the velocity & adaptiveness, and foundational base axes—the two key elements required for true agility. These are the speed and stability elements that I discussed in my previous post. This study puts the average FS firm in the 'At Risk' quadrant. Approximately 60 percent of companies in all other sectors score higher.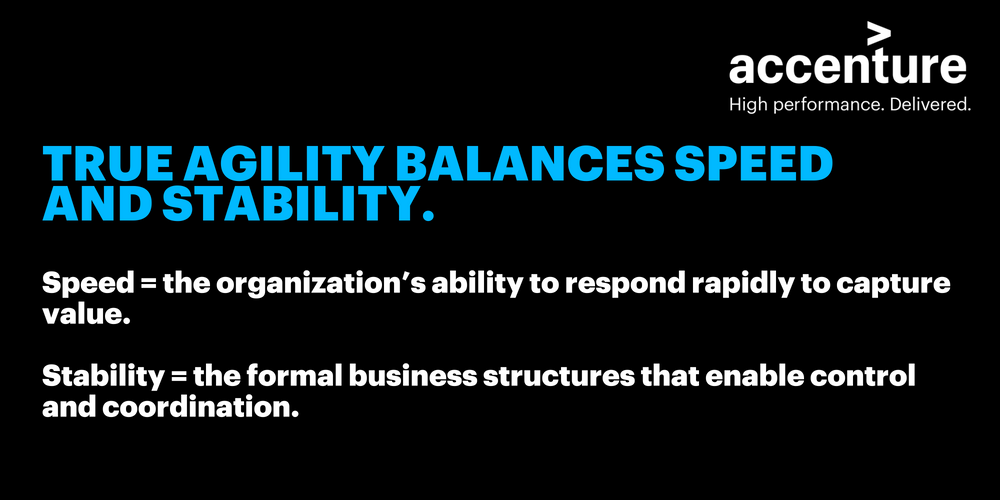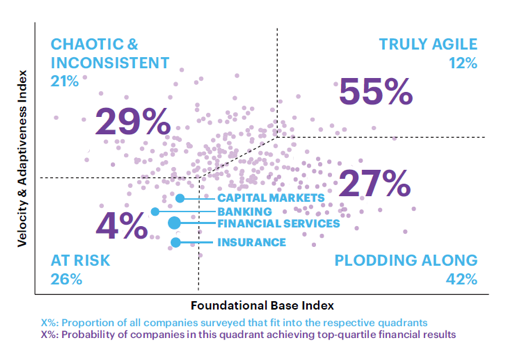 Title: The FS industry is in the 'At Risk' quadrant of the Enterprise Agility matrix.
Source: Accenture Transformation GPS study
What does it mean to be 'At Risk'?
'Truly Agile' organizations are nimble because they are well run and built for fast-paced change. They have a culture that emphasizes innovation and a focus on people, trust and ethical decision-making. Their strengths are efficiency, speed, talent and a competitive advantage in the market. Given their furious rate of change, however, their stabilizing foundational base is critical to their sustained success.
'At Risk' organizations might achieve positive results in the short-term, but their long-term existence depends on their ability to reorganize and build a healthy enterprise. Our Transformation GPS tools describe these organizations as typically challenged by inefficiencies, an inability to attract and retain talent, internal conflict, a politicized environment, micromanagement and a lack of support for employees. To become 'Truly Agile', these organizations need to work simultaneously on their velocity and adaptiveness, and their foundational base.
Where is your organization on the agility matrix?
Can you claim day-to-day agile delivery?
Can you scale agile delivery?
Our Accenture 2017 FS Change Survey identified a few change leaders that are getting better results. Join me next week as I look at the key elements on the journey to agility, from agile delivery to scaling agile and what lies beyond. I also look at what FS organizations can learn from change leaders about rewiring the enterprise for speed and stability.
To read more about Enterprise Agility, download this report and listen and subscribe to our podcast, Talking Agility.