---
AI will result in not just the loss of roles and creation of new roles, but ongoing change within roles. To capture longer-term transformational opportunities, FS organisations need to create the right mindset, acumen, and agility. This means ensuring that the workforce can adapt to new customer markets, that organisational processes can flex accordingly and that leadership is ready to champion a new culture.
It won't be easy – executives say their greatest people-related challenge is to establish a flexible and agile workforce.
These four steps will help companies make that first, crucial pivot.
Align the workforce to new business models
Develop a clear distinction between the things that humans do best and those that machines do best. Then shift the purpose of your workforce to best support your customer value proposition.
If that includes easy access to a friendly, expert robo-advisor, draw on your best AI trainers to ensure that your solution not only has the technical capability to guide customers' choices, but also the personality to make interactions enjoyable.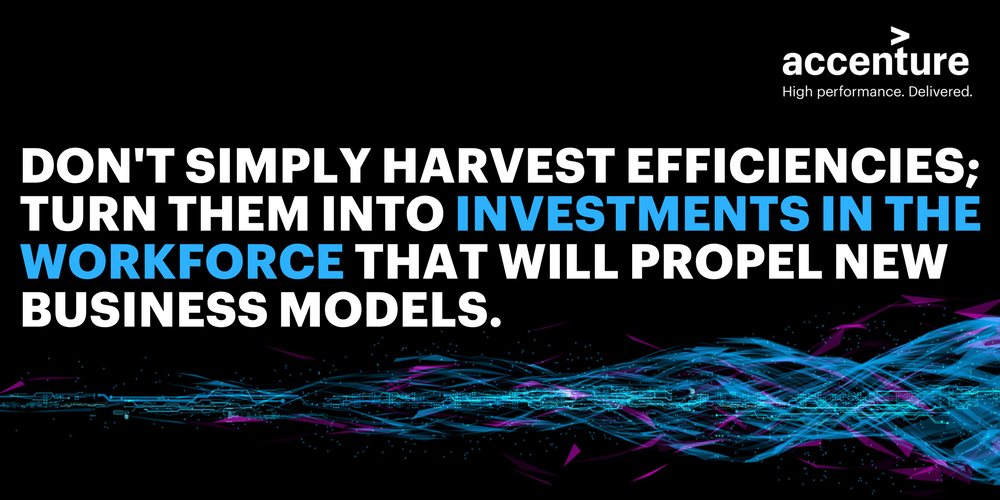 Recognise the business case
Don't simply harvest efficiencies to benefit the bottom line; turn them into investments in the future workforce that will propel new business models.
Organise for agility
As people do less repetitive work and instead participate in a series of project teams, they must be given more autonomy and decision-making power.
An open culture is needed to encourage experimentation. Organisations must also redesign the processes and organisational structures that enable the fluid assembly and disassembly of project teams, freeing people from traditional functional constraints.
AI enables individuals to take on higher-value responsibilities; it also pushes
decision-making closer to the action.
Foster a new leadership DNA
An agile workforce that leverages the best of intelligent technology and the best of human ingenuity ushers in a new set of expectations for today's leaders. It's critical that they not only understand and are positive about AI, but that they spend time thinking creatively about how it can be used to create new sources of value throughout the organisation.
As hierarchies collapse and cross-function teams assemble and disassemble, leaders become co-creators and collaborators with their people. And, while AI enables individuals to take on higher-value responsibilities, it also pushes decision-making closer to where the action occurs. Ultimately leadership isn't a level — you need to build leaders at all levels.
Join me next week as I look at how FS organisations can scale up 'new skilling' to enable people to work with intelligent machines.
Meantime, for more insight on the impact of AI in the banking and insurance sectors, see Accenture's latest AI research and thought leadership: