Other parts of this series:
---
Pre-COVID-19 research from Accenture found that automation and augmentation could save the financial services industry in North America $140 billion by 2025. Since the pandemic is already accelerating change and disruption across the industry, it's likely that this opportunity will arrive ahead of this forecast.
But most firms are not prepared to seize it. The research linked above also found that just one in four financial services employees is prepared to work with intelligent technology.
How can we address this gap?
The new nature of work
The first step is changing how we think about work and the workforce. Many major trends are transforming this, but the most important is probably demographic change in the workforce.
By 2025, 75 percent of the workforce will be millennials—the most educated generation in US history. For millennials, who grew up in a globalized world with ubiquitous consumer technology the lines between personal life and work are blurred. They expect technology to play an integral, yet invisible, role in their lives. They choose to work in different ways and value flexibility more compared with prior generations.
They also have a greater preference for working at organizations that embrace a purpose beyond profit. They are not alone in this. The view that corporations exist only to create shareholder wealth is being challenged from some surprising places.
For instance, last year the CEOs of nearly 200 major corporations, including the heads of J.P Morgan Chase, Blackrock, and Bank of America, published a remarkable letter. The signatories embrace a more expansive view of corporate purpose and commit to meeting the expectations of five different groups: customers, employees, shareholders, suppliers and communities.
This represents a paradigm shift for large businesses—one that the COVID-19 crisis is likely to accelerate. A pre-pandemic report from researchers at the Wharton School of Business and Harvard, for example, found that companies with higher levels of purpose outperform the market b five to seven percent.
These developments together present an imperative for financial services firms to become more "human" workplaces—that is, to offer more flexibility and more purpose.
The only way to do this while excelling in the marketplace is to break down jobs.
Breaking down jobs to become more human
Organizations will always have a need for people with full-time jobs. But the idea that one role within an organization equates to one full-time employee is losing relevance every day.
It is being replaced with a task-based approach to work that breaks down jobs into component tasks that can be quickly reassembled into new job roles to fit changing workforce preferences, technological advances and market conditions.
Here's an example of how the traditional role of customer service representative breaks down.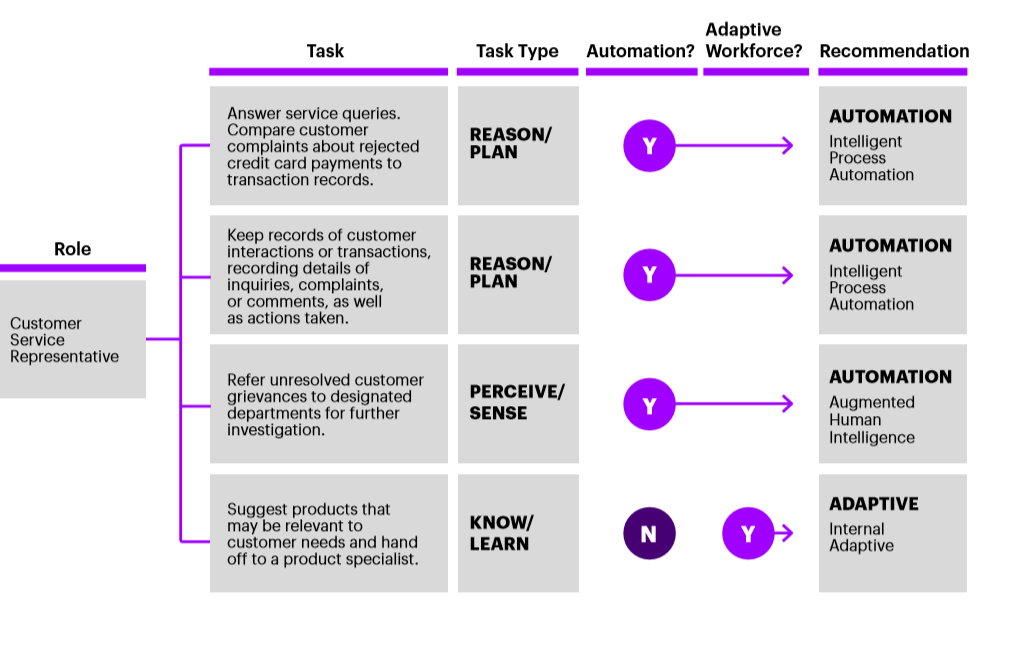 Once we've identified the tasks that make up a job, we can apply the "build, buy, borrow or bot" framework.
Building is growing the workforce's capabilities from within through training and learning platforms. For more on fostering workforce learning in today's disrupted, digital environment, check out this guide.
Buying is acquiring new capabilities through external recruitment. Like so much else in the post-pandemic world, the way recruitment works is changing. Workers expect more from their employers. The need to earn and sustain trust has never been more acute.
Borrowing is creating new teams from other departments within the organization or from external partners. These partners will include on-demand workforce marketplaces like UpWork and WeGoLook—and firms that some might consider competitors.
Finally, botting is assigning specific tasks to robots or artificial intelligence (AI). Achieving this at scale can be a major challenge. Many companies find it difficult to transition from thinking about AI as a source of innovation to using it as a core tool of value creation. A recent report from AI experts at Accenture unpacks three success factors for scaling AI. The report also includes a helpful roadmap.
Breaking down jobs into tasks and applying this framework will kick-start your strategic move towards embracing the power of automation and AI in a post-COVID-19 world.
It can also strengthen your customer relationships by freeing up the human workforce to build trust with customers. Recent research from Accenture built on a survey of 5,500 consumers and 1,300 small businesses conducted in April 2020 shows that low customer trust is preventing banks from offering the kind of tailored, empathetic advice that can create customers for life.
Effectively leveraging automation and augmentation to create a "human+" workforce can free up resources for building deep, durable customer relationships.
Come back for the final post in this series, which will present a three-step strategy to prepare the workforce for this transition.