Other parts of this series:
---
The insurance customer of the future is epitomized by a young, up-and-coming, tech-savvy office worker in Shanghai. She pays for her pizza, movie, and taxi fare home via WeChat; she has her own QR code; she buys her milk from Taobao; she's invested significantly in computers, iPads, and other electronics necessary to her daily lifestyle.
The average insurance C-suite, on the other hand, remains stubbornly homogeneous and representative of customers in an earlier age. Would your leadership be able to empathize with and understand what today's breed of young customers need from their insurer?
Ninety-six percent of insurance executives indicated in Accenture's Technology Vision 2017 that a personalized customer experience is one of their top-five organizational priorities. Yet, 71 percent say that their organizations struggle to understand customers' needs and goals, despite an increase in available customer data and insights.
Another anomaly: Accenture Strategy research shows that while 77 percent of leaders in large organizations believe their employees innovate proactively, only 50 percent of staff agree.
To achieve effective innovation and equip their organizations for the future, leaders need to embrace emerging digital and intelligent technologies that help them: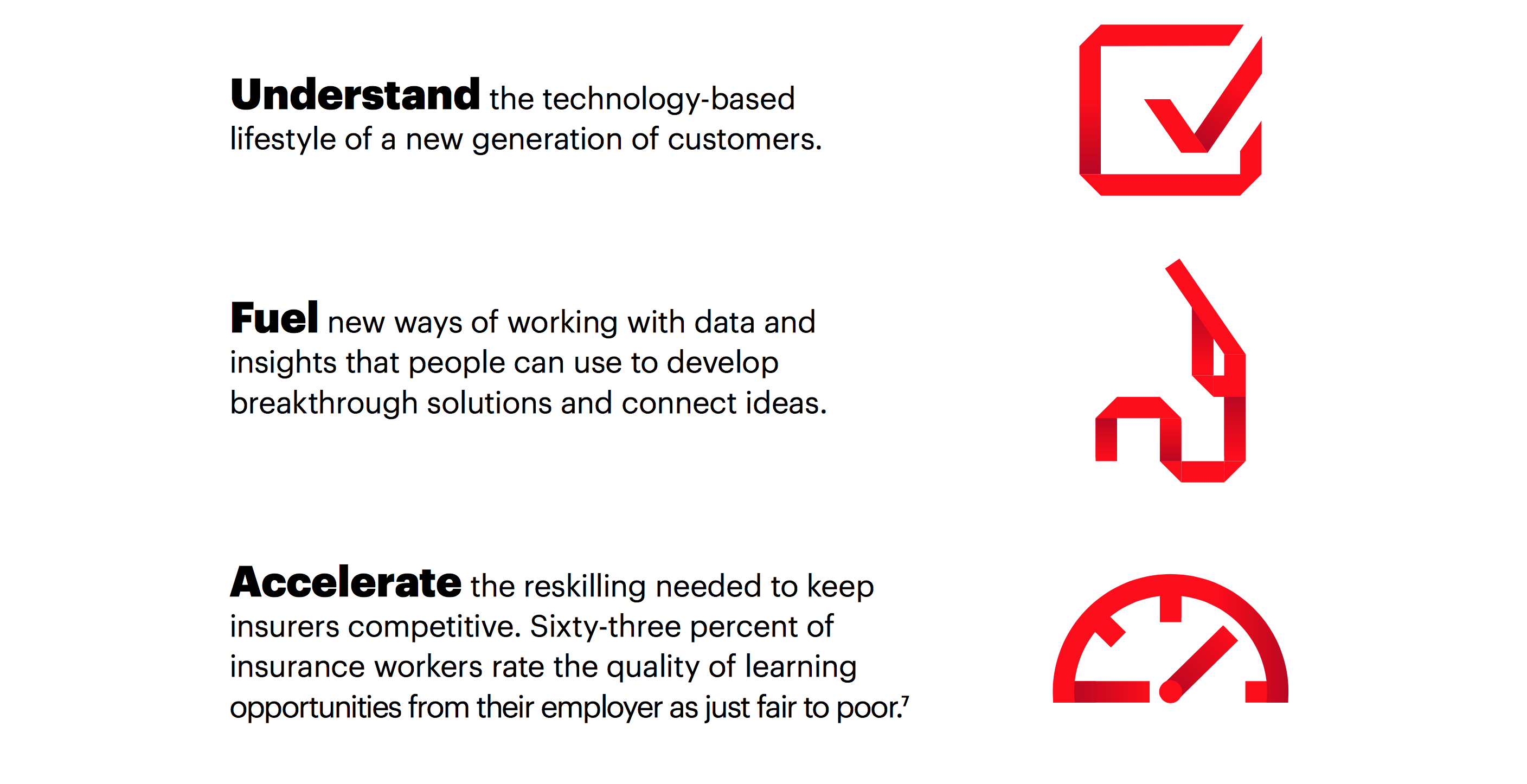 There are also four practical steps you can take toward an organizational makeover that will put you on a new winning trajectory:
Build a more diverse, representative leadership team with people from all walks of life. Make sure your recruiting strategy attracts leaders throughout the organization who can bring new ideas to the table.
Look through the lens of the customer experience: Accenture's Technology Vision Survey 2017 revealed that 80 percent of insurers believe the next industry leaders are those who can tap into what motivates human behaviour, and design the customer experience accordingly. This starts by reviewing your processes and structures through the eyes of your customers.
Make innovation core to the enterprise: Creativity is driven by a dedicated C-suite who is prepared to define and establish bold innovation targets across the company. Leaders should foster a culture that attracts and reinforces diverse thinking, embraces speed, and encourages experimentation to disrupt the "same old, same old" mentality. 
Equip the workforce to accelerate progress: Last but certainly not least, insurers need to empower the workforce to re-skill and adapt. The C-suite needs to work alongside employees; diversity cannot be a top-down approach, everyone must be included in the process. Insurers should also use novel learning methods like coaching, leadership academies and gaming, and include subjects like design thinking, agile development, diversity and digital capabilities.
To compete for the attention and loyalty of a new generation of customers, insurers need a diversity of ideas, experiences and capabilities. As always, this starts at the top.
Read more about the insurance C-suite by downloading the report here.