Approximately seven to 10 percent of tasks in the financial services (FS) workforce could be automated by 2025, while 43 to 48 percent could be augmented with technology, according to estimates from Accenture's Workforce 2025 survey and report. And there's no question of the potential value and cost savings for FS companies—as mentioned in our previous post, the North American FS industry could unlock between $87 billion and $140 billion in value by 2025. 
Here are four charts illuminating the future of the FS workforce: 
Half of banking tasks can be enhanced with a combination of automation and augmentation.
As technology continues to rapidly evolve, Accenture research estimates that an average of 50 percent of banking tasks will be enhanced with a combination of automation and augmentation by 2025. Swedish bank SEB has implemented a virtual assistant called Aida, who interacts with millions of customers to handle basic requests. Aida has not only reduced costs and increased stability, but has also enabled SEB representatives to concentrate on more complex issues—particularly calls from potentially unhappy customers who require a more personal touch in their interaction. 
An average

seven

 percent

 

of 

capital markets 

tasks

 

can be 

automated

.

 

Capital markets organizations are realizing the potential of automation for certain tasks of the financial analyst, sales agent, brokerage clerk and statistician—and come 2025, it's estimated that about 7 percent of tasks will be automated. When looking at areas where automation could create value for both the company and customers, Charles Schwab introduced its automated investment platform for portfolio management and comprehensive financial planning. This service has automated a piece of its sales agent role and manages client assets worth around $41 billion. With a slight tweak to make it a flat-fee subscription service, the robo advisor topped $1 billion in new assets in 2019.  
Almost half of insurance tasks

can be augmented with 

artificial intelligence

.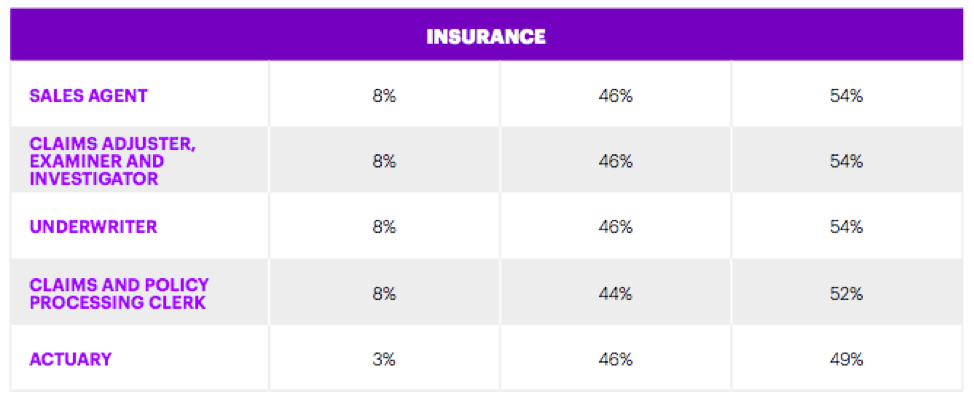 Accenture research shows that an average of 46 percent of tasks within insurance can be augmented for sales agent, claims, underwriter and actuary roles. Though the insurance industry has slightly lagged other industries in adopting artificial intelligence (AI), Ant Financial has been leading the charge for use of AI in China with its image-recognition system for external vehicle damage. Customers upload photos from their smartphone—while still on-site at the accident—and the system enables claims adjusters to make quick, standardized and objective assessments. 
FS organizations need to access

the HEAT skillset

 

to become more human.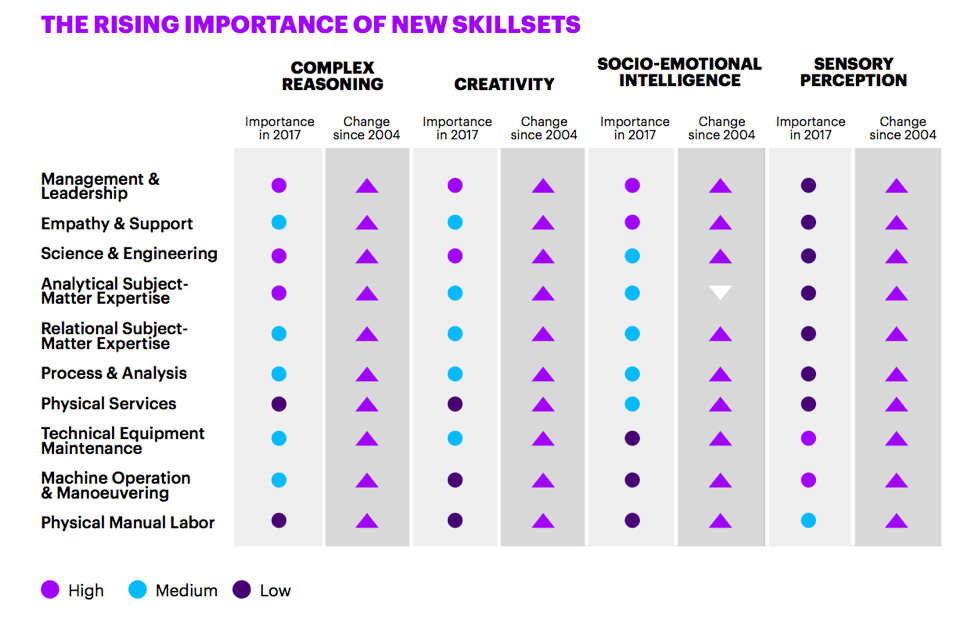 As tasks morph to accommodate new technologies, the human element of a mostly transactional and traditionally siloed industry becomes even more imperative for innovation and growth. Banks and insurers need people with the much-coveted STEM (science, technology, engineering and mathematics) qualifications and capabilities. But they also need to build teams with a background in humanities, engineering, arts and technology (HEAT).  
HEAT is the power skillset for newer FS roles like branch ambassador, social media manager and personal client advisor. This is where millennials are integral to success, as studies show that this generation is more likely to study social sciences or communications. 
The winning FS firms of the future will be the ones that unlock the value proposition of the new workforce and the next wave of digital technologies. 
For more insight on the financial services workforce of the future, download the full Workforce 2025 report here.