Other parts of this series:
---
EX can increase engagement with employees, better facilitate change and unlock potential. A happy employee is a productive one and this can catalyze the innovation, organizational agility and competitiveness needed to thrive in a fast changing sector. 
More and more financial services organizations are taking a hard look at their employee experience and investing—often in digital—to unlock the full potential of their people. But it's not just about putting the right tools and technology in place. 
Fighting fear and anxiety in the workforce has a lot to do with assuring the workforce that their jobs and their future are not at risk, and that they will be able to adapt to the new. This can be achieved through a combination of change management and effective up-, re-, and new-skilling. An improved employee experience can facilitate that. 
What do I mean by that? 
High-performing employees get support when they ask for it, are happier at work, feel more valued, and have a better work-life balance. TINYpulse
Gallup analytics find that "There is someone at work who encourages my development" is one of the key survey questions that separate enthusiastic, high-performing workers from low-performing, miserable ones. Organizations that have made a strategic investment in employee development, it finds, report 11 percent greater profitability and are twice as likely to retain their employees. 
This research, often quoted, is from 2017. Much has changed since then. Or has it? 
TINYpulse's 2019 Employee Engagement Report includes data from over 25,000 employees across 20 industries from January to December 2018. Its findings in terms of how employee engagement affects performance are telling. 
High-performing employees get support when they ask for it, are happier at work, feel more valued, and have a better work-life balance.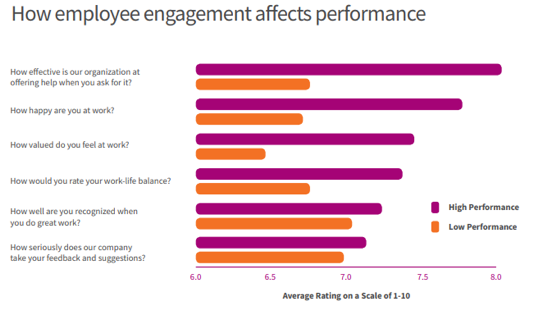 The report also notes some other interesting statistics:  
While 84

 percent 

of people agree they feel challenged at work, only one in three strongly agree that they have the opportunity to reach their full potential at their organization.

 

54

 percent 

of employees are unclear about their promotion and career path and a staggering 44

 percent 

of employees don't feel they have sufficient opportunities for professional growth in their current positions.

 
Fortune's 100 Best Companies to Work For invest in EX
Fortune's 2020 100 Best Companies to Work For puts Hilton at the top of the list. Ninety-six percent of its employees say it's a great place to work compared to 59 percent of employees at a typical US-based company. Industry-leading benefits and a great employee experience are why—they have resulted in less attrition and a more engaged workforce.  
In this Forbes article, Kellie Romack, VP of digital HR and strategic planning at Hilton, notes that for the company the employee experience is just as important as the customer experience. It prioritizes consumer-grade tools, technology and experiences for its employees—its workforce is mobile (employees can access any HR or workforce application seamlessly), digital chatbots answer common questions, and the company has deployed virtual reality training. 
Fortune sums it up: "The 100 Best Companies to Work For stand out because they focus on values, trust, innovation, financial growth, leadership effectiveness, and maximizing the full human potential of every employee". 
Here's an interesting stat: finance and insurance firms dominate the 100 Best rankings.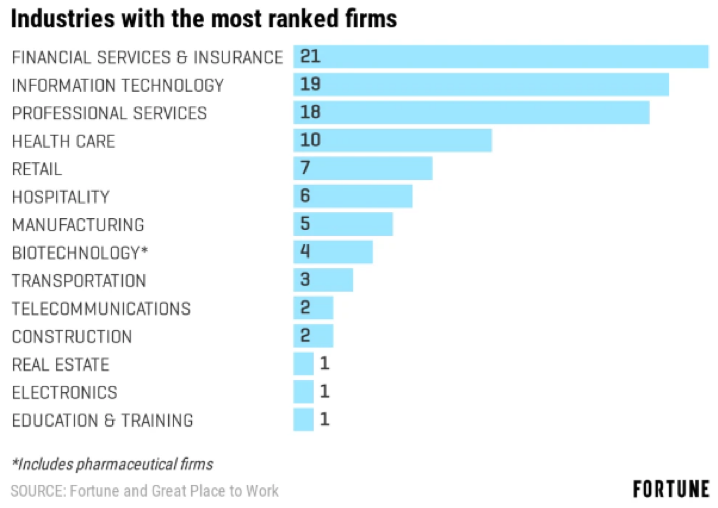 The highest, ranked number seven, is investment firm Edward Jones. Among other benefits, it has what it calls the financial industry's "most comprehensive training program," and a pay-it-forward culture that sees seasoned staff mentor new hires, and an annual merit-based salary increase. That translates to job security, says Fortune. I have to agree. 
Join me next week as I look at the areas in which employee experience can make an impact and how leading FS companies are approaching it. 
Meantime, for more on EX in financial services, click through to The Employee Experience as a Competitive Advantage: The New Digital Workplace in Financial.