---
Artificial intelligence (AI) is arriving at speed in the financial services (FS) sector. Those taking a polarised view—it's going to revolutionise productivity; it's going to rip the foundations out under employees—are missing the most important issue. There is much more that can be achieved with AI; all that is needed is one ingredient.
AI, when fused with human ingenuity across the enterprise, can deliver exponentially more.
Together, the respective strengths of humans and machines are amplified.
This is 'applied intelligence'— the dynamic mix of human and AI capabilities—will give insurers and bankers the ability to solve complex challenges, develop new products and services, and break into or create new markets.
The majority get that AI will transform the FS industry – but they are failing to act.
Figure 1. Together, the respective strengths of humans and machines are amplified.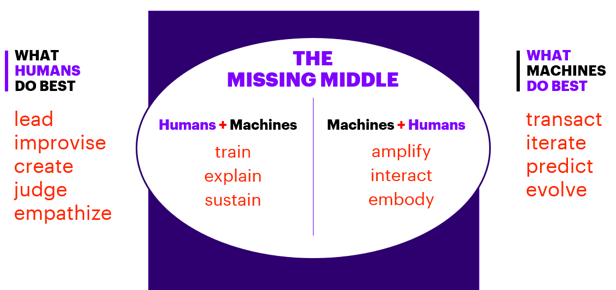 How big is the opportunity?
Accenture's research indicates that by committing fully to AI and investing in human-machine collaboration over the next five years at the same rate as top-performing businesses, banks could boost their revenue by 34 percent and employment by 14 percent. For insurers, those figures are 17 and 7 percent, respectively.
How are AI leaders benefitting?
One Accenture client developed a human-AI hybrid workforce where algorithms predict which orders face a risk of cancellation or payment disputes. Employees can therefore spend more time—and are better equipped—to attend to high-risk situations and proactively mitigate negative outcomes. This approach required developing a range of expertise and capabilities but the investment is paying off: the company achieved a bottom line profit of more than $10 million in the first year of implementation.
The majority of bankers and insurers do get it – but they are failing to act.
Our cross-industry Future Workforce Survey indicates that the majority of senior executives from both sectors:
Believe the industry will be completely transformed by intelligent technologies
Agree that AI will result in a net gain in jobs in their sectors
Say that AI will be critical to their organisation's ability to differentiate itself in the market
But there's a distinct disjunct…
FS executives know the workforce is critical to the successful implementation of AI. They also say the growing skills gap is the most important factor influencing their workforce strategy. They claim only 1 in 4 of their employees is ready to work with AI. Yet hardly any of them—3 percent of banks and 4 percent of insurer—plan to significantly increase their investment in reskilling programs over the next three years.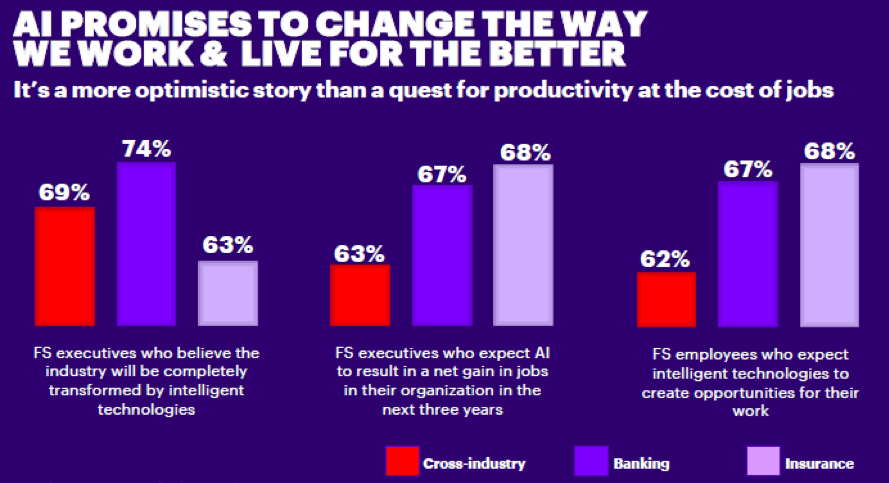 It's time for FS to think differently about AI.
By elevating their workforces, FS organisations can create new value through human-machine collaboration. Right now, FS firms' low level of commitment, at a time when a new era of work is imminent, will radically curtail their ability to deploy and benefit from AI at scale.
Join me next week as I look at how FS organisations plan to use AI and identify three key actions needed to embed an applied intelligence approach.
Until then, you may be interested in Accenture's latest research and thought leadership on the impact of AI in the banking and insurance sectors: