---
In my previous blog post, I outlined seven key trends that Fjord highlights in its Trends 2018 report. This time, I'll delve into the first trend—'Physical Fights Back'—and what it could mean for the human resources (HR) function in financial services (FS) organizations. This trend is about how digital is becoming an invisible enabler of physical and sensory experiences.
Whereas we currently interact with digital channels and content through screens and keyboards, we are rapidly moving to a world of consistent, connected devices where services are deeply integrated into our physical surroundings. Think about asking your smart speaker to cue up your favorite playlist or to read you the news headlines rather than flicking through menus on a screen, for example.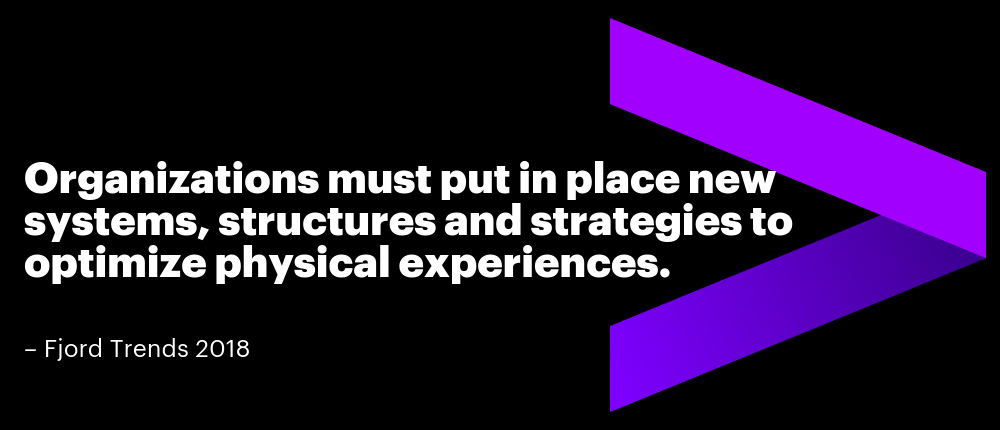 The trend is fueled by the disaggregation of core technology components, such as cameras, microphones, speakers and screens, which are increasingly being embedded in an array of different environments. For FS HR functions, it means we can create powerful employee experiences—from training to onboarding to collaboration—that are more human, intuitive and immersive.
For example, Citibank has trialed using Microsoft's holographic headset, the HoloLens, to allow traders to view dynamically updated and interactive information as 3D images projected into the room. The traders use hand gestures and voice to drill into complex financial data or to explore their contracts and portfolios. They can also collaborate with other people in the room who are viewing the same visualizations.
The use of holograms at TED2018 in Vancouver, meanwhile, highlights their potential for more interactive and engaging remote training when it is not possible to bring the trainers and learners together in one location. One of the speakers, Yuval Noah Harari, appeared onstage as a hologram live from Tel Aviv, achieving an effect more like real presence than a videoconference link.
As another example, we could imagine conversational artificial intelligence (AI) and smart speakers supporting HR executives in a meeting room with the information they need to make decisions. Rather than querying business intelligence tools or navigating reports, they could ask the AI natural language questions such as 'What was our employee attrition rate in March in North America?'
The shift towards digitally-enabled physical experiences will, of course, also bring change and disruption to the workforce. It has significant implications for how teams are structured, the skills that people in the current analog and digital channels must have, and how people will collaborate with each other.

In addition to thinking about how to take advantage of the technology to transform the employee experience and optimize how HR operates, HR executives should be ready to support the workforce as it reskills for a new world and adjusts to new ways of working.
Next time, I'll look at how video analytics and advanced image recognition will affect the workforce and HR function in FS organizations. If you'd like to read the Fjord report you can download it here.