---
The challenges facing financial services providers today are perhaps most clearly represented by the Pioneers, which is the first of four customer personas identified in the Accenture 2019 Global Financial Services Consumer Study.
The Pioneers are the youngest cohort of the 47,000 customers surveyed for the study, with half between the ages of 18 and 34. They are relatively affluent, very tech savvy, hungry for innovation, and inspired by the new. For instance, 80 percent express interest in integrated value propositions from financial and non-financial providers, like a bank teaming up with a property management firm to offer combined finance and maintenance services for real estate. They are also open to risk, with three in four saying they are willing to take risk to improve their lives.
A closer look at the data from the survey further confirms that Pioneers are the "customer of the future" that financial services providers often have in mind when designing new offerings.
Pioneers are more likely than overall survey respondents to:
Check their accounts by smartphone (54 percent for Pioneers versus 30 percent for all consumers)
Use their phone as their primary digital device (87 percent versus 54 percent)
Express confidence in their use of technology (89 percent versus 65 percent overall)
Prioritize work-life balance (86 percent versus 68 percent overall)
Be sought out by others for advice (80 percent versus 54 percent)
Share personal data in return for more personalized services (95 percent versus 80 percent overall)
The biggest point of difference between Pioneers and overall consumers? Their desire for new ways of communicating and accessing financial services.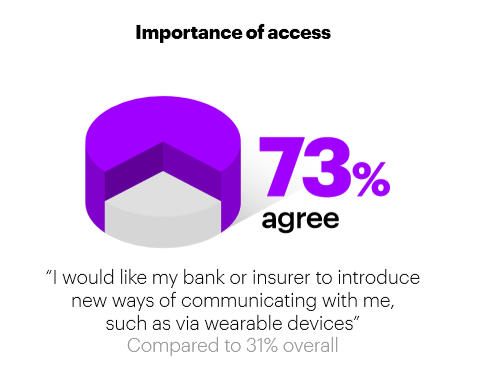 All these attributes make Pioneers an important component of any future growth strategy for a financial services provider in this digital age. Looking at the geographic spread of Pioneers corroborates this.
Pioneers made up 23 percent of overall respondents across all markets, but the distribution was far from uniform. Pioneers are much less common in mature markets. For instance, in Canada they made up 11 percent of respondents. In the UK they were 16 percent of respondents and 12 percent in Italy. In Japan, just four percent of respondents were pioneers.
In developing markets, Pioneers are much more common. They represent 36 percent of the market in Brazil, and 48 percent of the market in both China and Indonesia. In Thailand and India, Pioneers are a majority of the market, at 51 and 55 percent respectively.
Their geographic, demographic, and preferential attributes all make Pioneers an attractive segment of consumers for financial services providers. Appealing to them will be a crucial source of growth and competitive advantage.
Yet doing so is likely much easier said than done. They are the least loyal of all the personas in the study, with one in three Pioneers having switched banks in the last year. The study also revealed that Pioneers are also more ethically minded than other consumers, with 65 percent saying that their choice of service provider is influenced by corporate social responsibility.
Appealing to these consumers will require renewed commitment on two fronts.
On the product side, service providers will need to up their digital game and provide newly integrated services—ones that leverage ecosystem partnerships to appeal to make life simpler and smarter for customers, and ones that also are seamless across all delivery channels, whether physical or digital. (In fact, one of the most surprising things about Pioneers is their appetite for physical distribution, with 68 percent favoring face-to-face interaction with their bank, which is very similar to the other personas.)
On the trust side, service providers will need to reach new heights in their efforts to demonstrate their transparency, responsibility and reliability to these demanding customers.
If you'd like to continue the conversation about achieving either of these goals, do contact me. Information can be found at the top of this page.
In the meantime, take a look at the 2019 Global Financial Services Consumer Study on our website. My next post in this series will look at the persona most different from the Pioneers: the Skeptics.