Other parts of this series:
---
Disruption of the FS sector makes change a constant within FS organizations. It is rapid and relentless, and it impacts every aspect of the FS value chain. Change at this pace can unnerve the workforce—and it's having a negative impact.
Research from Accenture indicates that high levels of fear and anxiety in the workforce are derailing change programs in the FS industry. In fact, FS executives rank the human factor as the greatest obstacle to change.
What's the antidote?
Change leaders are putting significant effort into building trust. As FS firms strive to transform and become more innovative and agile, it's an attribute they will need to nurture and embed.
The FS 'change-scape'
The 'change-scape' is busy. New regulations, heightened customer expectations, disruption, cost pressures, mergers and divestments, and new ecosystems of competitors and capabilities are reshaping the FS sector globally. While transformation is taking place, fear is putting the brakes on rapid advancement.
Accenture's Transformation GPS (TGPS) study indicates that the industry is in a 'Yes, But' change state—positive progress is being dampened by a number of concerns, led by a lack of sufficient resources and competing priorities. Most alarmingly, there are very high levels of fear and anxiety within the FS workforce, driven by uncertainty about the future and, particularly, job insecurity.
How does this impact the business? And how can FS firms address the challenges that are arising?
The impact of fear is severe
Fear and anxiety impede not just performance and change, but those critical factors that are the lifeblood of digital-era organizations: creativity, collaboration, and innovation.
85 percent of transformations that fail do so because of organizational dynamics; in particular, because of issues of fear and trust.
Accenture leveraged data and insights from its FS Change Survey and FS Agility Index Study to offer leadership and workforce perspectives on the impact of fear and trust on change efforts, capabilities and programs in FS organizations.
Of the 800 FS executives we interviewed our FS Change Survey, almost all were aware that the human factor is critical.
76 percent said employees' inability to adapt to change was one of the biggest barriers to organizational change
74 percent said fear of change because of a poor track record was one of the greatest obstacles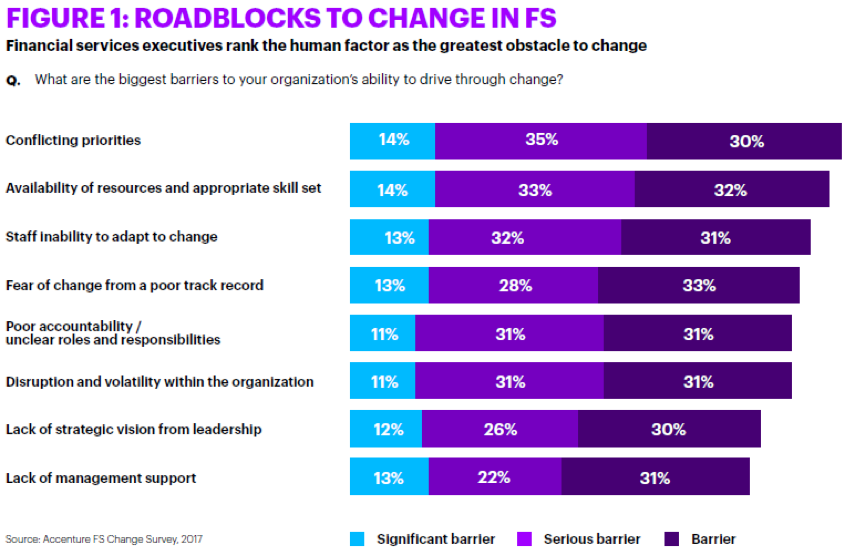 Bottom-up data from our TGPS analytics tool offers a workforce perspective that echoes the findings of the FS executive survey. It focuses on 10 key dimensions of change within organizations: vision and direction, communication, business leadership, team leadership, teamwork, passion and drive, accountability, systems and processes, skills and staffing, and fear and frustration.
The TGPS model applies analytics to predict the transformation success and provide guidance for leaders to improve the change performance of the organization overall as well as of individual teams.
The results for FS, which highlight FS employees' attitudes to change, are telling.
Here's how FS employees are experiencing change.
While employees give high scores for 'understanding the company's vision of the future', 'support from business managers for the change process', and 'confidence and trust in the company's leadership team', scoring moves into negative territory when it comes to having the right processes, systems, skills and enough staff to drive change. The highest negative score went to 'amount of people feeling anxious, fearful, threatened'.
Our multi-year analysis from TGPS (it reaches across 15 years with results from more than a million individuals at 220 organizations in 25 countries) indicates that 85 percent of transformations that fail do so because of organizational dynamics; in particular, because of issues of fear and trust.
So, to succeed, FS organizations need to address fear in the workplace.
Join me next week as I identify the common traits of firms—like those in the FS sector—that are in a 'Yes, But' change state, drill down into where the fear in financial services is coming from, and look at why addressing fear is important for FS.
Meantime, for more on managing change and building trust, click through to:
Fearless. How safety and trust can help FS thrive even during disruption and transformational change.
Enterprise Agility in Financial Services. The new strategic Imperative.