A Call to Action
2020 was the 'tipping point'1 for the ESG (environmental, social and governance) movement, and the momentum is expected to mount in 2021 and beyond.2 Companies are facing pressure from clients, investors, employees and others stakeholders to measure and publish their sustainability and social responsibility performance through environmental, social and governance factors.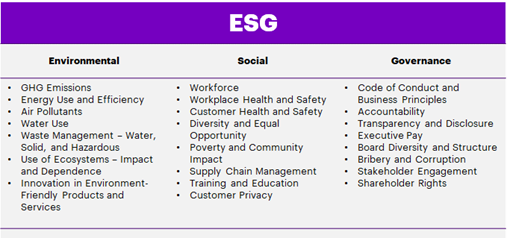 The growing market-wide shift towards assessing a company's intangible assets and long-term value creation is placing an expectation on leadership to embrace ESG as a management approach. 2 Customers now also demand social and environmental responsibility from their trusted partners, and U.S. regulators are expected to enact legislation regarding transparency in the near term.
Companies face pressure to demonstrate that they are promoting social responsibility in the workforce: the UN Sustainable Development Goal (SDG) #4, Target 4.7 states that: "by 2030, [organizations should] ensure that all learners acquire the knowledge and skills needed to promote sustainable development." While the priority in this space has been largely focused on climate risk and diversity, wide-spread education and culture throughout the enterprise is a key driver for successful implementation of ESG integration.
In a recent survey4 of executives and ESG professionals, about half of respondents felt that they "often or almost always had access to the training and professional development needed to implement their ESG strategy," compared to the other half that felt that training was sometimes or almost always lacking. The majority of respondents wanted training on how to drive tangible results by integrating ESG principles into business strategy and operations. By investing in a change strategy that prioritizes education and culture, firms would assist the workforce to lead them towards a sustainable future.
Value Delivered to All Stakeholders
A successful cultural transformation has the potential to unlock value for both internal and external stakeholder groups:
Board of Directors & C-Suite Executives: According to the World Business Council for Sustainable Development, consideration of ESG principles into board-level decision-making can help companies improve their long-term value creation.6 Bolstered by active involvement from leadership, the organization would have a clear and action-oriented plan to seek ESG initiatives and enterprise goals.
Front Office: An organization that is educated about ESG may create innovative, sustainable products or service offerings which may result in increased revenue and/or new customers.
Risk Management Office: The workforce would obtain a strong understanding of ESG impacts on the business. Early identification and intervention of risks may reduce threats and prevent hits to an organization's reputation. 
Compliance: With expected ESG-related legislative action and/or disclosure requirements, the Compliance team may leverage the agile Education and Culture approach to continuously raise awareness around new regulations and stand up the necessary suite of reports. 
Regulatory Relations: Relationships with regulatory agencies could be strengthened by transparency about an organization's ESG Education and Culture approach.
Human Resources: The organization may have a competitive advantage in recruiting high-performing talent through its ongoing commitment to enterprise ESG goals.
Companies May Face Challenges
Organizations may face several challenges as they embark on ESG Education and Culture journeys:
Culture Change Required: A large effort and significant involvement from leadership would be required to realize meaningful ESG cultural change across all stakeholder groups within an organization.
Information Overload: There are myriad articles published daily with ESG guidance which may cause discontinuity in strategy creation and management.
Unsustainable Strategy:  If a company does not embed ESG Education and Culture into their enterprise change strategy, the go-forward approach could be fragmented.
Pockets of Knowledge: There may a handful of resources within the organization that already possess in-depth knowledge about ESG, whereas others may not be as informed.
New Systems: Rapid upskilling may be required for the workforce to understand newly implemented systems or analyze data sources used to quantify ESG.
Data Restrictions: A company may lack access to data or relevant metrics for proper change measurement reporting, making it difficult to fully understand if ESG priorities are permeating throughout the organization. 
Considerations for a Successful ESG Education and Culture Program
Here are three key considerations for leaders embarking on an end-to-end enterprise ESG Education and Culture journey:
'Tone at the Top': A successful transformation starts with and is bolstered by active involvement and ongoing commitment from leadership. The unique sustainability goals and purpose that a company's leadership defines for the organization should strongly inform the underlying training, communication, and adoption activities.
Agile is Key: A company's ESG Education and Culture transformation should be able to be tailored to each line of business' particular needs while still embodying the priorities set by leadership. An agile approach would facilitate rapid adaptation to a constantly evolving ESG regulation and market development.
Activities Catered to Stakeholder Groups: It is imperative that an organization accounts for the unique needs of all internal and external stakeholder groups when developing an ESG Education and Culture strategy. To optimize adoption, the Education and Culture team should use interview sessions or surveys to determine the activities and channels that best suit stakeholder profiles. 
Conclusion
Investment in ESG Education and Culture is paramount to realizing the value of enterprise sustainability initiatives. It would not be enough for an organization to compel employees to take perfunctory training – realizing sustainability goals would require an enterprise-wide cultural shift. Following the guidance of the COSO and World Business Council for Sustainable Development (WBCSD), ESG should be incorporated into the very "mission, vision, and core values" of an organization.7
To understand how Accenture can help in your ESG Education and Culture journey, please contact the authors, and stay tuned for additional posts.
Sources