Other parts of this series:
---
In the first post in this series, we looked at why the COVID-19 pandemic is placing a new premium on enterprise workforce learning. In this post, we'll move from the "why" to the "how."
Bringing lifelong learning into your organization starts with understanding the most efficient way for a busy professional to absorb new information and pick up new expertise.
Recent neuroscience research has revealed that the popular conception that adults—especially older adults—cannot learn is unfounded. However, workforce-specific learning strategies are required to make the learning stick. Specifically, any workforce learning program needs to make use of microlearning and experiential learning.
Microlearning and experiential learning
Microlearning entails breaking up large, complicated concepts into small chunks that easily fit into a worker's schedule. While simple in theory, breaking down complicated material into small lessons without losing any crucial transmission of knowledge is a field of expertise in its own right. Done correctly, microlearning is an indispensable part of cultivating lifelong learning in adults.
Experiential learning, meanwhile, is active, immersive, and based on real-world experiences. It encourages learners to experiment and incorporates teamwork and other social interactions. Familiar examples include apprenticeships, design thinking workshops, simulation tools, virtual reality, and on-the-job training. Experiential learning has been shown to be remarkably effective for teaching adult learners.
For instance, in a recent study conducted by Accenture and MIT, a standard training video was shown to 99 Accenture employees. The employees were divided into four groups.
One group simply watched the video. Another watched it and had a spontaneous, unstructured discussion afterwards.  The other two groups were subjected to experiential learning interventions. One group watched it and afterwards had a structured discussion guided by an instructor. The final group were given test questions throughout the video.
In follow-up memory tests, the structured discussion group scored 25 percent higher than the first two groups. The interpolated question group scored 26 percent higher.
Workforce learning in a post-COVID world
Executing an effective workforce learning strategy in a post-COVID world comes with new challenges.
For instance, a new Accenture survey of senior talent management leaders in financial services found that 99 percent of surveyed organizations implemented remote work in some form as a result of the pandemic. More surprisingly, 73 percent of CHROs surveyed believe that remote working is sustainable over the long-term, and 77 percent feel that employees will want to continue working from home in the future.
The new challenges for building workforce learning systems go beyond ensuring remote access. Another Accenture study on the role of leadership during the pandemic found that workers expect new things from employers in the wake of COVID-19. Earning and maintaining trust is at the heart of this relationship—and that's done by meeting needs on three different levels.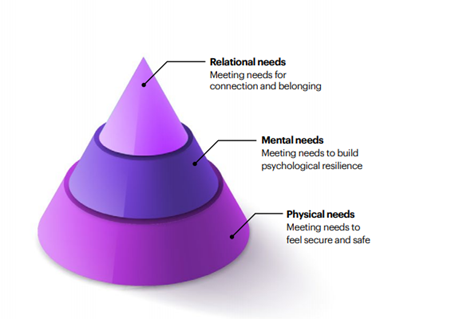 A workforce learning system can help employers meet the workforce's mental and relational needs.
With that in mind, a post-COVID workforce learning platform should:
Deliver content in "byte sized" chunks of microlearning that can be deployed "just in time" and consumed quickly.
Provide seamless networking and adaptive security on any platform.
Be social, so learners can share progress and make recommendations for peers.
Be context-sensitive and adaptive to the needs of individual learners.
Be curated by subject matter experts to leverage the best available knowledge.
Be "gamified", to encourage a sense of fun, achievement, and friendly competition.
Connect with the rest of the virtual work environment.
In the final post in this series, we'll take a look at an example of an effective workforce learning platform for the post-pandemic world.