---
Many organizations around the world are recognizing that they need to change how they treat their customers. Old methods and practices just don't work in the digital economy where consumers enjoy a myriad of choices and suppliers jostle to give them exceptional experiences.
Far fewer organizations, however, realize that similar changes are taking place in the workforce. Digital technology is empowering workers almost as much as consumers. If employers don't change how they relate to their workers, they're going to suffer. Staff performance is likely to plateau, attrition to rise, and skills and competencies to fall short of the needs of the business.
Greater diversity is one of the hallmarks of digital disruption. Workers are certainly using digital technology to work faster and more efficiently. But they're also performing many more different and diverse tasks.  Moreover, they're having to collaborate and network with other workers far more than before. The fast pace of change is forcing workers to constantly improve and adapt their technical and personal skills.
The composition of most workforces has also shifted. Many organizations are pulling in specialist freelancers and contractors, as well as home-based staff, to work alongside their employees. The increase in business partnerships and alliances often requires workers to co-operate closely with personnel from other organizations.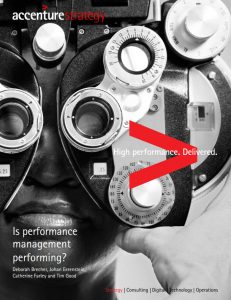 Our research shows that business leaders recognize that digital technology is changing the work performed by their organizations and also the composition of their workforces. For example, about half the 1,050 leaders we canvassed around the world believe increased diversity in the workforce is creating a greater variety of employee motivations and expectations.
Despite this awareness, however, many organizations are still using performance management practices that don't address these changes.  Only a third of respondents report that their organizations have moved away from standardized performance management approaches. Yet the failings of such practices are recognized by many of the leaders we canvassed. Around 41 percent believe 'one-size-fits-all' approaches have a negative effect on performance management. Almost a third of the leaders complain that their performance management practices comprise too many 'top-down' rules and are often little more than 'box-ticking' exercises.
Traditional performance management approaches often don't accommodate the high levels of diversity in today's workforces. Furthermore, they tend to concentrate on evaluating past performance but neglect skills development and coaching. Half the leaders in our research believe employees want more development and coaching. And 53 percent reckon personalized feedback and coaching would significantly improve employee performance.
Organizations are recognizing that they need to treat their customers as individuals. Now they need to adopt a similar approach to their workers.
In my next blog post, I'll discuss how organizations can better accommodate the needs and aspirations of their workers by adopting hyper-personalized performance management.
In the meantime, have a look at this link; the report goes into more detail about this important topic.
Is Performance Management Performing? Revitalize performance management to better support business objectives and the workforce of the future.