---
Blockchain, virtual reality, intelligent automation, artificial intelligence … this wave of the latest technologies is rising fast as FS firms begin to apply them in innovative ways. As they embed these solutions into society, blurring business and personal and making themselves indispensable, insurance companies are treading a sure path to future growth. But sustained success will require more.
For insurers—and FS organizations across the board—success in this massively connected arena will demand true enterprise agility, a workforce built for digital, and an increasingly human approach.
Every year, Accenture's Technology Vision research identifies the emerging technology and business trends that it believes will most deeply impact businesses, governments and society over the next three to five years. Accenture's Technology Vision for Insurance 2018 looks at how these trends will impact insurers. In this series of posts, I add an FS talent and organization lens to that data, exploring the impact on people and the organization.
Digital at the core
Leading insurers understand that the world is reimagining itself around digital innovation and around the companies that provide tech-driven services—much the same way as cities were built around railroads, and people rebuilt their lives around electricity.
Dai-ichi Life Insurance Company in Japan, for example, has introduced a FaceAI feature into its mobile app to encourage healthy living. It determines the user's 'health age' based on a smartphone photo, and will simulate what the user will look like in future based on their smoking and alcohol habits.
AXA's fizzy is another example of sticky AI innovation. It is an automated, secure platform that provides insurance against delayed flights. It uses blockchain technology to record the insurance purchase and when global air traffic databases indicate a delay of more than two hours, compensation is triggered automatically.
These efforts are part of a larger strategy for insurance organizations: by making technology inseparable—and indispensable—to how things get done, it drives company growth.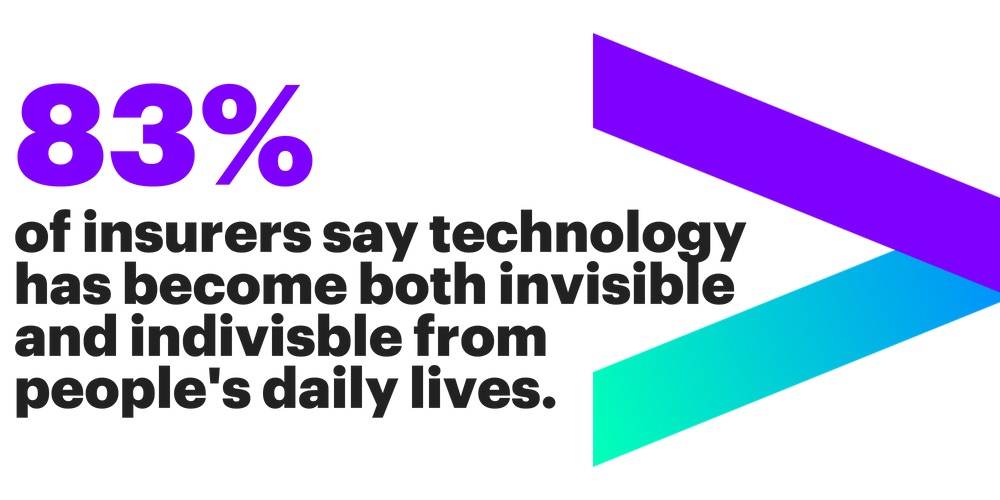 Insurers understand the shift:
84 percent said that through technology, companies are weaving themselves seamlessly into the fabric of how people live today.
But as this wave of tech innovation and integration matures, it brings new challenges and risks.
Customers are 'reading the labels' of enterprises
This deeper integration of technology into our day-to-day lives is shifting relationships
between consumers and enterprises to partnerships. Consumers want businesses as partners to share not only their goals, but also their values.
Pioneering insurers are transforming these high expectations into an enterprise strength.
AXA has redefined its purpose as empowering people to live better lives, and has set out a five-year sustainability plan called the 2020 Better Lives Partnership to deliver on its vision.
Lemonade became a public benefit corporation in 2016 when it embraced a mission of rebuilding insurance as a social good rather than a necessary evil.
What does this radical transformation—of business models, product value propositions, social contracts with customers, and ways of engaging—mean for the organization and its people?
To compete in this dynamically evolving environment, FS organizations will need to become truly agile—responsive to change and opportunity. This requires fundamental change across the organization, from leadership to governance and business culture. It also means building a future workforce capable of leveraging AI and other technologies to drive growth.
This is the context in which Accenture's Technology Vision for Insurance 2018 presents the five emerging trends that it believes will most deeply impact businesses, governments and society over the next three to five years.
Five Accenture Technology Vision 2018 trends
These trends are:
Citizen AI: Raising AI to Benefit Business and Society. As artificial intelligence grows in its capabilities—and its impact on people's lives—businesses must move to "raise" their AIs to act as responsible, productive members of society.
Extended Reality: The End of Distance. Virtual and augmented reality technologies are removing the distance to people, information and experiences, transforming the ways people live and work.
Data Veracity: The Importance of Trust. By transforming themselves to run on data, insurers have created a new kind of vulnerability: inaccurate, manipulated and biased data that can lead to corrupted business insights and skewed decisions, which in turn can have a major impact on society.
Frictionless Business: Built to Partner at Scale. Carriers depend on technology-based partnerships for growth, but their legacy systems aren't designed to support partnerships at scale. To fully power the increasingly embedded enterprise, companies must first re-architect themselves.
Internet of Thinking: Creating Intelligent Distributed Systems. Insurers are starting to make big bets on intelligent environments via robotics, AI and immersive experiences. But to bring these intelligent environments to life, they must extend their infrastructures into the dynamic, real-world environments they want to reach.
Join me over the next few weeks as I unpack each of these trends and discuss the implications for insurers.
Meanwhile, click here for more on Accenture's 2018 Tech Vision trends.