---
Digital disruption brings rapid, ongoing change and FS organisations that hope to thrive in this environment need change embedded in their DNA. They need to be responsive and relevant —able to adapt swiftly to threats and new opportunities and meet changing customer needs. Digital HR can help gear organisations for agility, but technology is not a silver bullet to success.
Application of technology can deliver efficiencies but its potential to enable people to become and accomplish more presents far greater value. HR's response to digital disruption should therefore be to put people first—to help them adapt, learn and evolve, challenge the status quo, create new solutions and drive change … to drive business performance.
In this series of posts around digital disruption and digital HR, I have looked at the why, what and how HR must transform its function for digital in the context of FS companies. In this post I explore Accenture's five-point approach—built around people, technology and strategic advantage—to HR transformation.
Source: Accenture, Digital HR Transformation Index
Leverage the cloud. Cloud unleashes the power and potential of global talent, and enables innovation and flexibility. Based on HR technology trends, all major HR platforms in the future are likely to be delivered only via software-as-a- service (SaaS).
The way forward:
Invest in upgrading existing on-premise human capital management solutions by moving to HR Cloud 2.0 or platform-as-a-service (PaaS).

The vendor manages the complexity of building and maintaining the infrastructure; you can leverage PaaS to create one application that can aggregate data and processes from many disparate systems into a single user experience.
A cloud solution supports global governance and compliance across borders so your organisation can support a diverse and distributed workforce.
Go social and mobile. Social and mobile technology is critical to reaching a constantly moving, dynamic workforce—and to extending HR processes out to the business. Today, apps with a mobile-first capability can help make every talent and HR practice, from learning to performance management, available on an anytime-anywhere basis.
The way forward:
Leverage social and mobile in HR as part of your overall organisational strategy.
Start experimenting with more agile ways of working using social and mobile tools.
Enable performance management and learning anytime, anywhere.  
Inform through analytics. The use of data to produce business-relevant insights that lead to action is a step change for HR. Analytics can make HR a strategic business partner by moving it beyond reliance on historical analysis to the use of predictive analytics.
The way forward:
Conduct a strategy assessment and identify areas that would benefit most from true people insight and analysis. Understanding the link between talent decisions and business outcomes is key to building a business case for HR analytics.
Based on the assessment, create a set of use cases that are prioritised in terms of value to the business and complexity of deployment and analysis.
Create a roadmap with a defined set of actions. These may include the types of data sets required and how to source and store this data, the preferred technology, and an operating model that integrates HR data, insight and analytics.
Improve service delivery. To do this, HR needs to reimagine the services it delivers to the organisation while improving how it operates. This will require re-examining the needs of the organisation in the context of human-centricity and employee experience, as well as business performance.
The way forward:
The HR function needs to focus on three key areas— centreing employee services around employee experience and the 'moments that matter', digitising HR services and capabilities, and analytics everywhere—to reshape the HR function and deliver 'consumerised' employee services that that can help drive a better experience for employees and greater business performance and value.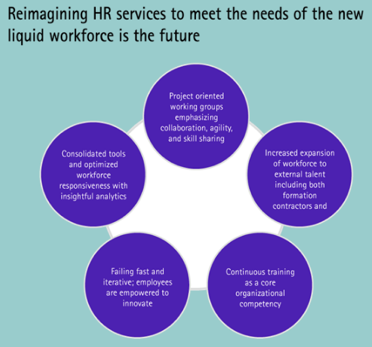 Source: Accenture, Digital HR Transformation Index
Drive operational excellence. The heart of the challenge is not size or scale; it's how HR translates these shifting requirements into how it organises itself and its services —its operating model.
Join me next week as I look at the six HR operating models Accenture has identified that will help businesses with different strategies, cultures and workforces to enable and leverage digital HR.
For more insight on HR for FS in a digital era, click through to: