Think that simply digitizing legacy processes will get you ahead of the competition? Think again. What's needed today is a digital-first business model.
Rapidly changing technologies are propelling us into a post-digital world. To thrive in this world, financial services companies can't simply digitize legacy processes and offer a mobile app. Those are just the "table stakes" and they aren't sufficient to compete against emerging players or win customer attention and loyalty. Banks, insurers and capital markets firms need to have digital at the core of their operating model and at the very heart of their customer experience. 
In short: you can't just be digital—you need to be digital first. 
Why now? Customers are demanding change. They want everything they've been taught to expect by the big technology companies, including more convenient and relevant products and services, and personalized experiences that recognize their individual needs. And they expect to have access to these things where and when they want them, and on their preferred channel. 
To meet these expectations, I urge financial services companies to: 
I

ntegrate physical and digital channels

 so that customers can pass seamlessly 

from one to another

, and 

use mindful design

, respecting that today's customers prefer to limit screen time and distractions. Customers don't want to be bombarded with ads, emails and texts for products and services that don't relate to their personal lives. They want companies to respect their time, attention and privacy. As our 

Fjord Trends 2019

 report says, "Where once we celebrated novelty, excitement and instant gratification, we now reject organizations that shout to get our attention."

 

Understand individual customer mindsets, and integrate qualitative and quantitative data

, to engage with people in 

more effective and

 inclusive way

s

. Many companies use customer data to validate 

hypotheses

, and

 to

 identify patterns of customer behavior t

hat allow them t

o hone products, services or strategy. But how many banks and insurers are using that data to create individually personalized interactions between the organization and the customer? In my experience, right now there are very few.

 

Commit to thinking and acting with a continuous improvement ethos

. Technology is evolving at a rapid pace, and companies that don't keep up will lose market share as customers migrate to more forward-looking providers.

 
Becoming "digital first" isn't all smooth sailing. Companies may be challenged by: 
Their capacity 

to invest in new technologies.

 

Their need 

to evolve their corporate culture to one that's customer-centric.

 

And their n

eed to swap from a 

"

customer 

push

"

 to a 

"customer

 pull

"

 business model—responding to customer needs in close to real time instead of pushing products and services that may not be relevant or necessary.

 
However, the benefits of digital far outweigh the efforts to overcome these challenges. Our research in the banking industry suggests that digital maturity pays off in terms of higher market premiums and better returns on capital.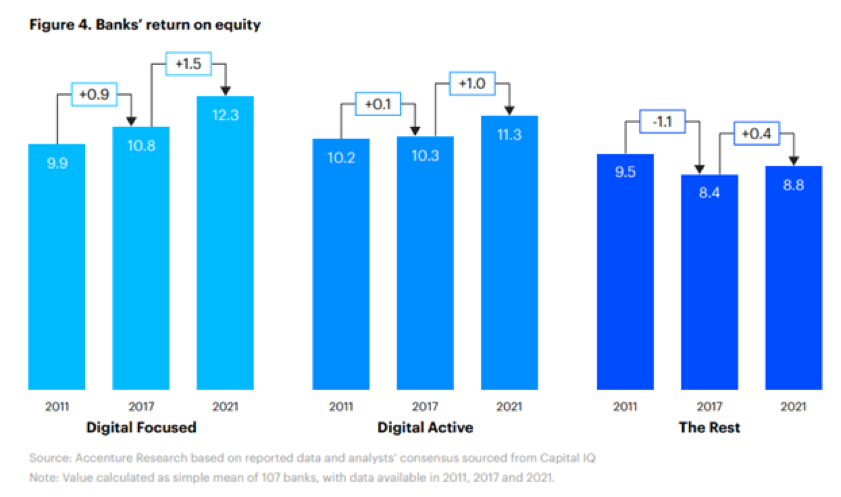 Clients I've spoken with have seen the results: less expensive and faster services, and greater profitability. For example, banks with a strong focus on digital have witnessed these benefits firsthand: 
BBVA

 saw its digital sales reach nearly 40 percent of total sales by mid-2019, doubled its mobile interactions between 2017 and 2019, and reached an efficiency ratio of nearly 50 percent in the first half of 2019.

 

DBS

 shows annually that its digital customers are more profitable than its traditional base in the Consumer and SME segment

s

. Income from those digital customers is now twice that of traditional ones and return on equity from digital customers is 32 percent compared to 23 percent for traditional customers.

 

ING Bank

 saw strong customer satisfaction ratings and a continuing increase in customer numbers (the bank's retail customers rose by a million in 2018 to 38.4 million). It attributes these results to its Think Forward and Customer Promise strategies, which have given it an edge in

 

staying relevant to customers in a fast-changing market.

 
The story is the same for insurers. Overall, their level of digital maturity is lower than that of their banking counterparts, but those that are further along the digital path are in a superior position when it comes to meeting customer expectations and achieving higher value. 
The critical point is that time is of the essence. Financial services companies that don't embrace a digital-first mindset now, collectively stand to lose billions in market share. The reality is that this is happening today, and your competitors are already making the move. 
To learn how Accenture can help your company transform your business models and processes to be digital-first, check out the array of industry-specific services we offer for Insurance, Banking and Capital Markets. 
Or reach out to me directly to discuss the challenges you're facing.