---
Companies are waking up to an untapped source of business growth: vast amounts of new data on work and the workforce. Unlocking the potential of that data, which is now available through a range of digital technologies, is both a goldmine and a minefield. On the one hand, the data has potential value that can positively affect an organization and its employee experience. On the other, distrust and the potential for misuse have created hesitation among those providing the data. So how can companies effectively navigate this new paradigm? One word: trust.
As people and intelligent technologies increasingly interact, they leave an ever-expanding digital trail of work—such as the algorithms that judge the quality of a software developer's code, the distance a driver has covered and her route, how many products a worker has assembled, and how people are spending their time, and with whom.
This and other types of data can now be mined from a variety of sources including employee work applications like email, calendars or social collaboration tools. It can be gleaned from technology like smart sensors embedded in the workplace, video or voice recordings, and employer-provided devices like wearables, cell phones or computers. All of it can be converted into insights, and by applying analytics, artificial intelligence or human judgment, decisions can be made or actions taken.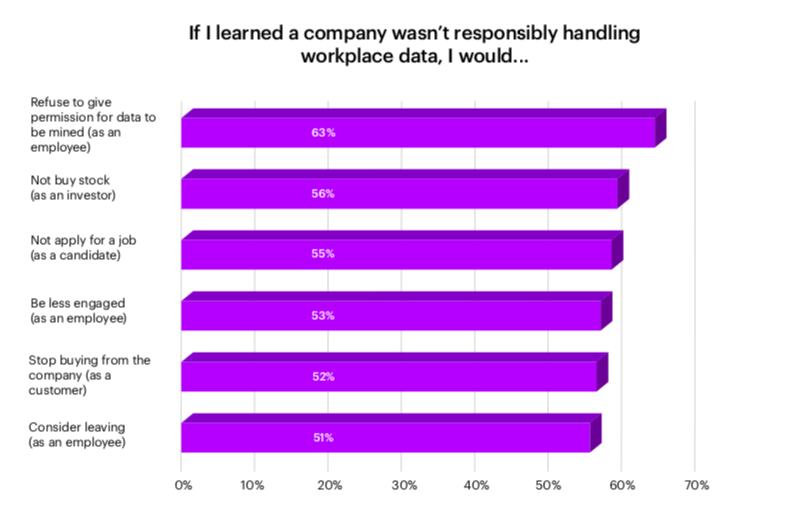 Employees Have the Power to Damage a Company's Performance if Data Trust Erodes
It's this information that helps reveal the "DNA" of an organization and enables leaders to better understand how and why a company works. It has the power to improve everything from innovation and agility, cybersecurity and even employee performance and engagement.
The challenge is unlocking the data. Similar to how scientists work with the human genome, companies need to learn how to decode the information, and then to use it for the benefit of the company itself, as well as employees and society as a whole.
In Accenture's latest report titled "Decoding Organizational DNA: Trust, Data, and Unlocking Value in the Digital Workplace," three-quarters of business leaders surveyed said they believed new sources of workplace data can help:
Grow the business;
Transform the business for agility and efficiency; and;
Unlock the full potential of people.
Unfortunately, only 30 percent of leaders are confident their organization uses workplace data responsibly. Naturally, doubts about the intended use of data, as well as privacy protection, can create unease from the employee standpoint––even though almost 60 percent of 10,000 employees surveyed said they believe workforce data will improve their lives and performance.
And therein lies the challenge. If employees believe their organization is not using new technologies and workplace data responsibly, in a way that builds trust, 63 percent would refuse to give permission for their personal or work data to be collected.
The majority of companies now recognize the need for greater responsibility when it comes to the use of customer data and technology, but most have yet to pay equal attention to the ethical and responsibility issues arising from workplace data and technologies. Unless they earn the trust of employees, employers won't have access to data in order to mine it.
As these concerns mount, leaders need to work proactively to overcome them.
In the course of this series I'll explore in more detail some of the ways that employers and business leaders can build trust with employees in order to access and unlock the valuable workplace data. In the meantime, you can download the detailed report here.