---
Samah Babbo, Head of Operations Transformation for Manulife's business in Asia, joins Elitsa to discuss the importance of culture in driving agile change and the challenges of scaling agile.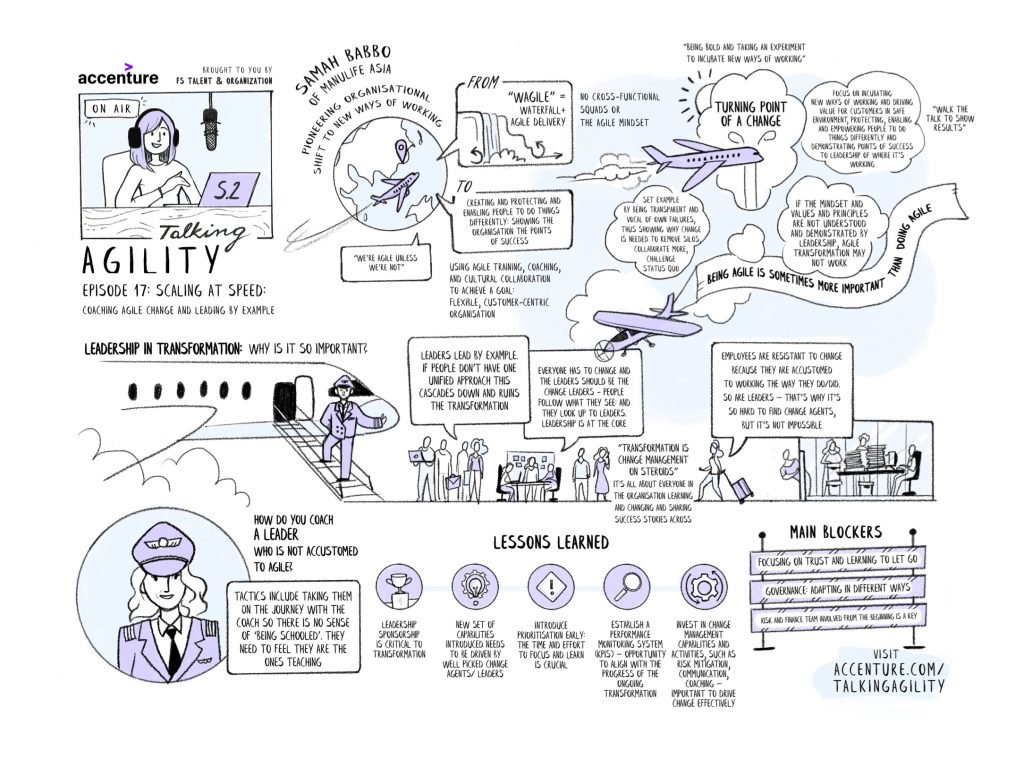 Technology change at large organizations is hard. Culture change is harder. Agile transformation requires both.
My guest on the latest episode of Talking Agility has been on the frontlines of pushing agile change. Samah Babbo currently serves as the Head of Operations Transformation for Manulife in Asia, where she is helping pioneer new ways of working. She is currently involved with scaling the Hong Kong model across Manulife's other offices in Asia.
Samah joined me from Hong Kong for a very interesting conversation about fostering agile cultures in large organizations—a topic I am very passionate about. She also shared a few invaluable lessons learned from her agile journey to date.
Here are some key takeaways from our conversation.
Results can come quickly
Samah's Manulife journey began in 2016 in Vietnam.
"When I started, they were using waterfall, had never heard of agile, and didn't understand lean problem-solving techniques," she says. "I was taken aback."
"I introduced new ways of working at small scale, and we saw results within a month."
Samah was able to build on this early momentum to bring agile change and new ways of working to Manulife's Hong Kong office. For the past 18 months, in her Transformation role, she's been working to scale the agile ways of working she helped pioneer in Vietnam and Hong Kong across China, Japan, Singapore and the Philippines and is already seeing increases in productivity and efficiency.
Sometimes you don't need to ask for permission
Samah is a firm believer in the need to be bold and experiment—sometimes without waiting for permission from senior leaders. When she began pushing for agile change in Hong Kong, she made a point to inform senior leaders what was happening without waiting for their formal blessing.
"I informed leadership, but I didn't expect or ask for a sign off from them to work with people on the ground and shift roles and responsibilities," she says. "In a traditional organization, culture is often hierarchical and if you go the traditional route, change is never going to happen."
"I was also very transparent and vocal about failures—both mine and as a team. This was a huge culture change, too."
Of course, support from leadership is crucial to any transformation's long-term success. Samah simply feels that it's OK to seek that support once you have some hard evidence that the transformation is working.
It brings to mind the old saying that it's easier to ask forgiveness than permission.
"For change to work on the ground requires buy-in from leadership down," says Samah.
She took a very strategic approach to securing that buy-in by identifying the general managers in the office as supportive of change and set up weekly one-on-one meetings with them to win their support and engage them in the change journey and discuss how to achieve business agility. This soon coalesced around a tradition of a Saturday brunch meeting.
Three lessons learned from Manulife's agile journey
Samah also shared lots of interesting lessons learned from Manulife's journey. Here are three of my favourites from our discussion.
Focus on trust and learning to let go. If you're an agile evangelist like me, it can be easy to underestimate how much of a change agile represents to a traditional financial services organization. True agility requires an amazing amount of trust from every part of the organization—and the only way to build trust is to earn it.
There's no agile change without governance change. It's hard to achieve true enterprise agility without fundamentally rewiring how the organization is governed. Make sure your agile transformation journey includes changing how governance analyses, plans, and prioritizes.
Bring risk and finance on board at the start

. These two functions are at the very heart of many financial services organizations. Without their enthusiastic buy-in, any agile transformation attempt will be piecemeal at best.
These are just some of the many insights Samah shared. To hear the rest, tune in to the latest episode of Talking Agility here:
And, as always, I'd love to hear your feedback and suggestions for the show. You can either reach me here or share your feedback through your preferred podcasting platform by commenting under each episode.