---
In recent years, cloud has become essential in shaping the banking journey the world over. According to a survey of financial institutions based in the European Union, 88 percent are using cloud services; however, many are using only a limited range of these services, and frequently, that use is not strategically placed.1
In this series, I will explore where European financial institutions are at in terms of cloud adoption, what some of the barriers are to comprehensive cloud adoption, and how financial institutions can take full advantage of everything the cloud has to offer.
Current state of cloud adoption in the European finance sector
In any discussion on cloud technology today, it is important to remember that it is actually still a relatively new technology; the first commercial cloud solutions came to market merely 15 years ago.
In addition, banks and financial services firms were late in implementing cloud solutions, due at least in part to security concerns. While there has been a significant increase in cloud adoption over recent years—particularly from retail banks—financial institutions are still in the early stages of cloud adoption.
A study in the European finance sector confirms the relatively low level of maturity of cloud adoption:1
Only 50 percent of surveyed European financial institutions have an explicit cloud strategy.1
Cloud has indeed become the default choice for both new applications and legacy enhancement initiatives. However, it is also evident that many firms are using cloud to improve their current systems and operations, but they are not using cloud as the basis for a more fundamental transformation.
Unlock the power of cloud as a business asset
Banking and financial firms that want to create new business models are faced more and more with having to anticipate and respond to disruptive challenges. Some of these challenges include:
Regulatory demands for greater transparency.
Higher capital requirements.
New standards for the treatment of customers.
Shareholder pressure for higher margins.
Competition from incumbents and new, more agile players.
Legacy systems and outmoded operating models.
Opening up of previously underserved markets as a result of new data sources.
Amidst this volatility, the transformative power of the cloud has the potential to create tangible value for your business and offers new approaches to profitable growth. With a comprehensive, well-executed cloud strategy that employs cloud as a business asset—rather than just a technology—your firm can capture the full potential of the cloud.
The benefits of such a comprehensive strategy allow you to:
Increase agility and speed to market to seize new opportunities and protect revenue streams.
Strengthen security and compliance.
Reduce your infrastructure footprint.
Power your digital transformation.
Create growth through elasticity and scalability.
Deliver cost reductions and enhance efficiency through automation.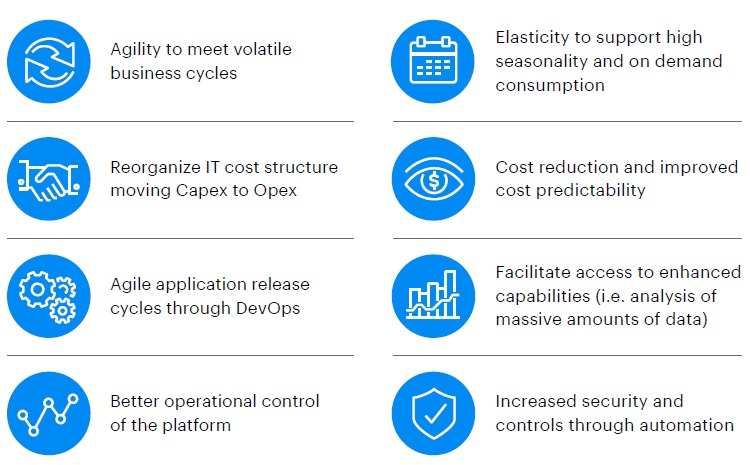 In my next post, I will discuss some of the challenges European financial institutions are facing in the volatile, competitive environment of today, and how cloud technology can help.
In the meantime, have a look at the full Moving to the Cloud—A Cloud-based Strategy for Banking Firms in Europe report.
Reference:
"Secure Use of Cloud Computing in the Finance Sector." The European Agency for Network and Information Security (ENISA), December 2015. Access at: https://www.enisa.europa.eu/publications/cloud-in-finance.