Other parts of this series:
---
In my last post, I discussed the diverse and increasing challenges that banks and financial services companies are facing in today's volatile competitive environment. I also explained that cloud technology can offer ways for banks and financial services companies to remain competitive, but that some are pursuing a piecemeal strategy that does not take advantage of cloud's full potential.
In this post, I will try to illustrate how cloud can be much more than just a new technology.
Cloud as a foundational element for digital change
As I said in my last post, many banks and financial services companies are turning to the cloud to benefit from its transformative power to persevere under the volatile circumstances of today. Employed as a business asset, cloud has the ability to reshape businesses and their operating models, products and services, and customer experience.
Not only can cloud be used to strengthen or improve legacy system capabilities, it can also accelerate the company's transformation to a digital enterprise. What's more, with a comprehensive and well-executed strategy, cloud technology offers new approaches to profitable growth and a way to stay ahead of agile, innovative competitors.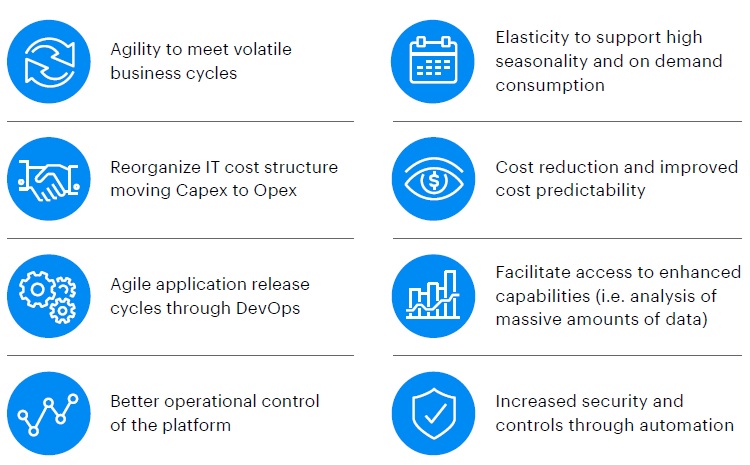 Cloud as a business asset
While many banks and financial services companies have begun to explore cloud's potential as a business-building asset, some are not yet taking full advantage of cloud's capabilities to support a financial services organization in today's disruptive and evolving digital marketplace.
As a technology, cloud allows financial organizations to:
Transform themselves into a digital business.
Strengthen their enterprise security and compliance.
Reduce their infrastructure footprint.
Introduce automation to deliver improved efficiency and cost savings.
But cloud can do much more.
As a business asset, cloud also helps companies to:
Increase their agility and speed to seize new market opportunities and protect current revenue streams.
Respond to a changing business environment.
Adapt quickly and scale rapidly to meet changing business needs.
Cloud has the ability to create a "win-win" situation for banks and financial services companies. With a comprehensive approach to cloud strategy, banks and financial services companies can develop an important competitive advantage over companies that tackle cloud on a piecemeal basis.
Cloud can be the foundation for a comprehensive transition that positions a financial company as a serious competitor in a new, demanding environment.
In my next post, I will take a look at the current state of cloud in financial services. I will also discuss some common perceived barriers to cloud adoption.
Until then, take a look at the full Moving to the Cloud—Creating a Cloud-Based Strategy for Banks and Financial Services Companies in North America report.