Other parts of this series:
---
In the first three posts of this series, I discussed the challenges banks and financial services companies are facing, and presented cloud as a way to develop important competitive advantages. I also reviewed the current status of cloud in financial services and addressed some perceived barriers to cloud adoption.
In this post, I will take a look at the options banks and financial services companies have when exploring their cloud strategy.
The different paths to the cloud
Put simply, there is no one right way to cloud adoption. As shown in the Figure below, banks and financial services companies have many options to choose from. All of these different paths lead to common goals.
Paths to the cloud include:
SaaS packages from established vendors.
"Cloud native" custom development.
Migration to cloud.
Application remediation and/or re-engineering.
Migrating to SaaS from a custom environment.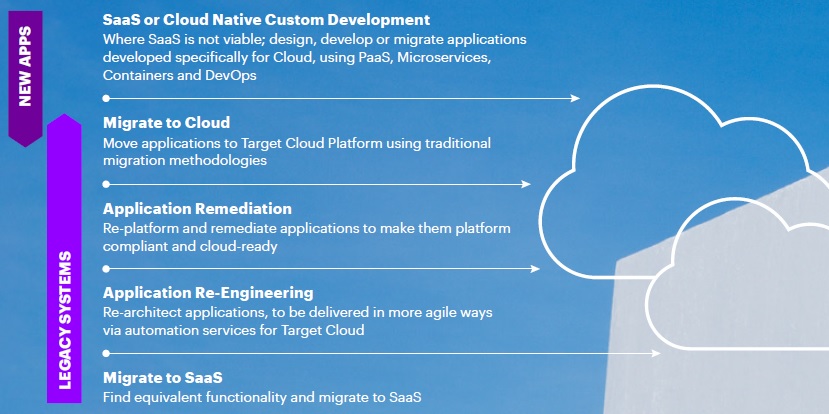 Using cloud to strengthen legacy systems
Just as there is no one correct path to the cloud, not all banks and financial services companies should follow the same cloud adoption strategy. Some organizations may use specific cloud solutions for non-core areas, such as customer relationship management (CRM), or they may integrate cloud into certain aspects of product development, channel optimization or credit risk assessment.
Yet other organizations look at cloud as the basis for transformation to a truly digital enterprise. While this approach can lead to the creation of a sustainable competitive advantage, it also entails a significant commitment in resources and management focus.
Start with a self-appraisal
In all cases, we encourage banks and financial services companies to take a step back and consider the big picture—where is the organization now, and where should it be in one, five or ten years?
A thorough self-appraisal should guide an analysis of options for cloud strategy, including the integration of regulatory and security concerns. Such a self-appraisal should include a review of the company's current IT structure, its internal staff and technology operating model.
Importantly, the company should also probe whether it sees itself as a technology firm engaged in financial services, or as a financial services company using technology to support its goals. Of equal importance is an evaluation of the current ecosystem, including strategic and infrastructure partners as well as suppliers of specific solutions.
In my next post, I will provide you with some key elements to consider when it comes to developing your own cloud strategy.
For further information, I encourage you to read the full Moving to the Cloud—Creating a Cloud-Based Strategy for Banks and Financial Services Companies in North America report.