As open banking sweeps the global financial services ecosystem, Canadians are facing fundamental changes, both challenging and advantageous.
Open banking is a platform-based business approach that offers leading banks the opportunity to expose data, algorithms and processes through application programming interfaces (APIs) and create new revenue streams, in the same way as today's successful digital giants.
Following regulatory changes in the European Union, the Canadian government announced its intent to determine whether open banking could deliver positive results for Canadians in the 2018 budget.
In an article published in Payments Business magazine, I discuss the opportunities and challenges of open banking in Canada and offer some guidelines for successfully navigating this financial technology.
Here are some highlights and context.
A banking revolution

The Revised Payments Service Directive (PSD2), which went into effect in the European Union in January 2018, lets consumers share their financial data securely with banks and third parties. It also aims to drive increased competition, innovation and transparency across the European payments market, while enhancing the security of Internet payments and account access.
The PSD2 requires European banks to make their account information available to third parties without going through the banks, making it easier for consumers, if they wish, to transfer funds, compare products and manage their finances.
While many experts believe that the full effects of open banking likely won't be felt until 2020, the changes are expected to be profound, revolutionizing the relationships between banks and retailers as well as banks and their customers.
For example, once a retailer forms a relationship with a Payment Initiation Service Provider (PISP)—or becomes one—the retailer can offer inducements for direct, instant payments, potentially displacing the need for credit cards and associated fees.
As a result, financial services institutions will have to find new revenue sources and services.
What's in it for banks?
Being an open bank means operating like a platform company, with a business model that connects people and processes with assets and a technology infrastructure to manage internal and external users' interactions.
This model offers benefits not only to non-bank retailers, but to banks as well. For example, a platform-based approach allows banks to provide plug-and-play financial products to third parties, which may expand their ecosystem and help them reach new customers.
Other benefits include:
Revenue growth—through using APIs to offer services such as data brokerage and authentication services.
Cost reduction—by reducing time to market and application delivery costs, easing integration with traditional technology providers such as payments processors, credit bureaus, FinTech companies, data providers, or core banking vendors.
Talent management—by leveraging skills in mobile content design and mobile app development to create an innovative, customer-focused image and attract the best talent.
Open banking challenges in Canada
Based on a recent Accenture survey, 65 percent of financial services respondents view open banking more as an opportunity than a threat. But Canadian financial institutions are taking a more cautious approach than their European counterparts.
The reason? Data security.
This concern is central to the Canadian government's review: "To assess whether open banking would deliver positive results for Canadians with the highest regards for consumer privacy, data security, and financial stability."
Another challenge lies in staying ahead of the marketplace as API-based services multiply exponentially. Based on our research: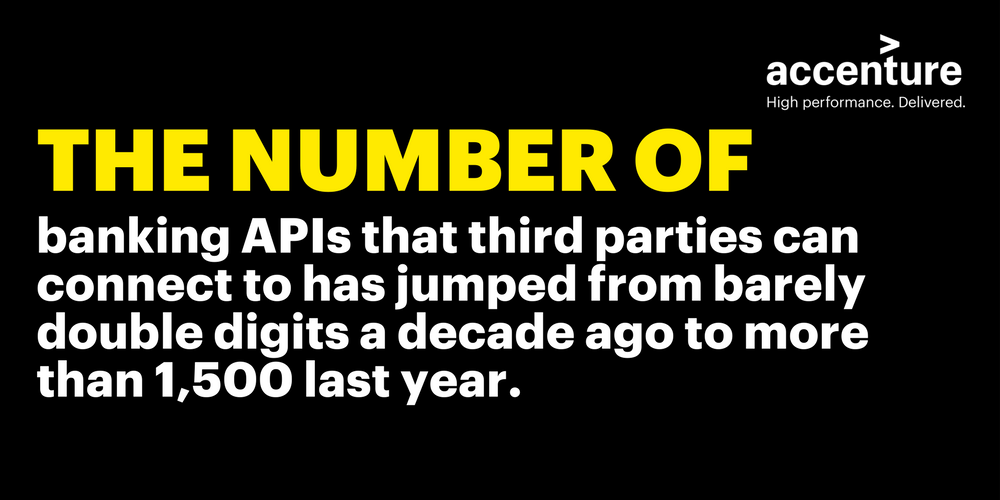 With APIs expected to grow tenfold now that PSD2 is here, Accenture estimates that 7 percent of the total banking revenue pool will be associated with open banking activities by 2020.
Only by offering new services to both retailers and customers will banks be able to compensate for the loss of revenues from transaction fees. Such services may include online, mobile-based loans, or mechanisms for mobile payment with credit card loyalty points.
Navigating open banking
Open banking will create a more competitive market. But banks have several advantages on their side: their strong reputation for prudence and financial probity, their core competencies, including deposits, credit and mortgages, and perhaps most importantly, the trust they hold from consumers.
Beyond that, banks should aim for closer collaboration with non-banks to ensure the best customer experience possible and broaden their ecosystems.
In the Payments Business magazine article, I make the following recommendations:
Decide how to compete or collaborate with non-banks to replicate traditional banking services using APIs.
Meet payments modernization goals and faster payment implementation dates.
Be adaptable, as Payments Canada ensures that the payment system incorporates changes while preserving safety.
Develop a deep understanding of payment rules and standards and the need for data security.
Most importantly, it is essential to remember that all change comes with uncertainty. But with payments modernization comes the opportunity for the Canadian banking system to prepare for and design its own course for open banking.
By being open to open banking, Canadian financial services institutions have a great opportunity to unleash new business value.
To learn more, read our Open for Business report.